Yeborobo was the first South African robot in a Robot Wars competition, fighting in the Second World Championship, aired as part of the first series of Robot Wars Extreme and Season 1 of Robot Wars: Extreme Warriors, the only competition it fought in its robot combat career.
"Yeborobo" is a play on the Zulu phrase "Yebo gogo," which literally translates to "yes, granny" but was used in South Africa as an all-purpose greeting.
Yeborobo was a black battering ram shaped robot, very similar to UK competitor The Steel Avenger. Its primary weapon was a pneumatic pickaxe. At the back of the robot it had a rear conveyor lifter, and was decorated with boggle-eyes on the back. It was powered by two truck windscreen wipers, but could only reach a top speed of 3mph. In Extreme Warriors, Yeborobo conveyer lifter was referred to as the front.
Robot History
Edit
Extreme 1/US Season 1
Edit
"I think it will be, Yeborobo and out!"
— Jonathan Pearce's prediction that ultimately proved correct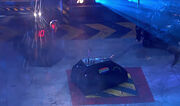 Yeborobo was placed up against Philipper (representing Belgium), Tornado (representing the United Kingdom) and American champion Panzer Mk 2 in the first round of the Second World Championship. It struggled to even enter the arena, starting the battle deep inside a CPZ. Once in the arena, it did not move at all. After Refbot made efforts to nudge it to life, it was dragged onto the arena floor flipper by Dead Metal. Refbot counted Yeborobo out and it was thrown by the arena floor flipper, landing on top of Tornado. With ten seconds to go, Yeborobo was pitted by Tornado.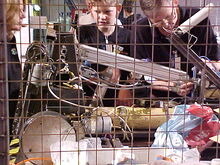 Wins/Losses
Edit
Series Record
Edit
Yeborobo was one of only two robots in Robot Wars history to represent South Africa, the other being Crushtacean.
Yeborobo's only fight was delayed in filming because Yeborobo failed to work before the battle, so the team had to be given more time fix the robot.
"Ourselves and Panzer were ready and went out into the arena, and waited. And waited. Yebo Robo was having problems, so the fight was postponed until after lunch! Yebo Robo was fixed over lunch, and once everyone was back out again, the fight commenced. I say out rather than in position, because both Philipper and Yebo Robo did not get to their start points!"
— Team Tornado website[1]
References
Edit