"Wives and girlfriends of the Razer team, The Robot Widows came together and built a robot as a revenge for endless lonely nights, endless tea runs, bacon sandwiches, and having to put up with hours of technobabble!"
— Jonathan Pearce.
Widow's Revenge was a competitor robot that only fought in Series 5 of Robot Wars. It was built by the "Robot Widows", a team of female roboteers who were tired of having their partners spend so much time working on their robots, and was also made as part of a campaign to raise awareness for cancer. Widow's Revenge reached the second round of its Heat, before being destroyed by Razer and Matilda.
On the show, the Widow's Revenge team all pretended to be the wives of the Razer team, but this is not entirely true. Of the original team members, Team Captain Gillie Blood was the fiancee of Ian Lewis, and the sister of Vinnie Blood. The other two team members were not linked to Team Razer, but Emily Cathcart, the girlfriend of Vinnie Blood, joined the team when Jenny Smith fell ill.
"Revenge is a rolling pin!"
— Team motto.
Gillie and Ian were married afterwards, and Gillie (under the name Gillian Lewis) joined the Razer team in Robot Wars: Series 8.
Widow's Revenge was a simple box-wedge shaped robot with a white and pink colour scheme and armed with two weapons: a small front spinning disc and a rear-mounted spinning drum made out of a rolling pin. The robot's appearance and weaponry resulted in the team describing it team as "a fridge on wheels with a rolling pin weapon". These weapons were largely ineffective, while both the robot's armour and chassis were especially fragile against Razer.
Robot History
Edit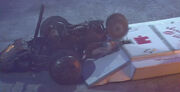 "Widow's Revenge have also advertised their machine as extremely attractive, slim and looking for a similiar robot for cosy nights in! Well, Sumpthing has no plans for a cosy night in, I can tell you!"
— Jonathan Pearce at the start of Widow's Revnge's first battle.
Widow's Revenge bumped into Sumpthing, with both robots weapons causing little damage to each other. After some pushing around, Sumpthing activated the pit, but before it could attempt to push Widow's Revenge down, Sumpthing broke down and the fight went to the judges, who put Widow's Revenge through.
In the second round, Widow's Revenge faced Razer, in what was considered to be one of the most memorable battles of the Fifth Wars. The battle was punctuated by taunts from the Robot Widows; at one point they caricatured their 'other halves' as "Bald Boy", "Weasel" and "Potato Features".
Philippa Forrester: "Now's your chance, get it all out of your systems, what do you want to say to them?"
Robot Widows: "If we win, we're brilliant and they leave the studios in shame. If they beat us, no more washing-up, no more hot dinners on the table, and I'm putting his bed in the shed!"
— The ultimatum of the Robot Widows to Team Razer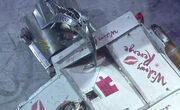 Jonathan Pearce, however, speculated that the Razer team had given their spouses some "duff advice" on robot-building. Widow's Revenge was immobilised as soon as Razer made the first puncture - its own metal frame touched the electronics, which caused the entire system to short out. In spite of this, Razer took several more bites - an act of retribution for the disparaging comments the Robot Widows had made before the match. The top panel was crushed, leaving the electronics exposed and the top frame bent. Razer pushed the Robot Widow's machine onto the flame pit, before pushing it towards the top right CPZ, where Widow's Revenge was counted out.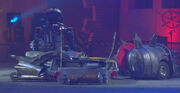 "The ribbing they gave us in the pits was terrible, and their machine wasn't too hot either, so we decided that we would really make them suffer for those comments!"
— Vincent Blood on the "Ultimate Warrior Collection" video.
Matilda then hit Widow's Revenge with her flywheel several times, smashing and mangling its chassis. Widow's Revenge was then tossed by the Floor Flipper, somehow managing to wedge it open, before being pushed towards the pit by Razer. However, Razer ended up driving in itself (much to the delight of the Robot Widows) as Widow's Revenge was not at the right angle to fall down; regardless, Widow's Revenge were out of the competition.
WIDOW'S REVENGE - RESULTS
Series 5
The Fifth Wars - UK Championship
Heat, Round 2
Heat K, Eliminator
vs. Sumpthing
Won
Heat K, Semi-Final
vs. Razer (4)
Lost
Wins/Losses
Edit
Series Record
Edit
Outside Robot Wars
Edit
After Robot Wars ended, Jenny Smith built a featherweight called Pillow Torque, which still fights today. She is part of the female only Team Torque (no relation to the team behind All Torque), who built Dantomkia mk5. Her team also have featherweight Pain in the Asp which resembles the American robot Sewer Snake.
Team Captain Gillie Blood, who has since married Ian Lewis and is now known as Gillie Blood Lewis, joined Team Razer when they entered BattleBots 2015, and the 2016 Series of Robot Wars.
Ad blocker interference detected!
Wikia is a free-to-use site that makes money from advertising. We have a modified experience for viewers using ad blockers

Wikia is not accessible if you've made further modifications. Remove the custom ad blocker rule(s) and the page will load as expected.