Armament! This Robot Wars article is in need of rewriting to bring it up to a higher standard. You can help Robot Wars Wiki by rewriting it.
Not to be confused with Wharthog
"...the spinning wheel weapon, inspired by Hypno-Disc perhaps, rotates so fast, will this hog the limelight?"
— Jonathan Pearce in Series 4
Warhog was a competitor in Series 4-6 of Robot Wars from Hull, East Yorkshire, which lost all three of its televised battles. Warhog's name is a pun on Warthog, the name given to a genus of wild pigs.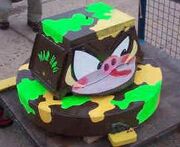 It had four-wheel drive and a dangerous 500RPM spinning disc as its main body weighing in at 30kg and a head with a boar's face sat on top of it and two blades at the sides. The whole body was made from mild steel plate and aluminium and the two home-designed gearboxes were from car parts with an actuator lifting one end of the robot to assist steering. A brodie helmet made from a wok was added to it during Series 5.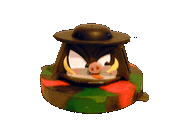 Warhog was capable of large amounts of damage, even shattering the Arena wall upon coming into contact with it, but lacked mobility, speed and reliability and had a high ground clearance, shown repeatedly against S.M.I.D.S.Y. in Series 6.
Warhog was originally painted brown and named Tazzz, after the cartoon character Taz the Tasmanian Devil.
Qualification
Edit
Warhog attended the Series 4 qualifiers, and was drawn in a battle against Sharky. Both robots survived to the end of the battle, and Sharky was declared the winner following an audience decision. However, Warhog was selected for the main competition, unlike its victorious opponent.
Robot History
Edit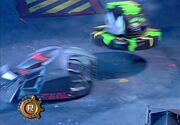 War Hog faced a rather tough draw for its first battle which was a melee against Darke Destroyer 2 and Dreadnaut XP-1, both of which were Heat Finalists in the previous war. War Hog attacked Dreadnaut XP-1 with its disc several times, eventually buckling Dreadnaut XP-1's forks, and flinging itself across the arena. Dreadnaut XP-1 and Darke Destroyer 2 continued battling, but War Hog had become immobilised. Rather surprisingly, Sir Killalot incapacitated Dreadnaut XP-1 just after War Hog became immobile.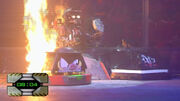 In Heat E of Series 5, Warhog was drawn against Napalm 2, a Semi-Finalist from Series 2. Both robots got off to a slow start, as neither could achieve great speeds, but for unknown reasons the Warhog rim wasn't rotating. They met in the centre of the arena, and bumped each other, until Napalm 2 managed to push Warhog into Matilda's CPZ, where it took damage from the House Robot's flywheel. Up in the control pod, the Warhog team were having radio control problems. Napalm 2 pushed Warhog into the CPZ again, where it took more damage from Matilda. As the final seconds ticked down, Napalm 2's spikes got stuck in one of the angle grinders, and Warhog drove over the flame pit and simply stopped moving. Since the match ended with both robots immobile, the judges declared the winner based on the events up to the immobilisation, and ruled in favour of Napalm, eliminating Warhog.
It was later revealed that Warhog's rim was not spinning due to the weapon not being plugged in before the battle.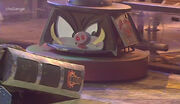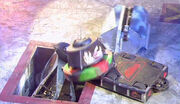 In the first round melee of Series 6, an unchanged Warhog was up against S.M.I.D.S.Y., St. Agro, and Comengetorix. Comengetorix got under S.M.I.D.S.Y., while St. Agro got underneath Warhog, although neither robot was able to flip its target. Comengetorix, with S.M.I.D.S.Y. on top of it, pushed the spinning Warhog against the sidewall, causing it to shatter on impact. S.M.I.D.S.Y. pushed Warhog into the CPZ, where Shunt hit the latter with its axe, and lifted Warhog onto the top of S.M.I.D.S.Y., which gave it a "piggy-back" across the arena. Warhog fled, driving extremely close to the pit in the process, while S.M.I.D.S.Y. shoved St. Agro into the pit. S.M.I.D.S.Y. later pushed Warhog back into Shunt, which pierced Warhog's top plating with his axe, and dragged Warhog around briefly, also leaving it at the mercy of Comengetorix. S.M.I.D.S.Y. got underneath Warhog once again, pushed it over the flame pit, and into an empty CPZ, where it lifted the full-body spinner. A slam from Growler put Warhog completely on top of S.M.I.D.S.Y., which paraded Warhog around the arena before finally dropping it in the pit, causing Warhog to fall in the first round for a third and final year.
Wins/Losses
Edit
Series History
Edit