"Nippy, zippy and altogether dippy! What you see is what you get with this robot! Weighing in at 10.8 kilograms, this lightweight entry may surprise us all with its amazing acceleration and magnificent maneouverability!"
— Jonathan Pearce introduces WYSIWYG
WYSIWYG (What You See Is What You Get, pronounced Wiz-ee-wig) was a robot that competed in the British television show Robot Wars. WYSIWYG was the only featherweight to appear outside the featherweight heat of the First Wars.
Along with Grunt and Eubank the Mouse, WYSIWYG was a stock robot brought in to make up the numbers for that series, and was not allowed to reach the arena stages. It was created by first series judge Eric Dickinson.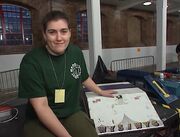 "It's made out of wood, which means it's quite light and can move quite fast, it's wedge-shaped, so it can hopefully tip up the other robots, but I think I'm going to have to stay out of the way of the House Robots!"
— Michelle Wheeley describes her machine
WYSIWYG was a wedge-shaped wooden robot painted white with a black Starsky & Hutch style stripe along the top and sides. It had no weapons but was very manoeuvrable and nippy and was built for superior acceleration. At 10.8kg, WYSIWYG was well below the weight of its opponents.
Robot History
Edit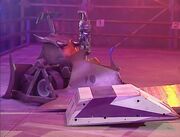 WYSIWYG was the fourth robot to compete in Heat C. In the Gauntlet, WYSIWYG chose the centre route but got stuck on the edge of the ramp. Shunt went in to free the robot but got stuck himself. Shunt was pushed off the ramp which in turn pushed WYSIWYG free. WYSIWYG then went for the maze route but only managed to hit the fences. WYSIWYG came fifth after covering 5.55m. Nevertheless, this performance was superior to the distance covered by Plunderbird 1, and WYSIWYG progressed.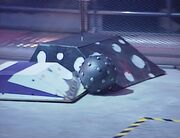 In the Football Trial, WYSIWYG was required to fall at this stage due to its position as a stock robot. WYSIWYG made no attempts to score a goal in any round, mostly pushing other competitors away from the ball, until it ceased moving altogether. In order to eliminate the stock robot, the show declared that WYSIWYG would be eliminated over the also-goalless Dreadnaut due to making fewer contacts with the football.
WYSIWYG - RESULTS
Series 1
The First Wars - UK Championship
Heat, Trial
Heat C, Gauntlet
5.55m (5th)
Qualified
Heat C, Trial (Football)
Least Possession (5th)
Eliminated
Series Record
Edit
Driver Michelle Wheeley later joined the Cruella team for Series 2.
Outside Robot Wars
Edit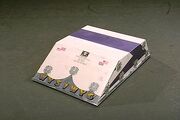 Eric Dickinson also competed with WYSIWYG in American Robot Wars '96. In the American Robot Wars '96, each of the "bullet holes" in the sides had a pneumatic ram inside them, and it won a special "UK vs France" Grudge Match after knocking the drive chain off its opponent- a 73kg French entry named Steel at Work. It did not fare as well in the Main Competition however, losing to the eventual Champion Wedge of Doom in the first round.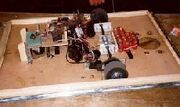 WYSIWYG was the only one of the three Series 1 Stock Robots to fail to complete the Gauntlet.
WYSIWYG was the only featherweight not to compete in Heat D, or a featherweight competition.
Whilst it did fight in the US Robot Wars, WYSIWYG is one of 20 robots never to fight in the UK Series, having only ever been in the Gauntlet or Trial.
WYSIWYG is a term used for creating websites and stands for What You See Is What You Get.