For the unrelated Series 3 competitor, see Vector.
"It may look like a wind-up go-kart"
Victor was a robot that competed in Series 2 and Series 3 of Robot Wars. It made the Arena Stage of Series 2 losing to Demolition Demon, and made the second round of Series 3, losing to Trident.
Team Victor then had a long interval away from Robot Wars after Series 3 before returning in Series 7 with a new machine, The Kraken.
Victor had a blocky V-shaped design on large, slanted BMX wheels with a tubular steel frame and aluminium and steel armour. Its weapon was a large flail, which could be exchanged for a lawnmower blade, both driven by a motorcycle starter motor but there was also two static spikes at the rear in case the main weapon stopped and the spikes could be used when the robot spun round, as it would act like a pendulum. It was nearly 6kg over the weight limit for Heavyweights at the time. Victor was rebuilt over 6 months for Series 3 and was now called Victor 2.
Robot History
Edit
Victor competed in Heat A of the Second Wars. Victor's design almost put it out of the gauntlet, when it got stuck on a brick.
Sir Killalot
then attacked them and set them free for a clear run to the finish, allowing it to qualify for the next stage. In the Trials, it got stuck in the barrels, but managed to slice through some with the blade, it knocked down 4 barrels, yet this was still enough to just put it through to the arena stage. In the heat semi-final, Victor went up against
Demolition Demon
.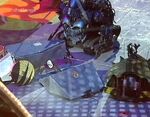 However, Victor didn't have enough power and was easily pushed around by Demolition Demon. Victor was pushed into the PPZ, where it quickly got away, however, its drive motors then suddenly burnt out as Demolition Demon carried on ramming it. Even though
Shunt
tipped Demolition Demon over, Victor lost because of its immobility and was eliminated from the competition.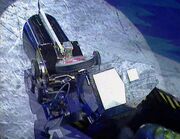 Victor 2 was pitted against newcomers Scarab in the first round of the Third Wars. Victor seemed to be the quicker machine of the two, advancing towards its opponent, but Scarab caught its left wheel when the two connected. As Victor 2 retreated, the flail ripped the protective mesh off it. Victor circled Scarab, manoeuvring around to its side, using the flail to land a hefty blow. Victor then forced Scarab onto the arena spikes, where Scarab then slowly lost power and was soon completely immobilised, putting Victor through to Round 2 of the heat. Here, it faced another newcomer and future semi-finalists, Trident. Again Victor 2 was the faster robot, but the flail seemed to have little to no effect on Trident's stronger armour. It exchanged blows with Trident, but the flail weapon of Victor 2 suddenly stopped working. Victor 2 then tried to spin away from Trident's charge as it was unable to push it, but it drove too close to the pit and caught itself on the edge with one of its wheels hanging over the edge. Trident then charged in and pitted it, eliminating Victor 2 from the competition.
VICTOR - RESULTS
Series 2
The Second Wars - UK Championship
Heat Semi-Final
Heat A, Gauntlet
Completed (2nd)
Qualified
Heat A, Trial (Skittles)
4 Barrels (4th)
Qualified
Heat A, Semi-Final
vs. Demolition Demon
Lost
VICTOR 2 - RESULTS
Series 3
The Third Wars - UK Championship
Heat Semi-Final
Heat P, Round 1
vs. Scarab
Won
Heat P, Round 2
vs. Trident
Lost
Wins/Losses
Edit
Series Record
Edit
Victor was the first robot to be introduced to the Second Wars.
Despite entering in the first heat of the Second Wars, it fought in the last heat of the Third Wars.
Ad blocker interference detected!
Wikia is a free-to-use site that makes money from advertising. We have a modified experience for viewers using ad blockers

Wikia is not accessible if you've made further modifications. Remove the custom ad blocker rule(s) and the page will load as expected.