Vertical flywheels
Talk

0
1,514pages on
this wiki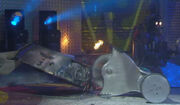 Vertical flywheels were a type of rotating weapon. They were typically quite large and thin and were capable of damage on a large scale. Whilst typically unsuccessful in the UK, robots with this weapon became the German and Dutch Champions, and Cyclone won an annihilator in Robot Wars: Extreme Warriors.
This weapon was typically more successful in BattleBots, with the widely famous Nightmare, who inspired a number of UK Robots. House robot Matilda initially had a chainsaw but changed to a 27kg flywheel after Series 4, although the flywheel was said to be interchangable with the chainsaw in Robot Wars: Extreme Warriors.
Definition
Edit
A flywheel was a comparatively heavy disc weapon that spun at high speeds. To cause damage, welded "teeth" were attached at places on the weapon to gouge enemy robots.
They were mounted vertically, with the purpose of striking from the bottom up.
Advantages and Disadvantages
Edit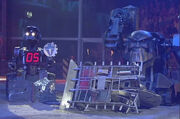 Advantages
Vertical weapons were capable of doubling as flipping weapons, even capable of throwing an opponent out of the arena, as X-Terminator, Cyclone and Matilda showed.
They often targeted the underside of a robot, the weakest point on the design. This allowed for maximum damage.
They proved effective against flippers; buckling the wedge of flipper meant that it was neutralised - unable to negotiate ground clearance. This was seen in the most severe extent in the battle between X-Terminator and Bulldog Breed.
Disadvantages
The design was often hard to combine with the invertible design, especially large flywheels such as the likes of 259. This meant that often, a robot with this weapon needed an additional srimech.
Also, the effectiveness of the weapon when inverted was often decreased due to many flywheels spinning in only one direction. This was shown when Black Hole was overturned by Philipper 2 and its discs span towards the ground, causing Black Hole to jump upwards upon striking its opponent.
In a clash between horizontal and vertical heavy rotating weapons, a vertical will typically come off second best, as shown in the clash between Fluffy and 259.
List of Robots with Vertical Flywheels
Edit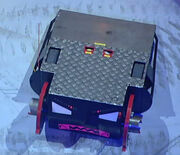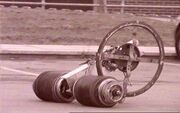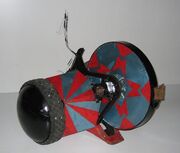 Robots are listed alphabetically. Robots that are not heavyweight are listed with a green background. House robots are listed with a red background.
| Robot | Series Appearances with Vertical Flywheels | Notes |
| --- | --- | --- |
| 259 | Series 6 | Won the Best Design Award of the Sixth Wars. |
| 259 (Middleweight) | Extreme 2 | Middleweight version of 259, and reached the middleweight final. |
| Argh! | Extreme 2 | Became the featherweight champion of Extreme 2. |
| Bot Out Of Hell | Series 5 | |
| Black Hole | German Series 1, UK Extreme 2 | German Series champion. |
| Cedric Slammer | Series 6, Extreme 2 | New Blood Grand Finalist. |
| Cyclone | US Season 1-2 | US Annihilator champion, becoming the first robot with a vertical flywheel to throw an opponent from the arena. |
| Daisy Chopper | Series 3 | First robot armed with a vertical flywheel. |
| Derek 2 | Series 6 | Inspired by that of 259. |
| Matilda | Series 5-7, Extreme 1-2 | |
| Meshuggah | Dutch Series 1-2 | |
| Mesmer 2 | Extreme Series 2 | |
| PulverizeR | Dutch Series 1-2, UK Series 7, Extreme 2 | Dutch Series 2 champion. |
| S3 | Series 5-6, Extreme 2 | Reached the second round of the semi-finals on both UK Series appearances. |
| The Bat | US Season 2 | |
| Vader | Series 6-7, Extreme 2 | |
| Vortex Inducer | Dutch Series 2 | Could twist vertically or horizontally. |
| X-Terminator | Series 7 | Series 7 Grand Finalist, throwing two machines out of the arena along the way. |

This Robot Wars related article is a stub. You can help Robot Wars Wiki by expanding it.