Archives
---
Ragnabot
Edit
Forgive my curiousity, but how many qualifiers does Ragnabot actually have? CrashBash (talk) 10:09, March 9, 2013 (UTC)
I'm curious, will TX-108 take part in Ragnabot? It technically fought in Robot Wars, the battle was just never aired. If it isn't in the line-up, I suppose that's more competition for Plunderbird 2, and the Series 1 versions of Shapeshifter and Medusa Oblongata (which I have assumed is not taking part). ToastUltimatum 00:27, May 24, 2013 (UTC)
I forgot EXACTLY who it was I wanted to ask you about, but after the confusion in regards to Scorpion/Spirit of Scorpion, I was just curious to know if there were any other robots with differing names featured. It'd be a pity to run into that problem again, just saying. If only I could remember who was on my mind. CrashBash (talk) 09:58, May 31, 2013 (UTC)
Oh, wait, I remember now. Crushtacean. THAT was the robot that was bugging me. It's only going to appear once, right? CrashBash (talk) 11:02, May 31, 2013 (UTC)
Ragnabot
Edit
Hey Matt, can I leap in once you start the next heat or would you like to keep it to those already established as part of the competition? Helloher Talk Page 15:12, June 10, 2013 (UTC)
Yeah, different question, but still about the tournament, so I won't change the heading. Is Wild Thing from series 4 going to make an appearance in the tournament? I just wondered, even though this was discussed a little bit above, so sorry if this is in the wrong place or I'm just dumb and have missed the answer. 77.102.75.35 17:31, June 10, 2013 (UTC)
Clearance
Edit
Hi Matt, could you do me a favour as an admin and clear out my blog please? Just delete the lot, I have it all on file. Ta snowdog140 17:45, June 17, 2013 (UTC)
Ragnabot...again
Edit
I just had a little check through of the robots left to use, that I could figure. If we are still using Ming 1 then, unless I'm missing something, we have 81 robots left...one too many. Am I miscounting something? CrashBash (talk) 19:09, July 19, 2013 (UTC)
Award Suggestion
Edit
Can I suggest someone for an award on the chat feature, when you've got the time, if you can? RelicRaider (talk) 16:32, July 28, 2013 (UTC)
Ragnabot...yet again
Edit
Hey, it's me again. What with the last heat just around the corner, I decided to do a little double check. If my count has served me correctly, however, there are two robots too many for the heat of 32 (I counted 34).
Unless I'm missing something, I have the following robots accounted for.
Ansgar 3 (qualifier)
Bondi-Titch (qualifier)
Cassius 2 (qualifier)
Robot the Bruce
Torque of the Devil
Detonator
Demolition Demon 2
Havoc
Ivanhoe
Flirty Skirty
Kill Dozer
Robo Doc
Whirling Dervish
Limpet
Bumblebot
Steg-O-Saw-Us
Facet
Weld-Dor 3
Atlas
Death Warmed Up
Mr Punch
Shark Attack
Gemini
Ghetto-bot
Terrorhurtz
Dome
The Tartan Terror
Edge Hog
Gravity
Raging Knightmare
Oblark
Philipper 2
Humdrum
V3
Unless I've counted incorrectly, is someone missing? CrashBash (talk) 09:22, August 3, 2013 (UTC)
Away on holiday
Edit
I believe I mentioned this earlier, but I'll say it again now. I'll be on holiday from tomorrow, and won't be back until the following Saturday. I would like to hope I don't miss too much of Ragnabot, but please feel free to continue without me, OK? CrashBash (talk) 20:25, August 9, 2013 (UTC)
I'd like to just mention it now, because I'll forget otherwise, but I'll be on holiday from this Friday to, I think the following Thursday or Friday. I just thought I'd let you know so you don't end up waiting for my vote or something like that. RelicRaider (talk) 10:52, August 12, 2013 (UTC)
I understand that I've been around the centre of quite a few disputes and arguments throughout the latest wiki tournament, and I don't want to be responsible for what's causing what was meant to be a fun and constructive atmosphere turn into something it shouldn't be. So for the sake of the tournament, would you prefer me to stop contributing to the rest of this tournament, and appoint someone else as a judge? I ask now since my sweepstakes have all pretty much bitten the dust. Datovidny (talk) 12:44, August 24, 2013 (UTC)
Killerhurtz picture in Ragnabot
Edit
Lots of people have been talking about Killerhurtz as if it is the BattleBots version.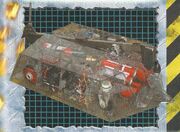 It was slightly different and I think the picture used is exacerbating the problem. The official artwork is from Battlebots. If the series 4 picture was used instead for future rounds if it beats Gravity, this might drop off a bit.
Use this picture instead. Jimlaad43(talk) 12:40, August 26, 2013 (UTC)
Linking to another wiki
Edit
Seeing as Techno Games is Robot Wars sister show and before Roaming Robots has now been renamed Robot Wars, could the pages of robots that competed in Techno Games and Roaming Robots have links to the page on those wikis? Links to the British robots pages on the BattleBots wiki would be good as well.
I'm asking because of the Ben Ten wiki has had Crossovers with Generator Rex and The Secret Saturdays and each character from the other two shows has a page on the main Ben Ten wiki but has a link at the bottom of the page leading to their page on their respective wiki. Sam (BAZINGA) 17:07, August 31, 2013 (UTC)
Main page
Edit
Hi Matt. Could you please go to the 'front page' discussion on the community portal and decide who you want to take over updating the main page from the two candidates? If you'd rather not make the decision yourself, then say so on the page and the admins can make a group decision. Thanks. Christophee (talk) 18:30, September 8, 2013 (UTC)
Temporary Post
Edit
Hi Matt
I don't want to sound, I don't know what, when I ask this, but I was wondering if I could have a go at moderating the next Wiki tournament, Audited Series 7. If the discussions have shown anything, I've been looking forward to this one for a long time, I've let that be known for a while and on every Poll, and I've got some ideas up my sleeve to make it the best I can. You will take moderation powers back as soon as it's over. I realise my very recent activity on the wiki and the wiki tournaments has been minimal, it has proven difficult these days to make the time for it, however if I were to moderate this tournament I can try to at least make time to update the tournament every 2 days. I also know I'm still a judge, and naturally I'll give you first dibs at filling the empty seat, but I was thinking it would be a good idea to give someone else a go.
I've probably left this a bit late, but what do you say? Thanks. Datovidny (talk) 19:27, October 10, 2013 (UTC)
I missed The People's Challenge when it was originally proposed. I'm not that fond of the idea, as I feel we'd be using up most of the good matches, when I want to save them, in case they appear in the middle of a real tournament. I'd rather just do one of two things:
Series 7-style special events, which would also allow those who wanted melees in Audited Series 7 to have some melees. As we wouldn't do a World Championship, we can replace its qualifiers with something like a series of County Carnage battles, also introducing some unused events like the Flipper Frenzy.
Challenge Belt - Every user picks three robots from Series 7, then we randomly pick sixteen of them, and run the [surely self-explanatory] Challenge Belt.
The Challenge Belt idea would be much simpler to run, so I'd prefer that. ToastUltimatum 22:11, October 10, 2013 (UTC)

I really appreciate this Matt, thanks, just one question, what randomiser do you use? It would probably seem like the fairest way. I was intending on having special events for the series, but I'd be happy to leave it to a consensus as to which ones get the nod. Datovidny (talk) 17:26, October 11, 2013 (UTC)
Favourite robots
Edit
Hey, I am compiling a list of the wiki's favourite and least favourite robots and would like as many users to submit their opinions as possible. Here is the link. Jimlaad43(talk) 08:14, November 11, 2013 (UTC)
Could you delete :File:Robotwars Series 3 Heat C Part 4|this for me? Sam (BAZINGA) 23:58, December 4, 2013 (UTC)
Malfunctions
Edit
I've noticed that you have started a Malfunctions page in your sandbox. Could we use that to start the page please, as i am on a red link crusade? Jimlaad43(talk) 09:22, January 16, 2014 (UTC)
Wiki Host
Edit
Thanks for letting me host Audited Series 7, I'll give the commentating powers back to you for future competitions, for which the poll is up now. Though I should ask, am I back to being a judge or is that still with Toast? Datovidny (talk) 15:12, February 8, 2014 (UTC)
Discussion Forum
Edit
I was skimming through the Forum:Discussion page and got a bit lost. Is it worth before the next tournament is chosen for the arena, going through each tournament idea in the list and deciding if we'll ever get round to them? Datovidny (talk) 13:28, April 12, 2014 (UTC)
Heat B votes
Edit
I'm going to be at the World Endurance Championship at Silverstone from tonight until Sunday night, so won't be able to vote. Here is what I would think would win in each situation.
Bigger Brother wins against - Eric (1 flip), V-Max (Just a better robot)
Wild Thing wins against - Attila the Drum (WT can push it around), Eric (1 flip)
V-Max wins against - Wild Thing (Wasn't too good against flippers that could self-right), Eric (1 flip)
Attila The Drum wins against - Bigger Brother (nothing it can really do), Eric (wrong shape to attack), V-Max (Wrong shape)
Eric wins against - None of them.
Jimlaad43(talk) 12:33, April 17, 2014 (UTC)
Crash-Bash
Edit
Hey Matt. This is Crash speaking. I apologise for my absence, but I've not got internet connection ATM. It's been down for two weeks now, and I don't know when it'll get back. Sorry if you've missed my votes for one reason or another. 81.133.95.248 10:01, May 11, 2014 (UTC)
Heat D Votes
Edit
I'm off on holiday for a week, so here are my votes for Heat D.
Cassius beats: Six Pac
Rick beats: Disconstructor, Six Pac, Tetanus, Kronic
Disconstructor beats: Cassius, Tetanus
Six Pac beats:
Tetanus beats: Cassius, Six Pac
Ripper beats: Cassius, Rick, Disconstructor, Six Pac, Barbaric Response, Kronic
Barbaric Response beats: Cassius, Rick, Disconstructor, Six Pac, Tetanus
Kronic beats: Cassius, Disconstructor, Six Pac, Tetanus
Jimlaad43(talk) 06:28, June 28, 2014 (UTC)
Fluffy or Dominator?
Edit
Matt, who are you actually voting for? Your vote starts off by saying "I'm going to vote for Fluffy", but the rest of your vote explains why Dominator will win, and I'm confused. CrashBash (talk) 23:36, July 29, 2014 (UTC)
Fantasy Audited 2
Edit
When is the next heat of Fantasy Audited 2 going to put up? Sam (BAZINGA) 20:27, August 27, 2014 (UTC)