Toon Ganondorf

TG
Bigger is better
Administration Details
Admin Status
Admin and Bureaucrat
Admin Date
January 14, 2009
Bureaucrat
May 15, 2009
Level of Activity
Inactive
User Details
Nationality
Victoria, Australia
First Edit
File:Razer.jpg, 1st January, 2009
Favourite Series
The Fifth Wars
Favourite Robot
Hypno-Disc
Least Favourite Robot
Razer
Favourite House Robot
Growler
I'm Toon Ganondorf, an Australian law student and saxophone enthusiast. I'm also a lover of bike riding and an advocate for an Australian republic, properly independent from the British Crown.
Please feel free to add MultiBattleaxe on Youtube, but I do not interact with the Wikia on Facebook.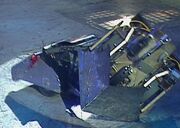 During my youth, I happened upon this show on a Saturday morning whilst I was too hyperactive to sleep. I recall now that it was the clip from the audition of Toe-Cutter, during Panic Attack's heat. Soon afterwards, I would drag myself awake at the ridiculously early time of 6am to watch it. During this time, my favourite robot was Cerberus, and I was shattered when it lost to Thing 2. I clearly remember battles like Killerhurtz driving into the pit, Firestorm and Facet, and praying that Dreadnaut would come back to life against Trident. Sadly, it was not meant to be. I was ecstatic in the Finals, such as the Grudge between Chaos 2 and Mace 2, to the bitter fight between 101 and Hypno-Disc, to Chaos 2 launching Firestorm over the wall. When Chaos 2 stopped that spinning disc for the win of Series 3, I was leaping up and down, a move only magnified by Chaos 2 flipping Shunt. I'd like to point out that besides Cassius and Panic Attack, no Grand Final has ever come close to a quarter of the excitement of this one. I then watched Series 4 all the way through, and have Heat G-J and P on an old VHS video tape around the house somewhere, as I recall. At the conclusion of the Fourth Wars, I was shattered to learn that Channel Ten had axed Robot Wars.
In December 2008, I watched the Series 5 recap, and the old feelings of excitement came back. I knew who had won the series, but it didnt stop me from rooting for Bigger Brother. January 1 was another significant day; the day I uploaded the image of Razer in my first ever contribution here.
Two weeks into my editing, I was promoted to admin on January 14, 2009, and later to Bureaucrat on May 15. I have single-handedly written over five hundred articles for this wiki and uploaded more than 1500 images. My edit count ranges somewhere in the 17,000 range. However, as of 2011 my presence here is infrequent. I would advise you to direct any queries to other staff (there are more than enough), although if I am here I will strive to do my best to support you.
Please enjoy your stay and welcome to the Robot Wars community!
My Favorite Robots
Edit
| Image | Robot | Thoughts |
| --- | --- | --- |
| | Hypno-Disc | Spin to Win. I don't know why its taken me this long to accept my favourite robot. In a way, its always been Hypno-Disc. Even today, I still have my pullback Hypno-Disc downstairs. In its prime, no Hypno-Disc battle was ever boring - it got you flinching and squirming, jumping and yelling. Even its losses were exciting to watch - Chaos 2 stopping the disc, Pussycat snapping the wheel, Behemoth smothering, Bigger Brother's insane comeback and Firestorm's exciting suicide run into the pit. It just went to show that only true skill could be used to overcome such an amazing machine. Its a true shame that Hypno-Disc never won the UK Championship. There is no single robot in history more deserving of a real title. |
| | Bulldog Breed | Its managed to do what not even Dantomkia, Firestorm or Chaos 2 did - flip Pussycat out of the arena. I thoroughly enjoy every one of the Somerfield's battles - except Robopig - and it never did too much that you got sick of it. I loved its Tag Team win, and it only went down to the best. Except Robopig. |
| | Firestorm | Firestorm will always be one of my favourites, as its smashed records, trounced robots I've immensely disliked, and never failed to impress. Firestorm 2 was a real disappointment, only really beating The Morgue twice (yes, I believe that Firestorm 2 won that final fair and square) but the yellow wedge always impressed me, especially the toppling of Mr. Psycho, the trouncing of Pussycat in Series 5, and continually showing its superiority to Panic Attack at every turn. |
| | Chaos 2 | It saddens me that everyone seems to have no faith in Chaos 2 just because of its latter days. What about its youth? It smashed about 18 robots in a row before it was finally stopped. Chaos 2 is the hero of robot combat, no matter how many fancy titles Razer was set up to win. |
| | Pussycat | Most of you know my distaste for Razer, and Pussycat I just love because it carved up that horrible thing. Aside from that, its been immensely successful, winning all those titles, and a nicer group of people you could not find. |
| | Black Hole | What an awesome machine. Even if the German Championship had been five times as large, this machine would have won, hands down. I was furious at Philipper for making that comeback in the European championship, because Black Hole would've trounced Tornado, no doubt. |
| | Tricerabot | It takes a special kind of machine to flip an angry, flywheel-equipped Matilda, but Tricerabot did it. Its cardboard coverage was good spirited, but it cost it because it showed how much "damage" The Revolutionist had inflicted despite Tricerabot taking out the other four. |
| | Anarchy | I love everything about this robot, from the weapons to the colour. It pulled the worst lineup, it did, because I can only see half a dozen of the robots in Series 6 beat it. |
| | Lightning | I love the style as this machine uses its side flipper to dump Thor down the pit. Just cool. Plus the captain is a great guy. |
| | The Steel Avenger | These are the most decent couple you'll ever meet, and they're machine is just so slick and fancy. Its had its setbacks, but its also shown that a four year old machine can do its thing well. |
| | Tough As Nails | And the Flying Dutchman makes the top ten. I love the tactics behind Tough As Nails. No one ever builds a robot with strategy in mind (unless you count every hick who plans on getting OotA's), but here's Tough As Nails with the most efficient grab-and-pit design since Panic Attack. Disc-O-Inferno fanboys drive me crazy on Youtube, they won't shut up and respect the genius of Tough As Nails' design, instead insist in bleating about how unfair it is that Tough As Nails won. At least they haven't accused it of 'cheating' somehow. |
My Least Favorite Robots
Edit
Razer - Any literate user on this wiki knows that I hate Razer. Ian Lewis' machine is an overachiever, who has had every tournament specifically set up for it to win. Worst of all, it managed to blow a few of them, and people still loved it and gave it ridiculously high seeds. Once you've seen one Razer battle, you've seen them all - pierce, pierce, pit. Yawn. It wouldn't be as bad if the guys were all as nice as Chaos 2 or Pussycat, but Ian Lewis throwing a tantrum over the "Gentlemen's Agreement" just made me angry. What about poor old Milly-Ann Bug?
Storm 2 - Wikia Series 8 made me look differently at this machine. I would like very much to justify the producers - a robot that can never lose is boring. People don't understand the concept of what they meant. There's nothing boring about a Storm 2 battle, but when you can never defeat it, where's the inspiration of entering a tournamount if you have no chance?
Tornado - It was awesome in Series 4. However, again, you get sick of these robots. I took three International competition victories for Razer, but when Tornado won two in a row, you begin to feel that its hardly international. I do like Tornado for using that frame - it stopped Razer getting its filthy hands on another rigged title.
Userboxes
Edit