RA2/Writing pieces
Talk

4
1,514pages on
this wiki
Since my userpage was getting too long, here is a page for all my writings.
The 10 most underrated robots on Robot Wars
Edit
I was planning on making a top-10 list of my favourites, but was displeased when I realized that most of my picks were predictably semifinalists. This top 10 is my way of giving credit to some of my favourites that would normally not get their day in the sun. They're the ones who, in my opinion (remember that phrase well, should you disagree with my choices), should have been given more reverence.
10 – Plunderbird 2. You're probably wondering why this robot made the list at all; after all, it's one of the most spirited teams and practically a household name. Well, they make the list because of the second version of their robot; the one that made a semifinal. After the disaster in Series 3, the team shifted towards comedy, and their robots suffered. Robot Wars was at its peak of popularity in Series 5, meaning that the team was best remembered for the wanton destruction of their Plunderbird 5. But I'll never forget the mark of Plunderbird that not only won, but dominated in a match against the guy who would go on to make Wheely Big Cheese.
9 - Reactor 2. The team were true artists, between this and Rhino, they refused to enter a robot that wasn't beautiful. The rollover design was subtle yet effective, and though the weapons were no Chaos 2 or Dominator; they were respectable. Any wary robot knew to keep away.
8 – Wo-Wot. Adam Clark has never been successful in terms of winning. We've got Vector of Armageddon who got stuck on a ramp, Corporal Punishment who just plain never won, and 259 who lost a belt in that faithful battle. And then there's Wo-Wot. You have to see it to believe it, a grabber AND a crusher, what a brilliant idea. As shown in its battle with Lambsy, it can really put the pressure on, and would've won if not for a certain interference. Granted it still would've lost to Hypno-Disc and albeit, much more brutally. Still, Clark was planning on building a new robot anyway, and losing to Hypnodisc is nothing to be ashamed of. It also could've done well in the War of Independence, had they formatted it properly and let Wo-Wot fight an American, which was kind of the whole point of the contest.
7 – General Chompsalot. Another personal favourite of mine, the one that never quite could. If you look at its battle record, it was always one step away from glory; one more victory would've given it a place in the Season 2 Grand Final, the first US Tag Team Terror championship, or the title in either War of Independence. It was a very efficient grab-and-pit design, I always love those. It's such a shame that the General never became a household name; it was such a fun robot.
6 – Joint winners, PulverizeR and Slicer. The Dutch champions got plenty of love in their home country, why can't they get any in the UK? In both of PulverizeR's UK appearances, its disc wasn't working properly; that was not the Dutch champion I saw in the Dutch Wars videos on Youtube. If it hadn't been for those, and all I knew about PulverzeR was its UK appearances, it would have been nothing more than "the Dutch robot that looks like Infernal Contraption whose disc doesn't work." I'm putting Slicer here too, because despite being a Dutch champion, none of its fights are up on Youtube; all I know is that it didn't qualify for Series 7. And it's a real shame too, because based on what I've read on the Dutch Forums, Slicer's victory was nothing short of well-earned.
5 – General Carnage 2. Flipped another robot out of the arena. Not too spectacular in 2010, but at the time of its battle, only 4 other heavyweights had managed to do that. So, why wasn't General Carnage given the attention it deserved? Why was it never seen again on Robot Wars? Why is it no more than a statistic, the only robot to flip another out of the arena and never reach a heat final? Was it because it coughed up its link in the battle against Stinger? We'll never know, and it's a real shame too, I think it could've been a semifinalist if placed in an "opportunity" heat (ie, one where they expect the seed to fail.)
4 – Scarab (Series 3). Pop quiz; what do Thermidor, Kan Opener, and Tough As Nails have in common? Successful horizontal crushers. But who was the pioneer of such a devastating weapon? Surely there must have been a failure before success. There was, but many Robot Wars fans would be hard-pressed to name it. I'm talking of course about Scarab. It won nothing, and thus was forgotten. But in 1999, the webmaster of Tectonic predicted that this design, humble as it may be, would inspire countless imitators. And how.
3 – √3. Solid proof that anything WJ Dikstra touches turns to gold. If I were filming the Dutch Wars and I happened upon the only 3-way clusterbot in all of Europe, you can bet I would be begging the team to let it be shown to a UK audience- the audience that generates the majority of or Robot Wars' money and viewership. What a shame that such a robot was almost buried with the sands of time. We are very fortunate to have snippets of Dutch Robot Wars on Youtube, but they are only snippets; who knows what other beautiful designs remain hidden from us? At this point, I have to give a big, big thank you to the uploader of Dutch Robot Wars. I won't say your name here, but you know who you are. You've done us all a big service.
2 – Joint winners, Ming 3 and Tiberius 3. Harsh critics call them "Razer clones" and I a real problem with that. They built their robots from scratch; you can't just eye up a robot, and then instantly have the capacity to build it, it doesn't work that way. Even if the team drew inspiration from Razer, the robots still took a lot of money, hard work, and knowledge to build, that deserves some respect. And they both work pretty decently; a crusher is NOT an easy weapon to make and maintain. If you're still not convinced about these two, try designing your own robot in your head. I guarantee you will not come up with a design that can't be classified as a "(insert a famous robot's name here)" clone.

And the number 1 robot is............


1 – Killerhurtz. My, my Killerhurtz. Never have I seen such intercontinental dichotomy. It originates from England, but from its stats, you wouldn't guess. How many 1-on-1 victories does it have? In the States, 12, in its home country, zero. Not forgetting that it finished second, top 4, and top 8 in three separate Battlebots tournaments. It was such a spectacle to watch; the obscure arrow-design actually worked as a battering ram, and the axe didn't fail it when it needed to self-right. Sadly, Battlebots was never brought to the UK, and Killerhurtz could not replicate that success on Robot Wars. After Terrorhurtz took the spotlight, Killerhurtz was doomed to live in its shadow forever. All the props to John Reid, Terrorhurtz is a fantastic machine. It's just a shame that Killerhurtz will forever be remembered in its own country as, to quote Craig Charles, "pants."
Top 10 robots who should've qualified
Edit
After Robot Wars started gaining momentum, it was inevitable that there would be more robots than spots available. Sadly, this meant that many a roboteer would go home without even getting on TV. Luckily, the power of the Internet meant that such robots would not be lost to time forever, and their captains could still get the word about their robots. Thanks to this modern streamlined communication, we've been able to come up with quite a hefty list of rejects, thus assuring that those hardworking roboteers got at least a mention for all their time and effort.
Of course, in looking through the list, I found several robots who, if I had my druthers, would have not been rejected at all. I will list those robots in ascending order, and make a suggestion about whom each robot could have replaced.

Failed to qualify: Series 3
Why it should have: Because of the title sequence. Its spike cannon looks exactly the same as the one in the title sequence. Remember the theme song from the first four wars? It had graphics of all sorts of things they thought they'd see on Robot Wars. Most of them were based on house robots; the saw on an arm, the chainsaw, and the big bulldozer plough with headlights, to name a few. However, some of the graphics were based off American designs that they thought would pop up in the UK as well. The spike cannon, made popular by the American robot DooMore[1], was one such example. It must have come as a surprise to the producers when zero spike cannons entered the first two wars, you'd think they would have pounced at the chance to include as many such robots as possible to justify having that graphic in the theme song. Instead they only put two such weapons through to Series 3 (Aggrobot and Axios).
Who could it have replaced: Brimhur. I concede that retractable spears in general are ineffective, which is why it's only fair that another reciprocating weapon give its place to More Panda Monium. Out of all such robots, Brimhur is the most obvious choice. Have you noticed that every other team with a retracting spear put a good amount of effort into making their robot look like more than a box with a spike? Seriously, think of all the retracting-weapon wielders from Series 3; there's Terrorpin, 101, Spike, The Grim Reaper, Twn Trwn and so on. Brimhur's team could have at least done with a coat of paint.
9 – Adam Clark's Twister (no picture available)
Failed to qualify: Series 4
Why it should have: Though the producers wouldn't have known at the time, Clark would enter seven different robots over the course of six series. Even so, he'd become somewhat of a celebrity in the first three series, having built three different bots, and modified one. Anyone who'd spend that much time and money deserves a round of applause for his devotion.
Who could it have replaced: Dreadnaut. I know that's an unusual decision, seeing as Dreadnaut was a seeded robot, but the fact of the matter is, Dreadnaut broke down all of its appearances, and only won battles riding on the backs of others that broke down. Unlike Clark who built anew each year, Dreadnaut remained virtually unchanged, which is perfectly fine if your robot shows potential. The seeding could easily have been transferred to Thermidor 2 or Darke Destroyer; 29 is not exactly prestigious, it's more of a "looked good in the pits" sort of number.
8 – Banana-R-Armour (No picture, but it was described as a yellow Morgue lookalike with two Mean Streak-esque discs)
Failed to qualify: Series 4
Why it should have: The name! Just tell me you aren't curious to see a picture; a robot with a name like that must be a pretty clever design. The description makes it sound like it certainly wouldn't disappoint.
Who could it have replaced: Humphrey; replace a boring name with a creative one. It would've been clever to name your robot after a 1970's milk commercial mascot, if not for the fact that the target audience was under 25. The artwork is equally baffling; you'd expect it to be a red and white striped straw, instead it's a green Sonic the Hedgehog driving a black and yellow trapezoid. And the motto does nothing for them either, "look out, there's a Humphrey about" wouldn't have been any less memorable if a different team had adapted it; at least with "look out, there's a Banana-R-Armour about" you get an excuse to say "Banana-R-Armour" in casual conversation. Now, if the weapon was any good, I wouldn't be so harsh, but so many roboteers jumped on the flipper bandwagon after Chaos 2 won Series 3. Surely there must have been riper picks than Humphrey.
Failed to qualify: Series 5
Why it should have: In the qualifiers, it beat Atomic. It had some nice breakaway bits, meaning that even if it didn't perform, it would make for an interesting decapitation.
Who could it have replaced: Kliptonite. I liked most of the entries in Series 5, finding one that should give up its place was no easy task, But in the end, I settled for Kliptonite because the spiked axe is so difficult for inexperienced teams to pull off. Unless it's supercharged like Dominator 2's, it rarely performs well. The spiked axe, I feel, was the most dispensable weapon type at the time, so unfortunately, Klitonite gets the boot.
Failed to qualify: Series 6
Why it should have: Because of its innovative side-flipper design. I know I criticize some disgins for their ineffectiveness, but only because there are so many of said designs. Lightining on the other hand is very unique; no other robot in the UK attempted the side flipper, and none in Robot Wars thought to have two. Lightning looked sleek, and always impressed me with its ability to simply shrug off being flipped.
Who could it have replaced: Doctor Fist. For starters, the name sounds like an adult film (or so I've heard). It's powered by petrol, which has a less-than-satisfactory rate of failure. And its weapon is a Pussycat blade, except it primarily spins down. I don't know what great things were expected from that robot.
Failed to qualify: Series 7
Why it should have: Because three years straight, this team built a new robot every year. And while the Sabre Tooths may not have been the best at winning battles, each was a very unusual, very appealing design, and it deserved another chance after the misfortune suffered in Series 6.
Who could it have replaced: Colossus. The complete contrast to Sabre Tooth, this one was a big chunky blue box, virtually unchanged from the previous year. Its design doesn't look good on camera, and the people in charge already know it has issues with self-righting. I don't know why they'd take a proven failure over an unknown quantity.
Failed to qualify: Series 7
Why it should have: Because it defeated two really good robots in Extreme. It gave a good name to the jaws weapon, a design that I prematurely dismissed. It's a great looking robot with weapons that actually look like a dragon's head and wings. And it had a grudge with 13 Black that needed to be resolved. Surely the entertainment value of such a robot would make it worth a discretionary place.
Who could it have replaced: Cobra. Because let's face it, you can't win with a stabber that only gets seven jabs per match; you would've gotten laughed at in Series 2. I'll rehash this point as many times as I need; Cobra could've been a joke entry, except it's an unfunny silver box. Now it's just a joke. At the very least, the producers could have allowed it to be smashed up by Terrorhurtz or flipped out of the arena by Thermidor or Chaos 2. Instead it just died in the middle of the arena, depressingly, and against B-List robots. Who thought that would be entertainment? You're probably now wondering why I put Chompalot in a spot where it couldn't meet 13 Black, its archrival, until the Grand Final. Well, I was planning to, but then I took a closer look at the competing robots, and I realized something. All the robots in Heats C and D were so well-built that I didn't have the heart to remove any over a silly grudge match. And let's be honest here; Chompalot would lose that grudge match, no questions asked. If I were the driver, I'd be content just to battle new and different robots on TV, even if no grudges are resolved in the process.
Failed to qualify: Series 7
Why it should have: The team always brings an element of fun to the wars, something that was severely lacking in Series 7, with Diotoir, Plunderbird, and Sumpthing sitting out. As an added bonus, they completely overhauled their robot; the signature lorry hub was no more and the design was completely new. Sure, the circular saws weren't the most effective weapons, but the team had more important priorities than winning, like having fun and entertaining. Even though they lost out on the Best Sportmanship award every year, they kept coming back for more, which is quite commendable. Not so commendable was a certain hiccough in the selection process…
Who could it have replaced: T-Wrecks. Let's get right down to brass tacks, T-Wrecks is a thwackbot. Rammers and Thwackbots were not considered active weapons. The producers really messed up in letting this one through, while saying no to Stinger and German Hammer (A similar design to Stinger, and one of the twenty-odd that came all the way from the east only to be rejected). And of all the robots to incorrectly let through, they had to go and choose the inferior type. A circular thwackbot simply isn't effective due to the limited attack range that such a design offers. I have to assume that T-Wrecks won its qualifier battle, and it wasn't until afterwards that the producers realized it was a thwackbot; that it got a discretionary place is inconceivable. Still, it was a blunder on their behalf, and cost a better robot its position in the series.
Failed to qualify: Series 7
Why it should have: Because it's a Dutch champion! Every other international champion got to be on UK Robot Wars, this one should've been waved through. Not to mention that the same person built Techno-Lease -the first ever Dutch bot in Robot Wars- only to have it mangled by Razer. He came all the way from Holland, is it too much to ask that you let him get his deserved recognition from the primary Robot Wars audience?
Before I say who it could have replaced, I should explain that in the qualifiers, most of the international entries ended up fighting other international entries, since they all showed up at the same time. This actually made for quite a good system, as the "you win you're in" policy guaranteed that at least a certain number of them would qualify. Having said that, I'll assume there was also a limit to how many they would accept, and would therefore have to remove an international entry to make room for Slicer.
So, who could it have replaced???: Hard. I am sorry to have to bump the only Belgian entry, but if I had to pick an international to go, that would be the one. All the other international entries were ingenious pieces of work; great-looking designs that held their own in battle. Whether it be the powerful flipper of Gravity, the devilishly clever pincers of Tough as Nails, or the just-for-fun Tartarus, an international entry always made the heat more colourful. However, Hard was a different story. From its uncreative name, to its cookie-cutter design, Hard was simply not representative of the reasons Robot Wars extended its hand eastward. If they wanted their token Belgian in the wars so badly, they could have picked Caesar, and probably should have instead.
And the #1 robot is……….
Failed to qualify: Series 3
Why it should have: Pop quiz; what robot reached the heat final as a newcomer in Series 2 before returning to Series 3 with a completely new design- a wedge shape with a lifting arm capable of flipping a house robot? You probably said Inquisitor Mk 2, since I mentioned its name a couple lines up. However, the point I'm trying to make is that another robot satisfies all those conditions, and it qualified without a problem. The robot in question, if you hadn't guessed, is The Big Cheese. Such a legendary robot in Series 3, and Inquisitor has so much in common with it. So why then, was Inquisitor not given the go-ahead? Was it punishment for getting a scratch on Mentorn's cash cow? Actually, that's not as ludicrous as it sounds; with the exception of Tornado, every robot that defeated Razer sat out a series later on; Inquisitor missed Series 3, Aggrobot missed Series 5, and Pussycat missed Series 6.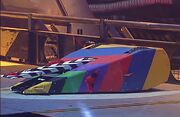 Who could it have replaced: Panzer. While I respect the robot's pushing power, it simply doesn't make for a good battle. I propose that we switch the two robots around. That way Panzer can be in Pinball, an obstacle course much better suited for its design, while Inquisitor takes to the arena, injecting some much-needed life into Heat L. Believe me, the heat would have been a lot more exciting if Inquisitor were in it; not only do they get an experienced robot, but one that can flip house robots as well; I think we can all agree that such a talent doesn't deserve to be confined to the pinball arena.
Top 10 Robot Wars myths
Edit
As with any history project, gathering information on Robot Wars has not always been easy, and I should know. Thanks to the tremendous efforts from our users, and generous help from our contacts and Youtube uploaders, a ton of misinformation has been rectified by the Robot Wars community. Let us take a look at the 10 historically most prominent Robot Wars myths. Do not feel bad if you were fooled into believing any of these; it is the nature of rumours to spread like weeds, and infest the garden of truth.
10- "Atomic flipped Reactor OotA in the Series 4 qualifiers."
I read this in the Robot Wars Ultimate Guide, and didn't give it a second thought. I like to believe that all official Robot Wars literature is 100% factual. However, such is not the case. If you go through the Guide with a fine-toothed comb, several mistakes come to the surface. Most of them are minor things, like incorrectly associating Triterobot with the S3 team, but the Atomic-Reactor thing was a real big slip-up. The truth is, OotA's were strictly forbidden in the qualifiers due to safety reasons, and this applied for every series qualifier, all the way up to Series 7. And even so, did the Series 4 Atomic look like the kind of machine that could flip an opponent OotA, a feat that only Chaos 2 and Gemini would manage to do that year?
9 – "Das Gepack was German."
This one's more or less been put to bed, but I'm still listing it because they really pulled the wool over our eyes. This myth originates from the UK vs Germany competition, where Das Gepack, representing Germany won co-championship. However, all was not as it seemed; Das Gepack's team wasn't bringing the trophy back to Germany, they were going back to Holland. For one reason or another the producers couldn't scrape together four actual German Robots, so Das Gepack, a redesign of the Dutch robot Alien Destructor, was entered in a German robot's stead. It was quite a clever ploy that had me fooled when I originally saw it on TV; it had a German name, and Kees and Peter's accents could've been from any European country east of England as far as I was concerned. This wasn't the first time the producers had to deal with a shortage of German Robots; Absolut Krankhaft and Hydrotech from the German Robot Wars were actually Dutch and Swiss respectively.
8- "Pussycat failed to qualify for Series 6."
I've heard several renditions of this story, all of them equally false. The most common version is that seeds had to qualify for Series 6, just like all the other robots, and Pussycat failed to. Apparently, Pussycat got the bad end of Matilda's flywheel, and was either too damaged to battle, or lost the fight, depending on the storyteller. Now, while it makes for a great tale, the logistics of it just aren't there. For one, why would seeds suddenly be forced to attend qualifiers? The point of seeding is to reward strong competitors by not making them go through the hassle of nontelevised fights. Secondly, even if Pussycat did fight, there wouldn't be any house robots; they were only seen in the qualifiers of Series 5, when they were done as a live event. The truth is that the Gribble family was in mourning after the loss of their son, and understandably needed a break from Robot Wars. I don't know why people pick on poor Pussycat for this kind of thing; there were plenty of occurrences of a potentially high seed not returning; Killertron from Series 3, Beast of Bodmin from Series 4, Wheely Big Cheese from Series 6, or S3 from Series 7
7- "Sumpthing killed Wel-Dor."
Back in 2005, I had a desire. A desire to know everything there was to know about a 2-years-dead TV show. But, being as it was two years dead, information about this show was hard to come by, particularly when it came to the first four series. In fact, besides the Run Amok tournament trees, there was only one such source, a site known as Tectonic. It was put together by the captain of TRACIE, Series 1 Grand Finalist. I figured that since he was a contestant on the show, his word would be infallible. Not that I had a choice, as he was the only firsthand account available; it would be many, many years before people began uploading Robot Wars on Youtube. So, everyone used Tectonic as their source for all things Robot Wars; everyone knew about it, and it was a great way to spread the information quickly. Unfortunately, if a mistake was lurking within the summaries, that too would spread like pestilence. The worst example of this was in his summary of the 4th Wars battle between Wel-Dor, Little Fly, and Sumpthing. In it, he incorrectly attributed Wel-Dor's breakdown to one of Sumpthing's axe blows. As we know now, it was actually Little Fly who caused the fatal damage, but Tectonic must have forgotten to watch the postmortem, because there was no mention of it on his page. However, the community was unaware of this, and Sumpthing fans went crazy, ecstatic to learn that Sumpthing had not just won a battle, but KO'd a seed! Sadly, the truth rang out in 2009 when a Youtuber uploaded the battle, to the sound of collective bubbles being burst. Still, how can you not love Sumpthing? Even if it never managed to truly win a battle, how many other machines can be called the Benjamin Button of Robot Wars?
6 – "The Nickelodeon and Extreme Warriors series were filmed in the US."
At first glance, it seems somewhat plausible; they've got a different commentator, different host, and different robots. However, there's just one little problem with that idea: it's impractical. As it is, Robot Wars is expensive enough to produce, do you really think Mentorn would spring for transporting the arena, house bots, and crew to the States? And what about Dutch and German Wars? Were they too filmed abroad? The much cheaper option would be to make the roboteers come to them; whether or not they pay for plane tickets, it's still cheaper than setting up another base of operations overseas. Want evidence to go with that? Look in the background of the pit are during interviews. You'll see the occasional British competitor, including many that weren't in any Extreme Warriors events. If they aren't going to be in any events, what would be the purpose of bringing those robots all the way over the Atlantic? Scenery? Sorry to burst your bubble, but Extreme Warriors was filmed in the heart of England.
5 - "Shunt had a cold-fusion engine and an axe made of diamonds."
This is a two-part myth; I'll discuss each part separately.
Though it was toned down as time went on, the earlier series portrayed the House Robots as sci-fi characters in a post-apocalyptic space adventure. During the house intros, Jonathan Pearce would often stretch the truth, explaining that the house bots were from the pits of hell, sentient beings that had a mind only for destruction, and running on cold fusion. Any discerning fan would be able to tell that the former two of those three statements were false, but not everyone knew that the cold fusion bit was false as well. Here is the Wikipedia article on cold for anyone who needs a good read: [2]. For everyone else, cold fusion is in essence a process in which nuclear energy can be obtained at virtually room temperature. This would provide us with a highly-adaptable, highly-efficient source of energy – if we knew how to do it. Unfortunately, to this day there is no known method of cold fusion; scientists are working on it, but it remains elusive. Until they figure out how to provide power to third-world countries using cold fusion, don't expect to see it being used for robots on a marginally-profitable TV show.

As for the axe, I can't fault JP completely for this one; all he said was "diamond-edged", he never said explicitly that Shunt used diamonds on its axe, but the fact is that many Robot Wars fans misconstrued the phrase, inferring that Shunt wielded the precious gemstone found on engagement rings. I'm sorry to disappoint anyone who thought they could pull off a Flawless heist, but "diamond edged" does not refer to the material that comprises the edge of Shunt's axe, it refers to the diamond ''shape'': ◊. While nowhere near as majestic as pressurized carbon, the humble tilted lozenge did its job, and pierced many a robot shell.
4 – "Drillzilla cheated."
From the get-go, this one should seem iffy; how exactly do you get away with knowingly and willingly breaking the rules on a highly-scrutinized televised competition? Still, the bot-haters care as much about logic as Channel Five did about Series 7. They argue that Drillzilla was a shuffler, and should have only been allowed 150 kilo's of weight, as opposed to the 160 it donned. My case is further hindered by the captain, who himself said that he could be "one-and-a-half" times as heavy as the wheeled heavyweights. However, while the fanboys are right about the shufflebot amendment, they aren't attuned to the full story. For that, we must journey across the pond to America, a while before the Second World Championship was filmed. As the original creators of Robot Wars, the American roboteers were doing all they could to get something out of the flying-high robot combat market. Their answer to Robot Wars was a robotic combat show called Battlebots.

The incident occurred during "Season 3.0" of Battlebots, in the Heavyweight final. The favourite to win was Hall-of-Famer Biohazard, whose devilishly clever lifting arm had scored it three major titles already. Opposing it was the new kid on the block, Son of Whyachi. Though it was the team's first excursion into Battlebots, their talent was obvious; they'd constructed an enormous spinning blade to serve as a weapon, and for locomotion, a set of shuffling "banks," not unlike those used by Drillzilla. Son of Whyachi weighed in at a solid 440 lbs, 200 kilograms. The shuffler distinction hadn't been established yet, so for all intents and purposes, Son of Whyachi was a bona fide walker. However, the other teams and the audience weren't as happy. Team Whyachi gave off an image of affluence; they had many complex tools at their disposal, like a lathe mill for cutting metal. Their seemingly-bottomless funds irked a lot of people. The majority of roboteers didn't have that kind of money at their disposal, the only time they'd see a lathe mill was in the junkyard when they were looking for parts to salvage. Needless to say, Team Whyachi was rather unpopular, and after they pulled off a victory against Biohazard on a tight judges' decision, the fan outcry was resounding. Between seasons, many harsh words were exchanged about Son of Whyachi, some were starting to question the legitimacy of Son of Whyachi's walking device. The Battlebots producers knew they had to appease the angry fans, so in order to fight the fire, the shufflebot clause was added to the walkerbots rule. However, relations between Robot Wars and Battlebots were tenuous at best; the Robot Wars producers wouldn't make a rule change just because Battlebots did. Perhaps out of spite, they chose to ignore the new rule and continue to allow shufflebots the full weight advantage. Because of this, Drillizilla was perfectly kosher, as was Ansgar 3 from a later season. It was not until Robot Wars went off the air, and independent circuits became more prominent, that the shufflebot amendment was adapted into the official European rules.
Considered to be one of the greatest cinema travesties of all time; older fans will remember that Han Solo did indeed pull out his gun and fire before Greedo could as much as wink. However, upon re-release, I guess George Lucas felt that a guy who unprovokedly shoots an alien to death would make for a pretty lousy protagonist. His solution? CGI in a laser bolt next to Han's head the moment before Han draws his own gun. That way, it would look like Greedo tried to shoot Han, and missed, providing justification for Han to kill him on the spot. It must suck for Greedo, not just because he's a bounty hunter who got killed on the job, but because the last thing he did before he died was to demonstrate his inability to hit the side of a barn door. Wherever Greedo is now, I'm sure he's thanking Mr. Lucas for putting in that last minute edit.
Wait, that's not right. Sorry everyone, wrong "Wars."
3 – "Team Falcon is like that in real life"
On Robot Wars, there's a great deal of educational material, specifically in the way of mechanics and electronics. Because of said edutainment, people tend to believe that everything they see on Robot Wars is exactly as it is; black-and-white, either pure fact or pure fiction. However, that simply is not the case. While the robots and science are real, the drama isn't. Just like in WWE, the "characters" are just experts in the field testing out their acting abilities. Do you think that the captain of Snookums is actually a pirate? And what about Mr. Dig, is he a stoner hippie by trade? Or how about Team Blue, are they aliens from the planet Blue? Of course not, they're acting! Is it so inconceivable that teams like Team Falcon were acting too? The majority of roboteers are good people who don't wish to cause any of their fellow robot makers and harm. Simple as that. While I'm on the subject, Snake Bite and Probophobia didn't really have a punch-up, Plunderbird and Mega Morg didn't really stage a singing contest, and Dr. Zulu did NOT sabotage Firestorm.
Razer fans are some of the most stubborn people on the planet. Because of this, myths about Razer are like cockroaches; you can stomp on them all day but you'll never be completely roach-free. Razer fans hate anything and everything that takes away from Razer's image of invincibility, like a legitimate loss in the Series 6 Grand Final. In fact, they were in such disbelief over it that they resorted to discrediting Tornado, saying that Tornado's cage, which was shown getting the ok on TV, somehow broke the rules. The most common argument is that it violated the size limit by not being able to fit in the pit. Sorry Razer fans, but the size limit is 2.0 metres length, 1.4 metres width, and no height restriction as long as it can get through the door. The pit however is a 1-metre cube; that's the designers' fault, not Tornado's. There were plenty of robots that had trouble fitting into the pit; remember when Razer tried to drive Widow's Revenge in, but ended up falling in itself because the Widow was too big to go down? I didn't see anyone bleating about that. That frame does not make Tornado completely immune to the pit, it can still be pushed on top with its wheels hovering helplessly over the crevasse; Razer would have won for sure, had it been able to let go at the end. And why wasn't it able to let go? Perhaps because of that special hook attachment the team had fitted.

The other argument I've heard is that the Tornado team put on the cage at the "last minute" and the judges, who had never seen it before, had no choice but to allow it. If you weren't dissuaded just by the ludicrousness of that statement, go back and watch Tornado's first battle in Series 6. On its stat card, observe that Tornado is listed as 1.93 m in length, a good deal greater than any of its opponents. However, when seen side by side with the enormous Inshredable (1.6 m in length), it is clear that Tornado is the smaller of the two. What's going on, you may ask? Well, Tornado was weighed and measured with the cage attached, that's why its stats seem slightly larger than they should. The particularly annoying fanboys will argue "typo," to which I respond "Robot Wars Extreme Warriors." The sixth series was not in fact the debut of Tornado's cage; that happened in the Extreme Warriors War of Independence. You can tell because Razer doesn't have the hook attachment on; it had not been crafted yet.
While the majority of fans knew better than to believe that last myth, very few knew recognized #1 as the myth it was. The #1 myth is…..
1 – "Widow's Revenge was built by the wives of the Razer boys."
I said that Razer myths were the hardest to extinguish, and I meant it. What we have here is an unfortunate case of show hype gone too far. Widow's Revenge was built by a group of real female engineers, including the captain of Pillow Torque. Their original goal was to raise awareness for breast cancer (hence the pink puzzle piece insignia), and get back at ALL the male roboteers who didn't spend enough time with their wives. Their "no hot dinners on the table" comments weren't just directed towards Ian, Simon, and Vinny, no, they were directed at all 95 robot teams in attendance. Now, it is true that Vinny's girlfriend stepped in as a team member when one of the Widows fell ill, but their association with the Razer team ended there. It was the producers who told them to keep up the charade about being comprised entirely of the Razer Team's wives. Widow's Revenge could have been been placed in a heat with any big-name robot, and they could have just as easily been Chaos 2 or Hypno-Disc's wives. Though Widow's Revenge was an inconsequential one-off competitor, this myth makes the #1 list for turning a falsehood into a piece or Robot Wars pop culture. When you think of Widow's Revenge, tell me you don't immediately think "Razer's wives." It's the knee-jerk reaction you get that shows just how powerful this myth is, and why it truly is the greatest Robot Wars myth of all time.
Jonathan Pearce's top 5 overused one-liners.
Edit
As a bit of a change of pace, let's shift our focus from the competitors of Robot Wars to the post-production aspect. Now, every sport needs a commentator, that's just the way it is. Baseball has (Insert name here), football has (look up a name and paste it in), hockey is renowned for (if I followed hockey, this is where I'd put a name), and who could forget the masterful cricket announcer (you're kidding, right? I'm American, how would I know?). Just as those big names defined their sports, so too was Robot Wars defined by Jonathan Pearce. Now, commentating on such an obscure sport is no easy task, I'll grant him that. Still, I did feel like he had a tendency to repeat himself an awful lot. To his credit, I only managed to compile a list of five, but they bug me nevertheless. Let's take a look at Jonathan Pearce's top 5 overused one-liners.
5- "X wheels on my wagon"
This one's used by JP whenever a robot loses a wheel, with X being however many it has left. While I can't give a tally on how much any of these are used, this one sticks out for me. It's probably because the origins of the phrase are somewhat sensitive. You see, the phrase originates from the song "Three Wheels on my Wagon," a song about pioneers travelling westward across the US, and being attacked by Cherokees. Now, it is very PC for white Americans like myself to feel a tinge of guilt every time the topic of Native Americans is brought up. However, if the short film "Apaches" is anything to go by, the Brits aren't nearly as sensitive. But history aside, it did pop up at an astonishing rate.

4- "The lights are on, but there's nobody home" Anytime a robot is immobilized but showing signs of life, there's a pretty good chance that JP will say this one. It's most commonly used when the robot is question has a light of some sort; that way JP can say the phrase as I listed it above. However, if the robot in question has no lights, he just substitutes in whatever the robot is doing, ie "The wheels are turning, but there's nobody home." The phrase implies the robot has given up the ghost completely, yet JP uses it when a robot has simply been overturned, or wedged against a wall. It seems rather harsh.

3- "Come into my parlour, said the spider to the fly"
Nobody likes a smart aleck commentator. This quote is JP's way of implying that a robot is trying to draw the other one in. Such a tactic is generally frowned upon in Robot Wars; a victory that is caused by making the other robot come at you is said to be the hollowest of all. Now, besides a few exceptions, roboteers are above this sort of tactic, and I'm taken aback by how often JP insinuates that someone is using it. Now, I wouldn't mind if someone with real robot building experience had said it, but coming from a spectator, it's really obnoxious.

2- "-ability"
I have to give props to Fluppet for spotting this one, it has Strunk and White spinning in their graves. JP uses it to describe the subject, when it should describe the object. For example, "flippability" means "how easily you are flipped," but JP thinks it means "how much flipping power you have." I'm not quite sure how one learns to speak like this, it isn't terribly advanced grammar. I mean, not even Americans make this mistake, and we slaughter the English language. I mean, "Destructibility" means "the ease with which your robot is destroyed" but JP thinks it means "How much destruction your robot can cause." So by his logic, a robot that can't cause a lot of destruction would be... indestructible?
And the #1 most overused quote is……

1-"I said right at the start of the program"
The #1 by a mile; frankly it shouldn't have been used at all. Anyone with basic perception skills knows that JP watched the entire episode before doing commentary. Does he really think we're buying that he's watching the fight for the first time when he's commentating? Or that every prediction he made "right at the start of the program" came true by accident? This one-liner is insultingly patronizing. Maybe he could've tricked me into believing he was commentating without a hindsight bias, but he blew all chances of that during the Second World Championship, when he accidentally said the results before they happened. Then again, I could be wrong. Maybe he's a psychic with "predictability."
The top-14 list of Robot Wars blunders
Edit
After all the dirt-digging that we here at the wiki have done, it should come as no surprise to learn that certain aspects of Robot Wars were grossly mishandled. In fact, in the process of making a top-10 list, I found it impossible to narrow it down to just 10. It's nothing to be ashamed of, everyone makes mistakes, and most of these are old enough to be historical. Still, don't let that stop you from coming along as we count down the 14 worst mistakes, missteps, and mishandlings, on Robot Wars.
As Robot Wars increased in popularity, and more and more roboteers were given the green light to be on the show, it was inevitable that the pit area would become crowded. In the later series, they didn't have enough tables for everyone to have their own, so they divided tables up, and gave each team a quarter or so. This meant that the teams could only work on whatever side of their robot was facing them; manually rotating a hundred-kilo robot in a confined space is just implausible. So, they often had to stand on the tables in order to do maintenance.
You've probably seen photos of teams in the pits, standing or crouching on tables; that's why. I imagine that most of the teams weren't prepared to do this new-wave yoga. Under stringent time constraints, the last thing you need is an arthritic flare-up.
13 - Control boxes in the sky
While I understand that safety is key above all else, was there no way they could get the roboteers a little closer to the action? On Battlebots, the roboteers were just inches away from the robots, and they didn't even have a separation zone (the gap between the arena wall and Plexiglas, in layman's terms, the OOtA zone). Many roboteers complained that it was impossible to see what was going on directly beneath them, which would be a minor complaint, if not for the fact that within said blind spot was the Pit of Oblivion. John Reid wasn't just blowing smoke in Series 3 when he said he didn't see the pit; many other roboteers would suffer from that same lack of visibility. In the Middleweight competition of Series 3, they had no qualms situating the roboteers at ground level with the arena near the audience; if such space is safe enough for them, why isn't it safe enough for the roboteers? Things like this made the Robot Wars experience unnecessarily unpleasant for the roboteers. Speaking of unnecessarily unpleasant…
No disrespect to Mr. Clarkson, he's a legend on Top Gear, but the fact of the matter is, not everyone is a good fit for a robot combat TV show. Just look at… well, EVERYONE they hired to present on Battlebots (I'll go into that in another article if people like). Considering how revolutionary a program he was hosting, you'd think Clarkson would at least be able to feign a micron of enthusiasm, but no. While I was impressed with his ability to appear bored and hung-over at the same time, I feel terrible for all the roboteers he was downright insulting to. Whenever he interviewed a team after the Gauntlet, he either scoffed their robot for not making enough progress, called the team a "wettie" for making too much progress, or admonished them if they were bold enough to take on the house robots. Now, I don't want to stereotype, but the majority of roboteers are shy, withdrawn folks who are fish out of water on TV. So, why have Jeremy make their appearance even more uncomfortable? It's a good thing they sacked him after that one series; if I were Ian Watts, I would not stand for someone talking to my son like that on national TV.
11 - Suicidal Tendencies commits career suicide
Though this countdown is intended mainly to point out the production flaws, there are a couple of blunders made by roboteers that were extreme enough to make this list. Though I generally have nothing but respect for anyone who can build a combat robot, certain roboteers have done things that I passionately disagree with. Understand that it is with a heavy hand that I write about things like this, and I am not doing so except for the most magnanimous of incidents. You probably remember that battle in Series 3 where Suicidal Tendencies won by luring Raizer Blade into the pit. Now, I don't know if I'm alone on this, but few victories are hollower than those caused by your opponents trying to attack you. I can't stand when a robot wins by sitting near the pit, lying around like a washed-up fish in the sun. Roboteers are told that they can be disqualified for excessive evasion, so the attacker has no choice but to take the bait. I understand that one of Suicidal Tendencies's tracks was broken, but that's a lame (no pun intended) excuse. If your robot isn't functioning, man up and accept the loss. Now, I might cut the team some slack, had it not been for the fact that they tried the exact same thing against Wheely Big Cheese the next year, and, were genuinely surprised when the judges gave them the thumbs-down.
10 - Taking the "inter" out of "international"
One thing strangely absent from my American history textbook, is the part where the American and British soldiers fought amongst themselves, and didn't engage each other in the War of Independence until all but the best 1 out of 4 remained alive. So why then, were both Series 6 international championships formatted like that? I'd think the point of such a tournament would be to have everyone battle at least one competitor from the opposite side. Why couldn't they pit General Chompsalot and Manta against Kat 3 and Wowot? Do they really have that little faith in the Americans? If they put effort into balancing out the two sides, they could be reasonably confident that the final is international, even if they mix in the preliminaries. Just look at all the "mixed" international tournaments; even though they didn't put that silly insurance policy into place, all but one ended without the dreaded "brother against brother" final (the exception being the TNN Civil War, but what do you expect when one side has two Grand Finalists?). We saw a similar imbalance in the UK vs Germany special; three of the UK's most powerful spinners opposite a loanerbot and three first-round failures. How hard would it be plant a sacrificial bot amongst the UK entrants, or a good one amongst the Germans? I mean, they've got Diotoir, Velocirippa, Sumpthing, and Sir Chromalot in attendance, could they not throw the Germans a bone? Never mind that the final wasn't even UK vs Germany anyway.
9 - Mortis Scandal (and the subsequent milking of it)
You all know about the Mortis scandal, so I'll spare you the details, and just mention how shameful it was of the producers to boost Mortis's score, and then insist Mortis take Napalm's place, even after Rob Knight refused. Because they forced Rob to continue after his spirit had been broken, the Trial was a hollow victory for the Mortis team, as was the subsequent battle for Panic Attack. Now, if it had ended there, this might not even be on the list, but for some convoluted reason, the producers decided to make the Mortis team into the bad guys. Why? What did they ever do wrong? By far, they acted more nobly than anyone else involved in the Pinball incident, but suddenly they're getting booed by the crowd in Series 3. Could this be the reason they retired in Series 4? I don't want to jump to conclusions, but being treated like every one of your victories was a fluke does not make for a good incentive to return.
I'm going to skip most of the Typhoon-bashing, as you've all heard it, and just talk about the Extreme 2 Middleweight championship, where Team Typhoon entered two separate entries, in spite of the explicit "one bot per class per team" rule. In the final, everyone expected the three Typhoon machines to team up and take out everyone else, and although it looked like that was exactly what happened, one of the girls on the Typhoon Twins team was kind enough to set the records straight.
Craig: "It looked like you were kind of ganging up on the other robots, and you were kind of fighting as three"
Keri: "Well, we were going to get the rest out, and then go for each other at the end"
Craig: "But why didn't you go for each other at the end?"
Keri: " (looks apprehensive) …we tried."
— The truth prevails
I don't know whose fault this was, but because of someone's negligence, (because I hate to accuse malicious intent with no proof) the Typhoon team gained a major advantage.
7 - No contingency plan for Razer
As with any successful TV show, merchandising is a major source of income. By licensing toys, t-shirts, and DVDs of the competitors, the producers lined their pockets with some extra cash, and the roboteers got nice little kickback from royalties. However, for the merchandise to sell, the robots in question had to spend time in the spotlight. Hypnodisc, Chaos 2, and Razer were three of the most prominent cash cows, and none moreso than Razer. The producers did everything they could to get more screen time for Razer; they put it in the Pinball, the sumo, the World Championship, the Allstars, and it delivered every time. Except when it came to the main competition. If only Razer would make the semifinals, that'd just be the cherry on top. But it wasn't meant to be; Razer fell to the Inquisitor, allowing Behemoth through in its stead. So, for Series 3, the producers thought of a brilliant way to prevent a repeat of that incident; pit Razer against seven low-potential unknowns. Of course, in doing so, they put themselves in a risky position; should Razer lose, one of the subpar robots gets into the semifinal. Nothing against Blade of course, but I would have preferred to see evidence that they weren't just handing Razer the heat on a silver platter. Several heats had two or more semifinalists, and yet Razer itself was the only robot in its heat with ``any`` arena experience. The least they could've done would be to swap in Napalm or Haardvark, if nothing else, to acknowledge the stage they reached last time. The point is, they overlooked their contingency plan; insurance that a good robot existed in the heat, who would make the semifinal, should Razer fail to.
6 - Stock Robots ruin legit competitors' chances
Series 1 was the only series of Robot Wars where they couldn't gather enough robots to take part. In order to make up the numbers, three stock robots were brought in. Being as they were made by experienced roboteers and employees of Robot Wars, they excelled in the Gauntlet, finishing near the top of the leaderboard, and taking three other competitors out of the running. You'd expect them to dominate the trials and arena as well, but such did not come to pass. Mouse and WYSIWYG broke down mysteriously, whilst Grunt put up a pathetic performance in the Sumo. I guess the logic was that the stock robots weren't supposed to advance to the arena. But that begs the question, if they were going to throw the competition in the first place, why make a legitimate robot lose out? Team Power was rather unhappy to learn that Grunt was in the competition just to take a dive, especially since their robot was built especially for sumo; the event that it would have been in, had it advanced.
I know this is going to come across as controversial, putting such an integral feature of Robot Wars on the list. And while I can understand the logic behind having house robots, at the end of the day, there was just so much I disliked about them. Since their main function is to act as obstacles, you're supposed to believe that they're impartial and non-discriminatory. However, as they are robots, they have a human operator at the controls, making them subject to human error. It's simply impossible to tell whether they exert the exact same amount of pressure on each robot in the Gauntlet and Trial, or what defines the right amount of damage that should be done to a robot who strays into a CPZ. With the introduction of Sir Killalot, who could simply pick up and carry another robot, you start to see even more skewage; while the original four house robots were tough but not impossible to take on, no robot design has a response when a robot three times its size and weight plucks it off the ground, and wastes its time in a gauntlet/trial run by carrying it around the arena. Suddenly, cries of "favouritism" become harder to dispute. I was also rather displeased by the choice of armament they gave to Matilda. I have no problem with the chainsaw, it was the tusks and flywheel that bugged me the most. Of the 5 early house robots, the majority were equipped with weapons that did mere superficial damage. But one of these things is not like the others; Matilda's tusks were what spelled doom for robots like Chaos in Series 2. Where's the fun in setting up the matches so that robots simply have to push their opponents into a defined space for an almost-guaranteed victory? If that's what you teach roboteers to do, they'll respond by entering with thick-armoured weaponless pushers. The problem was exacerbated in later series with the addition of a flywheel. Now both ends of Matilda had the potential to end a robot's run, as Ming 3 found out in Series 5. As long as we're on the subject of house robots, just who was the brains behind Mr. Psycho and Growler? Their designs are nice, but they did the wrong kind of damage. Because of their massive sizes and weights, the damage they dealt to competitors looked like nothing on TV, but wreaked havoc on their internals. Many robots would be carted out of the arena looking fine, only to discover later that their insides were in shambles. I get the whole "bigger is better" mantra, and why a TV producer would want that, but when you go around doing internal damage, no one wins; the weapon appears ineffective on TV, and the roboteers leave with an expensively-damaged robot. It didn't help that Psycho and Growler, along with Killalot, were the three most commonly featured house robots in lower-weight matches. I'm sure the producers thought it was funny to have house robots that could destroy featherweights just by rolling over them. I'm equally sure that the roboteers were nowhere nearly as amused. Look Robot Wars, we get that you don't care about any weight classes besides heavy, we don't need a visual demonstration.
4 - Thwackbots get the axe.
After the controversy with Tornado in Series 6, I can understand the producers' decision to make new restrictions on defensive weaponry. However, what I can't understand is their implementation of such measures. Instead of checking each robot case-by-case, they simply said "if you're a rammer or a thwackbot, don't bother showing up." And this included experienced robots like Stinger, despite its proven success and entertainment value. Did they seriously expect to solve the problem just by banning one class of weapon? I mean, Cygnus had the same weaponry as Chaos 2; Topbot had the same weaponry as Hypnodisc, but did that make them better than Stinger? As a final "screw you" to Stinger, someone in the selections department goofed , and let T-Wrecks through despite it being a thwackbot. Not only did they overlook it being thwackbot, but also that its gimmick was a protective steel core. I'd call that a big step backwards for the "no defensive weaponry" movement.
Like I mentioned earlier the countdown, it was difficult for the roboteers to see what was going on in the arena from up in the control boxes. While I concede that a big square-metre box is somewhat conspicuous, the same cannot be said for that cursed arena spike. Many-a-robot in Series 3 lost their battle simply by driving onto a tiny circle on the arena floor, and being flipped. Now, the concept of a srimech was introduced to England a mere one year prior. Expecting every robot to have one the following year isn't unreasonable, it's absurd. I can name just 3 teams in Series 2 who even considered a srimech, and only one that worked; how many working srimechs did they expect to get in the following year? More to the point, I'd have thought they learned their lesson after the very same spike kicked off the aforementioned Mortis scandal.
2 - Doing the Safety Dance with Two Left Feet
You know that little tagline at the end of every Robot Wars episode, "Building robots is dangerous…."? They aren't joking around. Seriously, even ''video games'' about robot building occasionally come with a similar disclaimer. Robots are designed to cut and break solid wood, polycarb, and metal. Compared to those things, your skin and bones are like caramelized sugar and glass. Most any 100-kg robot has the potential to injure and kill a careless roboteer. It goes without saying that safety violations on the set of Robot Wars have the potential for disaster. What is mentioned on Team Cassius's page is more than enough to put this on my list, but in addition to what Team Cassius mentioned, I observed some very, very lax safety rules in Series 1 and 2.
During the robots' introductions, many of the teams demonstrated their robot's active weaponry while in the pits. Particularly disturbing was the Torque of the Devil team, who spun up their flywheel to full speed. Though the team were being careful, allowing weapons to be active in the pits sets a dangerous precedent; what if someone forgot to disconnect their weapon after doing the intro? All it takes is one oversight to ruin everyone's day; just ask the lightweights and featherweights of Series 3. But the crowning moment of bad standards has to be with Psychosprout, whose team was allowed to drive the robot right into the pit area! Now, I understand that Psychosprout couldn't hurt a fly, but certain rules, like forbidding robots to be active in the pit area, should have absolutely no exceptions. Ever. They're basically telling roboteers "we'll bend the rules for you if your robot is reasonably safe." That's a snowball effect just waiting to happen. Thank goodness they rectified these issues in Seires 3, but that they happened at all is a blunder like no other.
Now we're almost at the end of the countdown, next item is #1, because there was only one blunder they could possibly make that was more severe than endangerment of people's lives. The #1 blunder is…
Confused? Don't be. I know what you're thinking; how could this possibly be a worse blunder than all the others on the list, even those that border on white collar crime? It's simple, really. When it gets right down to it, all the producers care about is the bottom line. And the bottom line isn't holding a fair contest or making roboteers happy, no, the bottom line is time, money, and ratings. And for all the blunders listed above, I can easily see how they'd help the bottom line. With that in mind, not just the spoilers themselves, but the frequency with which they occurred, was great enough to shoot this blunder straight to the top of my list. At the beginning of every episode, they'd show some clips from the upcoming matches. A brave idea, as few clips can be picked out without hinting at the result of the battle. However, they often chose to include clips from the heat semifinal, or even final, meaning that any perceptive viewer would be able to figure out who won the initial battles. To make matters worse, they'd also include clips of robots being attacked by house robots, falling into the pit, getting flipped by the floor flipper, or taking a pounding from the drop zone. As if it wasn't obvious in the former case, now they outright tell you who loses each match.
And don't think I'm not going to mention the Robot Wars Magazines, that incident takes the cake, You see, the brains in the Robot Wars marketing department thought it would be clever to publish a supplementary magazine that Robot Wars fans could subscribe to. The magazine would be sent out weekly following each new episode of Robot Wars. It would include commentary and insights into the episode just aired. All went swimmingly until the BBC decided to air another program in Robot Wars' slot, and show each subsequent episode a week later than planned. This meant that each issue of the Robot Wars Magazine was being delivered ''before'' the corresponding episode aired, thus spoiling the episode for all subscribers. When TV shows aren't careful about leaks, they lose viewers; only the most devoted will tune in despite already knowing the outcome. And that's the worst thing that can happen to Robot Wars; it is first and foremost a TV show, viewers are its lifeblood.
Here's some food for thought. The magazine incident happened during Series 6/Extreme 2, the last series shown on BBC. After that series, BBC sold Robot Wars to Channel Five, whose mucking around with the time slot led to Robot Wars' untimely demise. Could it be that the combination of spoiler intros and spoiler magazines led to a decline in viewership? Perhaps the spoilers were the crippling blow that led BBC to selling Robot Wars, effectively ending the programme's run. I could be wrong about this, but there's no denying the effect that such carelessness can have on a TV show, which is why Spoilers receives the prestigious wooden spoon of the #1 Robot Wars blunder.
The top 10 cases of the Battlebots Curse
Edit
There's a phenomenon I've observed in Robot Wars. Time after time, robots come in with powerful designs based on successful Battlebots and Robot Wars US competitors, and time and time again, they fail to deliver. Just take a look at the Battlebots legends in the Combat Robot Hall of Fame, and see if you can't name any Robot Wars robots with the exact same design who did equally as well. You'll find almost no overlap between successful Robot Wars and Battlebots designs. I've taken to calling this anomaly the "Battlebots Curse" because I really have no idea why it happens. Sure, the arenas are somewhat different, as are the trends in favourable weapons, but even so, the name of the game is the same, and you'd expect the designs to be somewhat adaptable. While it is true that Robot Wars and Battlebots were at odds with each other, I'm not going to advocate any belief in the occult, or infer that John Reid called Battlebots "an American competition" for fear of being jinxed like a careless theatergoer who says "MacBeth." No, this is merely statistics. But if black magic is your thing, do not feel like I'm discouraging your livelihood. Read through my list, and feel free to come up with your own conclusions.
Battlebots Counterpart: Toro
Similarities: A box shape with a big powerful flipping arm. Based on a ferocious horned animal.
I'm putting this one at the bottom since Ceros did marginally well. Still, the fact remains that its Battlebots counterpart Toro was an amazingly powerful robot, who achieved one championship and one top-four, without OOtA'ing a single opponent. You'd think that Ceros, in an arena that allows OOtA's, would at least be able to make it to the semifinals. Sadly, Ceros inherited several weaknesses and none of the strengths; a combination of limited CO2 supply and inability to self-right stopped it dead in it tracks early on. The Brits have always been the undisputed kings of powerful flippers, but the wedgeless box-flipper just never happened for them.
Battlebots Counterpart: The Mauler
Similarities: A circular chassis with potentially destructive spinning flails.
Mauler may not have had the best of success on Battlebots, but it got a heck of a lot of screentime for its entertainment value, and isn't that just as good as actually winning? Apparently so; it's in the Combat Robot Hall of Fame. But I digress. The Ajjay boys were probably thinking that a flail weapon would cause horrendous damage, either to the opponents, or themselves; so no matter who won, it would be a win-win situation for them. Though they were blessed with a battle against a robot weak to spinners, the Battlebots Curse got them when Ajjay took Option C, and chose to have the flail weapon not spin at all. As such, Ajjay never got the recognition it could have, and is doomed to forever be regarded as a one-off pushing circle.
Battlebots Counterpart: The Master
Similarities: Bowling-ball wheels. One of its weapons is a saw mounted on an axe mechanism. The robot is almost as grungy as its owner.
It's true that a self-professed "low-tech" robot doesn't stand much of a chance to begin with, but after seeing how similar it was to Mark Setrakian's, I can't help but think it could've done better than it did. Setrakian was a real artist when it came to robot designs, after shelving The Master, he gave us Mechadon and the Snake. My point is, not only did Sumpthing fail to meet expectations, it completely subverted them. Master was renowned for two things; good engineering and reliable mechanics. Dig outright admitted he didn't have the former, and the latter… I think it speaks for itself.
Battlebots Counterpart: Dr. Inferno Jr.
Similarities: A top-heavy, humanoid robot with a wedged base. The idea was to wedge underneath other robots and use its arms to inflict damage.
Dr. Inferno Jr. is my favourite lightweight robot of all time. I just love how the design looks like it's totally ineffective, but when it goes into the arena, it takes the battles by storm. Those skirts in particular were brilliantly designed; anytime a flipper tried to get underneath Dr. Inferno, all it got was a fistful of skirt. Fat Boy Tin may have lacked the skirts, but the idea was there, and a well-designed wedge always stands a fighting chance. However, putting in such a top-heavy robot is tempting fate to the nth degree; if it gets jostled too much, it will face-plant. Dr. Inferno Jr. found that out in the season following its winning run; its very first opponent slammed it into the wall and tipped it over. Fat Boy Tin, had a similarly bad run in its only appearance, being tipped over by Vercingetorix. To add insult to injury, the team later found that a snail had crawled inside of their robot! It wasn't clear if the snail had affected their electronics, but if that was the reason they lost, it has to be said that that would be the most comical misfortune in all of Robot Wars.
Battlebots Counterpart: Son of Whyachi
Similarities: A big red tribar spinner with three deadly blades.
Modeling itself on one of the biggest and most destructive spinners, Zorro looked like it would be just as successful in battle; possibly even moreso with an experienced driver at the helm. Sadly, it wasn't meant to be; its spinner did no damage whatsoever, and it was flipped in the first match. I'm not sure how much destructive potential Zorro had, but regardless, it's unfortunate that Zorro was built just as the flipper boom in England had begun; those blades sat rather high off the ground, a perpetual hindrance in that sort of environment. If you look at the Series 6 stats, you'll see that only three flippers made it to the semifinals, Cotterell must've been cursing his luck when he surveyed the competition for Series 7 and realized he had srimech-less robot.
5- Joint winners; B.O.D. and Gi-Ant-O
Battlebots Counterpart: Hazard
Similarities: A low squarish chassis; spinning propeller blade.
Hazard put the spinning propeller blade to good use in its Battlebots run. Its blade offered a solid 360 degrees of protection, and was at just the right height to hit other robots' wheels. Hazard achieved a hat trick of middleweight titles, and fell just short of number four when, in the final match, it was flipped over and out of the running. Kind of cruel that the very same thing happened to B.O.D in its first match. It's a shame that the blade didn't live up to expectations either. We saw it collide with Robochicken at full speed, and it barely left a scratch. In short, nothing went right for B.O.D. Perhaps the team just had the wrong approach in taking a successful design and scaling it up. Maybe the key was to scale it down. Craig Danby tried that approach with his robot Gi-Ant-O, but unfortunately his luck was no better. It didn't even make it out of the starting gate in Extreme 2, and then lost controversially in Series 7; even JP mentioned that he thought the wrong robot had been counted out. As if that wasn't enough of a slap in the face, just look at the American robot Propeller Head. You'd think that it, being another Hazard lookalike, would have the same rotten luck, but no; apparently Extreme Warriors robots are immune. Several other American teams, such as Tornado Mer, would continue to have success with the propeller blade design after robotic combat had gone off the air. But try as the teams might, the propeller blade never took off (no pun intended) in the UK.
Battlebots Counterpart: Killerhurtz
Similarities: In case you haven't figured out, it's the same robot.
I mentioned Killerhurtz in my "underrated" list, and said pretty much everything I needed to say. To rehash, Killerhurtz achieved runner-up in Battlebots once, and enough fame to get into the Combat Robot Hall of Fame. After returning from its success overseas, it proceeded to break down, drive into a pit, lose to Chaos 2 after puncturing its CO2 tank, and get outclassed by Splinter, never winning a one-on-one battle along the way. Considering America was ahead of the UK in robotics, I simply can't understand how Killerhurtz could come home to a weaker crowd and then proceed to fail so badly.
Battlebots Counterpart: Again, itself.
You all know the story of Mauler in the World Championship, and I think you'll agree that that mishandling alone warrants a place, maybe 9 or 10. But there's more to the story. MTV was interested in a US Robot Wars series, and commissioned a pilot. Eight robots, including FrenZy, Mangualtor, Rammstein, and The Mauler were flown to England to fight in the pilot episode. Mauler won, but the pilot fell through, costing the energetic team their chance to make the scene on Robot Wars. Undaunted, the team headed for the pit area, only to learn that their robot had been deemed too dangerous, and they would again be denied their place on TV. The team shuffled back to the airport, but the travel agency had bungled their reservations, and they would not be able to leave England for another two days. The team spent the two days in a rundown hotel in Scotland, and Morgan, the elder Tilford, missed some of his college exams due to the delay. The stress and aggravation triggered a psychological breakdown in Morgan, and he had to be hospitalized upon returning to the US. The Mauler never got the chance to appear on Robot Wars; after that whole ordeal, all that was seen of it was a few seconds of the team departing the pit area looking disgruntled.
Battlebots Counterpart: Biohazard
Similarities: A flat box-shape with a powerful 4-bar lifting arm.
Biohazard is the most famous robot in all of Battlebots. Ask any fan of the show to list the robots they remember, and I guarantee that Biohazard will be one of them. It's been around since the beginning, and was the first robot ever to self-right in the history of robotic combat. In US Robot Wars and Battlebots combined, it holds six championship titles; that's the most of any robot in any weight class. So how could such a successful design fail in the UK? Griffon was all too happy to show us. In its debut appearance, for unknown reasons, it was nearly denied a place altogether, and was only allowed through after two robots dropped out. Curse or no curse, when you've got a returning grand finalist team that the producers are gunning for, you know you're in trouble. Griffon was too good for the pit of doom when the House Robots cornered it in the gauntlet and shoved it backwards, taking it out of the competition. It seemed like we'd never learn whether or not Griffon could actually emulate Biohazard's mighty lifting arm, until the Internet Insurrection. It was there we saw that yes, Griffon was fully capable of lifting a house robot; a 20 kg-lighter competitor would have been no problem. This is the reason that Griffon is so high on my list; all the robots on my list had the design, but few showed they had the power. It's tragic that Griffon didn't find its stride until it was too late for it to put that power to good use. Equally saddening was its final appearance in Series 3, where it was finally commemorated- as the victim of the new shortest battle record. How cruel.
So, RA2, there's just one more to go. What can you possibly give us that's worse than Griffon's poetic injustce? Well, I'll tell you right now that it's not Typhoon from Series 4; I can't accurately gauge its potential just by looking at one photo. Nor is it Siren the heavyweight; though it is based off The Judge, that Combat Robot Hall of Famer's success didn't come until after Battlebots. The top of the list goes to someone who encountered not one, not two, but three cases of the Battlebots Curse. The #1 is…
1- Adam Clark with Vector of Armageddon, 259, and 259 middleweight.
Battlebots Counterparts: Respectively; Wedge of Doom, Nightmare, and Backlash
Similarities: Vector of Armageddon features the same wedge/scoop design and a low ground clearance. In fact, its name is a synonym of is counterpart's.
"259 has a flywheel that can make opponents fly; its body is minimalistic to make room for the disc. Just as Backlash was a smaller version of Nightmare, 259 had its own scaled-down version. Inspired by Robot Wars US legend La Machine, Wedge of Doom used the same principles to flip opponents over and win two lightweight titles. One year later, Adam Clark tried his luck with Vector of Armageddon, with no success. Normally I'd dismiss the irony of a robot being done in by its low ground clearance as an isolated incident, but the Battlebots curse wasn't through with Clark.
A few years later, he built 259, and 259 Middleweight. Now, I should clarify that I'm not including the smaller 259 just because it looked like Nightmare; I'm including it because Nightmare's little brother Backlash was very successful in its own regard, winning a Giant Nut in the lightweight division. Nightmare proved that the vertical flywheel can be successful in more than one weight category, so it would seem clever for Adam Clark to try his luck with multiple weight classes of 259's. Sadly though, as the name Backlash suggests, a vertical flywheel can be a glass cannon at times, as Clark found out when 259's belt slipped against Wild Thing. It is also quite easy to flip, as was demonstrated to the smaller 259 against Typhoon (a similar thing happened to Backlash against Ziggo, but that was, of course, in a season after Backlash had secured a trophy). What would be funny is if Wo-Wot or Corporal Punishment were wildly successful in their runs, but then again, curses are rarely known to be humorous.
You're probably wondering why I didn't include Cyclone Raptor. It's true that Cyclone was just as much a glass cannon, and fell hard in both US championships, however, it did manage to win an annihilator, spinning two robots out of the arena in the process. Unlike Griffon above, Cyclone found an outlet for its immense power; no matter how badly you do in championships, being able to spin an opponent out of the arena is a big deal. And the Annihilator is seen as a serious side competition, winning one is a pretty nice honour, so I can't say that Chris Harriman's time on Robot Wars was a compete writeoff.
But what awards did Adam Clark win? A best design award for 259. A design that he based off a successful US competitor, which didn't work nearly as well for him. It sounds like something out of a "be careful what you wish for" cautionary tale, because those are some harsh circumstances under which to win an award. This kind of cruel irony is what curses are made of,, and for his repeated misfortune, I give Adam Clark the wooden spoon of being the most afflicted by the Battlebots Curse.
6 tropes of Robot Wars that pop culture has you believing
Edit
When it comes to niche interests like robotic combat, it goes without saying that not everyone is as into it as I am. The robotic community is a smallish group of people, the average man on the street knows very little about the sport. However, robotic combat does occasionally make an appearance on shows, usually as a one-off episode where the characters decide to enter a fictional version of Robot Wars.
What follows is the writers' interpretation of a robotic competition, and it ain't pretty. More often than not, the picture they've painted is more akin to an underground fighting ring for ravenous starving animals, than an organized competition between two mild-mannered engineers, whose worst vice is not getting enough sun.

I know I'm preaching to the choir by posting this article here, but best case scenario, this one day ends up on Cracked (and I get big payout of 50 American dollars, woohoo!) And who knows, even though all of you know Robot Wars inside and out, maybe this will serve as an eye opener.

If you're not familiar with this concept, take a look at this page for some examples as to what I'm talking about. I will be referencing them throughout the article. Forum:Robot_Wars_in_pop_culture
Robots, as you know, are made out of all sorts of odds and ends. They've got salvaged motors, spinning drive belts, and moving servos all cranking away under the hood. Sounds pretty loud, right? Well it is, but if television is to be believed, all that is drowned out by the sound of the computer chips going "beep." It's an attempt to make the robots sound high-tech and cutting edge, but anyone who 's been to a robot event, or even watched Robot Wars on TV (just listen in the pits during the interviews, they're talking over robot noises) can attest that that is no the case. Robots are LOUD. Even if there were any "bleep bloops" they'd be nearly inaudible over the more traditionally heard sounds. Just think about it; the motors come from motorcycles, car starters, and lawnmowers - things that aren't really known to purr like a kitten. Project One's motor was reminiscent of a jet engine, and the Mousetrap team likened the noise of their trap mechanism to a shotgun blast.
However, I'm not too bugged about this one, dialogue is an integral part of TV shows, so I can understand them lowering the noise level for the sake of the plot.
Worst offenders: Zoey 101, Robot Wars
Trope averter: The rest of them, although they still don't portray robot fights as being particularly loud.
5 - There are no weight classes
So, you think your robot's pretty hot stuff, it's got skid steering, titanium armour, and a weapon that can annihilate even the strongest steel, yesiree it's a 220-pound killing machine. Only one problem; your opponent weighs 500. This situation is all too familiar in fictional robotic combat; the antagonist is piloting a robot that towers over the opposition, and could probably win just by running them over It always surprises me that no one points out the gaping weight difference, and suggests that a victory for the larger robot would be pretty meaningless. Also surprising is that in scenarios like those, only one person thinks of building a mutilton competitor, everyone else just settles for 200 pounds or so
I guess this trope is somewhat justified, It's a very effective writing tool, using the robots' relative sizes as a means of symbolism. They're robotic representations playground bully against the mild-mannered skinny kid, and it doesn't really convey conflict if the robots are evenly matched.
Worst offenders: The Simpsons, I, (Annoyed Grunt)-Bot; Homer alone probably weighs more than the opposing robots, just imagine what Chief Knock-A-Homer tips the scales to. Then multiply by 10; that's a rough approximation of the weight of Frink's robot. Also Zoey 101, where Quinn, despite being a genius at this sort of thing, build them a robot that's significantly lighter than its intended opponent.
Also worth mentioning is Phoenix Nights, Series 1, Episode 5 (The episodes have no titles). Max and Paddy's robot easily wins because its axe alone is as big as all of its opponents. The tournament was rigged for them to win, but it's possible that Ray, the host, wrote on the flyers that it was featherweight-only.
Trope averter: Surprisingly, none of them outright mention a weight limit. However since Robot Wars and Battlebots exist in the universes of Spaced and Malcolm in the Middle it's presumed that weight limits do as well.
4 – There's no such thing as an illegal weapon.
Pretty self-explanatory. You know all those laser beams, cruise missile, and machine guns that you were hoping to attach to your robot, but couldn't because of the rules. Well, in the television universe, you can! That's right, since laserbeams, flamethrowers and cruise missiles make for much better television, the writers will often overlook the rules, and the reasons why said weapons are banned.
Worst offenders: Zoey 101. There are plenty of other examples, but Zoey is the worst for its bizarrely arbitrary rule enforcement. After the nerds brutalize Zoey's robot, someone observes that the giant hammer on the nerds' robot puts it 3 inches over the height limit when raised straight up. It's worth noting that there's a decorative spike at the top of the hammer, roundabout 3 inches tall, which could simply be sheared off, but everyone glosses over that. Instead, the Dean of Science gives Zoey the opportunity to demand a rematch (with the nerds' hammer fixed in the down position.) Since Zoey's robot is too damaged to fight, Quinn steps in with her laserbeam-equipped robot. The rest, as they say, is history. Now I ask you, what kind of a demented world enforces height restrictions to a T, but has no problem whatsoever with robots using lasers in an open arena?
Spaced, Mettle deserves to be noted, but I'll give it some breadth since the missiles were just for the purposes of humour. So too the bee cannon from Malcolm in the Middle. The Bots and the Bees
Kripke's bot in The Big Bang Theory, The Killer Robot Instability also uses a flamethrower, but it's mounted high up on a fixed position, and is so impractical its hardly warrants mentioning.
Trope averter: CSI Precious Metal. Instead of having robots built by the props department, they got actual Battlebots competitors to appear. Problem solved.
(For anyone curious, Knee Breaker was the real-life name of the bot used to murder Christian)
3 – Safety regulations are unnecessary
This goes hand-in hand with #4. All those illegal weapons I mentioned? Yeah, they're illegal for a reason. I've talked about safety before, so lest I repeat myself too much, this preamble will be brief. Even if the weapon isn't capable of putting a crater in the arena floor, any heavy object at high velocity can injure a careless spectator or roboteer. If you visit any gun-enthusiast forum, you'll undoubtedly come across a discussion about all the gun-handling mistakes made in cop shows and action movies. It's a similar thing here; anyone who knows the first thing about Robot Wars will wince and flinch at how little barrier the roboteers put between themselves and the fight. If you want a visual representation of what Pop Culture considers to be adequate safety, then watch this Youtube video: http://www.youtube.com/watch?v=CkCJvsS9MCQ
Worst Offender: Spaced In this, we see Tim and Mike take their robot to an underground (parody of Fight Club) arena. The arena wall? The boundaries are defined by the crowd itself; there's absolutely nothing preventing one of the robots from carelessly going too far forward or backwards and colliding with some hapless spectator's ankles. Only after Private Iron's missile bays open, does the crowd wise up and make a run for it. As I mentioned before, Robot Wars exists in their universe. Therefore, the disclaimer that plays at the end of every episode "Building robots is dangerous…" exists too. Being avid Robot Wars fans, the boys have no excuse for not having that piece of wisdom drilled into the back of their heads. You'd think they'd wise up after one of them gets injured earlier in the episode, but no
A close second is Zoey 101, who gets some amnesty for not acknowledging the existence of Battlebots or Robot Wars. The arena is a circular depression with multi-leveled steps; picture a very small Colisseum. The spectators at least have the good sense to stand on the steps, marginally safer than the guys in Spaced, for what it's worth. But like I said, this trope and #8 go hand-in-hand; the most appalling disregard for human lives comes from Quinn and her laser-toting robot. After her robot blows the nerds' robot sky-high, we see the crowd getting showered by debris! And I'm not exaggerating what might happen, we actually see Zoey and her friends shielding their eyes as dust and bits of metal rain down from the sky. No one gets injured, but it just surprises me that they'd even bother putting that bit in if they weren't making a point of how lucky they are to still have their eyes and brains intact.
The Simpsons plays this for laughs; Homer defeats one opponent by reaching into the opposing team's control box and smashing their controller. Once again, I can't help but voice my surprise that no one else thought of this.
Trope Averter: CSI averts this one hard. Not only do the robots fight in a polycarbonate box, but we also get a depiction of an out-of-control robot killing and maiming a human being (with some of the cleanest cuts the team has ever seen, no less.)
The Big Bang Theory also makes it a point for everyone to wear goggles while testing MONTE, and stand behind a Plexiglas window during their battle.
2- Anyone with a really strong robot is an asshole.
Right off the bat, you can probably tell that I wouldn't dare post a statement like that, unless I was discussing falsehoods; I know who reads this wiki. I've had the pleasure of speaking to Tony from the Bulldog Breed team and Terry from St. Agro, both very nice people. TG has a much thicker rolodex than I do, he can vouch for a good deal of roboteers himself. The point is, all roboteers are very nice people, and have a great sense of community. They're good Samaritans who'll help out another roboteer, even if they're due to fight them immediately after.
Of course, on TV this all goes out the window. It's never been established which event causes the other - Does having a powerful robot corrupt you, or are bad people inherently better at building robots? The point is, they've somehow arrived at that juncture time and time again. This one is justified, it's hard to establish a bad guy who poses no real threat (although Team Rocket manages), and doesn't feel like a victory is the protagonist's win is easy. That said, I'd like to have seen more variation with this trope; I'd have been impressed if more TV shows had found a way to make the really powerful opponent be a nice guy to boot (Like we see in every Pokemon League Tournament. Ash ALWAYS loses to a guy he's made friends with. Clearly the key to winning is to have less friends.)
Worst Offender: Zoey 101 again. I know you were probably expecting Christian from CSI based on my description. Understandable, it would take a LOT of effort to create a chracter less likeable than him. Dan Schneider was happy to oblige. The nerds from Zoey 101 are what TV Tropes would call Straw Losers. They're obnoxious, they're antisocial, they SPEAK Internet abbreviations (in a show where "Oh my God" is acceptable language). Basically, they've been designed to have no redeeming qualities whatsoever. Even the most vile of villains can attract a strong fanbase (Draco Malfloy springs to mind), but with the Straw Loser, that's pretty much unheard of. They are the scourge of California's private schools; Triple-digit IQ's encrusted in pure hatred. Their hate plague is so pestilent that after Zoey's friend Chase talks to them for just 30 seconds, Zoey and the gang become hellbent on building a 200-pound metal-destroying machine with missiles and flamethrowers. But physical damage won't be enough, oh no, they decide to take it one step further and put loudspeakers on their robot so they can jeer and insult during the battle, and break down the nerds on a mental level as well. All because Chase was (rightly) called unintelligent. Oh, and when the nerds first see Quinn's robot, they remark that "this is why girls shouldn't be in robotics." You know, just in case you were worried they forgot their daily dose of kitten blood.
Christian from CSI may not be a straw loser, but he still does more than enough to qualify for this section. For starters, he's completely mental. He tries to hit on the emcee by having his bot, weapon spinning full speed, sidle up to her ankles, stopping just inches short of eliminating her need to ever buy shoes again. He's shown cackling manically, doubled over with glee as his robot Smash N' Burn tears into Hammer of God. Bad sportsmanship doesn't even begin to describe it; all gentleman's agreements go out the window, as he delights in showboating to the crowd and screaming trash-talk at Luke, Hammer of God's builder. The damage is so great that Luke snaps and takes his revenge by hijacking Smash N' Burn and turning it loose on Christian. Now, we can't blame Christian for all of this; anyone who would kill in cold blood has problems enough of their own, but based on Christian's behavior, it wouldn't surprise me if there were other occurrences of death threats or assaults against him (the emcee though, was incredibly chill about the whole "he almost sawed my legs off" incident.)
Kripke from The Big Bang Theory is somewhat of a jerk to the gang, but less so; Sheldon is the only one he actually has a problem with. If the gang consisted solely of Leonard, Raj, and Howard, I reckon he would have let them off easier instead of completely trashing their bot. I don't blame him; if I were making a list of the "Top 10 worst roommates in television," Sheldon would be on it, a tier or two above Ernie from Sesame Street.
Trope Averter: Surprisingly, it's The Simpsons. Homer never loses sight of his original goal; to earn his son's love and respect, even during Knock-A-Homer's incredible winning streak. Prof. Frink proves to be equally mild-mannered, ordering his bot to stand down after realizing that Knock-A-Homer is just Homer inside a crate.
Spaced averts it in an interesting manner; Dexter and Cromwell's bot is quite average, and poses no threat to Private Iron.
Only one trope is more false, more pestilent in pop culture. The #1 false trope about robot combat is…
1 – A circular saw is a decent weapon.
It's made of metal. It's as big as a small pizza, and has teeth sharp as a great white's . It's a tool made specifically for cutting things. So of course, it's the perfect weapon. That's the logic of these shows. On paper it seems like a great idea; it'll cut through the other robot like butter, leaving two halves and a gaping hole. In practice though, a circular saw is useless in robot combat. It can't cut through metals and it shatters easily. It's no surprise that the circular saw was virtually extinct by 2001. But because it looked so impressive the way it cleaved through paper and wood, the media was convinced that it could to the same to other robots, and that none of them would come prepared for such an attack.
A similar trope that bears mentioning is that flippers don't exist. Even the robots with missiles, lasers, and other such nasty illegal weapons, would be completely unprepared if they got turned over or onto their sides. I know that flippers don't have that same wow-factor as destructive weapons, but it really says something about the characters' inability to think outside the box.
Worst offender: The Big Bang Theory. Like I sad before, the circular saw went extinct around 2001, so if this episode had been filmed around that time, I'd be willing to give it some breadth. But no, this particular episode was from 2009. You'd only have to watch clips of robots fighting from as far back as 2005 to realize that robots had evolved far beyond taking the blade off a bandsaw and calling it a weapon. These guys are supposed to be geniuses with degrees in engineering, mind you. The worst part has to be when they test their weapon on a toaster, and when it's destroyed, act like that means something. Unless last year's champion was 5 times smaller and 12 times lighter than the regulations would allow, I don't know why they consider that to be an indicator of adequacy.
In The Simpsons, we see one robot that with a circular saw that can actually sever the (very sturdy-looking) legs of a walkerbot. Fighting Torque and Disruptor would have done marvelously in this universe
Zoey 101, which is making quite a lot of appearances here, gives us the nerds' robot, which is covered in circular saws like some sort of hedgehog. Most of them are mounted in a way that would make it extremely difficult to actually hit an opponent with.
But the real reason I put this at number 1 was because of Malcolm in the Middle and Kim Possible, both of which have only momentary instances of actual combat robots, but still manage to sneak in a circular saw. It's as if the saw blade has somehow become representative of robotic combat as a whole, and the man on the street instantly associates it with the spirit of Robot Wars. It's a real shame when you think about it, because few things in robotic combat are more lazy than just taking a saw, mounting on a robot as is, and calling it a killer. If it had to be a spinner, why couldn't it be an enormous flywheel or a big chunky bar of spinning steel that people use to paint a picture of Robot Wars? I know I doubted Hypnodisc at first, but only because I'd only seen it standing still. Once that disc got spinning, there was no question that parts were going to fly.
Trope Averter: CSI, for the same reasons as mentioned in the "Illegal weapons" section. Spaced has another interesting subversion; War Bastard has a saw but it spins at about 12 RPM and does as much damage as one could realistically expect. It's as if the writers are saying "Yeah, that's the way it is, but we aren't happy about it."
The Top 8 most One-Sided battles in Robot Wars
Edit
Important: This article was written with the intent of getting published on a raunchy American comedy site, where the target audience has probably heard of Battlebots and not Robot Wars, and don't know me personally. Several one-sided battles were excluded because they didn't provide me with enough material to write about - similarly the order may be slightly objectionable because the article needed to flow. Also, it includes bad language, extreme bot-bashing/bot worshiping, and all around rudeness and crudeness. Please use your best judgement, if anything I have said makes you think you might be uncomfortable reading it, please do not click the link.
Otherwise, enjoy.
https://docs.google.com/document/d/1XFzPOURsT16P5sr_1ndwWYBmQJ1CQT3QSMtigEil4EQ/edit
My Top 10 Least Favourite Episodes of Robot Wars
Edit
As much as I love Robot Wars, it has to be said that no show is above having a few weak episodes here and there. For me, the main factors were a lack of excitement, and when an unimpressive robot ended up winning. The reason I'm making this list is the hearken back to the days before this wiki was founded. This was before the rapid sharing of information, before people were posting full episodes on Youtube. It was a time where Team Tornado could keep their anti-crusher weapon under wraps to the UK audience despite having shown it off on American television six months prior. My only source of Robot Wars episodes was Monday and Friday mornings at 10 on TechTv, and they only showed Extreme 1 onwards '''(so for the sake of personal bias, everything before Extreme 1 is exempted).''' That of course meant that I could only get my fix once in a blue moon - school vacations and sick days. So imagine my disappointment when the episode I got saddled with was a real stinker, like....

10. Extreme 2, European Championship. By no means was this the worst episode - that's why this is at 10 - but it certainly wasn't the best. While I was happy for the opportunity to see bots that a UK audience wouldn't normally be exposed to, this episode devolved into the same thing as every other international event - a 30-minute way of saying "Hurrah, England!" Black Hole looked promising but proved that it was all glitz and no glory when it failed to scratch Philipper. PulverizeR, the only other one that would stand a chance against Razer or Tornado, displayed uncharacteristically terrible driving and became the laughingstock of the UK. For a while the Razer vs Tornado match showed some promise - Razer had found a way to turn the tables on Tornado's anti-crusher frame, namely by shoving it into a corner and exploiting its lack of maneouvralbility. It certainly would have secured the judges' decision, but a very unfortunate breakdown forced it out - not that I blame the team for making the noble decision to concede. And Tornado won again, how surprising, it wins just about everything it's in. And this was petty much a carbon copy of the Extrmee Warriors War of Independence; Scoop, anti-Razer Frame, scoop, done.
There was a recurring theme in this episode, namely "boring designs are superior." Several matches were won by the less-interesting robot, culminating in the weaponless box (from England as always) taking home the title. Tornado was getting a little too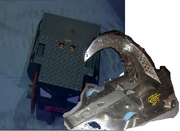 comfortable with that static wedge for my liking. Their stat card photo showed their robot with the disc attachment, but I can count on one hand how many times they actually used it after Series 5. It's unfortunate, but the scoop was just better. That's a really sad truth that I'm still coming to grips with, that in combat robotics, the best defense beats the best offense.
The least they could have done was a third place playoff, Razer vs Black Hole. Because both of those robots deserved to have a win in their last televised battle.
9. Extreme 1, Annihilator 2.
Right away, it was clear the lineup was very weak, we had two decent robots withdraw and be replaced with the worst robots in their respective mayhems. And to add to that, ruddy Napalm where we could have had a ''clusterbot'' in the annihilator, how exciting would that have been? Why didn't the Dartford Grammar school withdraw too? We saw that Napalm needed to be pushed into the arena, did they really not anticipate having further troubles? Now, I'm all for letting weak robots on the show, for the entertainment value they provide when stronger robots come and beat them up, but Napalm couldn't even give us that. True, they took a few scratches from Disc-O-Inferno, but at the end of the day Napalm didn't look less alive than when it entered the arena. It reminded me of Colton from
Survivor.
There's a guy that everyone hates, he's obnoxious, he's not strong, he contributes nothing, they Want
You
him Gone (Ironically that song was composed by one Jonathan Colton).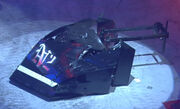 You the audience just can't wait for the other players to give him his comeuppance and knock him out of the game. So what happens? About a third of the way in... he comes down with appendicitis and has to be evacuated. So too Napalm had to withdraw after the first third. What a letdown, especially when you consider this was Napalm's last appearance (chronologically by filming) - they could have ripped it to shreds guilt-free like they did with Major Tom. But no, Napalm and Colton got the easy way out, looking almost
heroic
in their departure. And it was pretty sad to see an annihilator with only three battles, culminating with a predictable final - let's be honest, Spirit of Knighmare was just riding coattails to get that far (oh, and that's another way this was like
Survivor
.) Bigger Brother getting vengeance on Vercingetorix was satisfying though, it was a good robot that deserved redemption after that abysmal Tag Team performance.

8. Series 7, Heat L (Mute's heat)
After a four-year drought, had they finally made a heat lineup feeble enough for Behemoth to conquer? We've got Tartarus, a Dutch robot that was chosen to compete over Slicer or Sniper. We've got Demolition Man and UFO, looking more boring but no more potent than last year.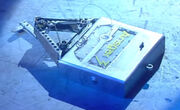 But the most tragic of all has to be Corkscrew, one of my favourite designs despite it never winning a battle in the select episodes I saw on TechTV. They'd swapped out the cool looking car hub and springy thing for very generic design. Black and Scottish it was, but that didn't make it a Demoman. Mute got one very charmed win over Behemoth, and one over Judge Shred that was edited to make people seem like the judges cheated Judge Shred. Craig even said "I'm not sure if I agree with it." I don't often have an issue with Craig Charles' hosting, but that comment rubbed me the wrong way. I'm going to be merciful and rank this one low, because Behemoth and Judge Shred did what they could, and OOTA's are always fun. Also, the special event was decent enough - Ansgar put up a good showing even if that would be its only win.
7. Series 6, Heat D (S3's Heat)
This heat was one of the rare cases on this list where I wasn't unhappy with the winner itself. I guess it just left me wondering "where's all the talent?"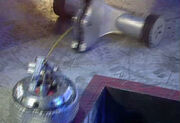 Apart from S3, all the robots were pretty feeble. GBH 2 is overrated if you ask me, I loved the artwork, but I can't see how its flipper is any better than any other flipper that can't perform OOTA's. I suppose this heat had potential to be more exciting if Alien had beat Shredder, but its unreliability did it in. I was never that impressed with Shredder, and this heat was no exception. Its discs looked about as tough as the ones on my cardboard replica of it. S3's battles were impressive, but painfully predictable. Again, there was no question that it was going to win this heat, not because it was good so much as the other seven were bad. Much as Noel Sharkey tried to embellish Shredder's discs before the match, it was pretty clear that my cardboard replica of Shredder had just about as much a chance of beating S3 as the real one did.
6. Series 6, Heat H (Spawn Again's Heat)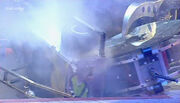 There's a lot of debate over which series was Spawn Again's worst. I say Series 6 for the simple reason that it didn't score any OOTA's. In fact, I'd go as far as to say that the only good moments for this version of Spawn Again were the two times it helped another robot take out Hypno-Disc. It pulled its usual trick of breaking its flipper right after knocking out Tiberius (and a rather flaccid flip it was). Its match against Spam, there was no good ending to that, either a robot with a broken weapon wins, or one of the worst designs ever knocks out a seed. Supernova was much more likeable and impressive, if not predictable against Ming 3. I was a little disheartened to see Ming get trashed like that, this being a hat trick for Ming getting destroyed by a spinner. Still, I was in the mood to see Supernova take chunks out of Spawn Again but that didn't come to pass. At the end of the day we're left with a winner who did nothing to justify the team's successful track record. After displaying such unreliability, I couldn't help but think that a more apropos name would be Try Again.
5. Extreme 2, All Stars, Heat B (Razer's heat)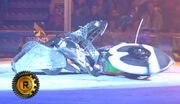 Even with a very strong lineup, this heat suffered from a bad case of the seen-it-alreadys. Razer ko'ing Chaos 2? That was a long time ago, but still counts. Hypno-Disc getting beaten by a gang-up? The other Extreme 1 annihilator and the Series 6 losers' melee come to mind (Not to mention that getting flicked through the air by Spawn Again and popped on the disc by an axe have also already happened to it). Razer beating Spawn Again? I don't think I need to patronize anyone. The only new blood was 13 Black, and even that couldn't save the heat, it was just a carbon copy of Dominator's fight with Hypno-Disc. The final was Razer vs Firestorm, haven't seen that before. This is a common problem to all-stars tournaments, most of the robots have already fought each other. Still, better bracketology could have given us Chaos 2 vs Dominator, Spawn Again vs 13 Black, or dare I say it, Hypno-Disc vs Razer?
4. Extreme 1, The Armed Forces Special.
Now, I have nothing but the utmost respect for the men and women in the Armed Forces. With that said, there's a reason why the Armed Forces specials are the weakest episodes of "Wheel Of Fortune," they just aren't as good at "Wheel" as the regulars. The exact same thing happened in Robot Wars. It was foreboding to see that only half of the robots had active weapons, and even moreso when it became clear that said weapons didn't do squat. The final was between two weaponless pushers. What can I say? There were no good battles, it was incredibly difficult to find a robot to root for.
Some Near Misses
Since I'm still not done with this, I'll give you some heats that were right on the precipice, or could have been number 11.
Extreme 2 University Challenge. Would make the list if I didn't revere a good crusher so much. The two best robots fell in the first round, and one of the finalists had a damaged weapon and way too hard armour to make for a good fight. Still, the right robot of the final four won in the end.
Series 6 Heat E (Wild Thing's Heat). Another heat with 7 mediocres and one standout. Not Wild Thing *laugh* goodness no, 259. 259 realy saved the day, being the only one with a competent weapon, which is a surprising thing to say about a lineup that was 50% vertical spinners. And I can't begrudge Wild Thing for beating it - according to the Infernal Contraption guy, it was Adam Clark's own fault for not noticing that the weapon belt was damaged.
3. Series 7 Heat B (what was supposed to be Terrorhurtz' Heat)
A classic case of "Not this again!" for me, I managed to catch this heat several times on TechTV, but never Thermidor and Atomic's heats, the Grand Final, or the World Championship. You can probably guess my most obvious grievance: the life of the party, died. I'm not sure where they got off not replacing Terrorhurtz with another seed, but it made for a pretty weak episode. Imagine a seven veal calves, destined to be food from the moment they were born, with no ambitions, no desire for pride, dominance, and ferocity, and resigned to their terrible fate. Now imagine that the farmer has a change of heart and naively lets them go free into the wild. This heat is what that would look like. Grim Reaper and Big Nipper got through mostly thanks to Kan Opener taking out itself and Barbaric Response. The heat semifinals were pretty uneventful and predictable - Gyrobot was useless and Jackson was too tall to hit Big Nipper. The heat final was pretty bland, a lot of pushing and no action. Heck, not even a flammable robot could make this one exciting, one tiny tongue of flame from Killerkat was about all we got out of it. Once again the saving grace was the side event, I did get a kick out of the featherweight that flew out of the arena, however brief that moment was.

2. Series 7 Heat K (Bulldog Breed's Heat)
Another boring episode that Tech TV loved to torment me with. For all their talk about wanting robots with good weapons rather than hard-shelled robots that do nothing, the producers really dropped the ball. We've got a robot that chose to spend its weight allowance on a steel core instead of a proper weapon, and a robot that goes against everything they were looking for in the qualifiers, an over-armoured tiny bland flipper bot called Hard. Bulldog Breed looked decent enough, but I can't help but feel disappointed that it didn't score any OOTA's. Almost all the matches went to judges' decisions, which is never that exciting. Hard broke down, just when I thought it couldn't be any duller. Mantis was an interesting design, it's just too bad it lost in such a lacklustre way. Infernal Contraption was pretty good from what I heard, but none of the damage was visible on camera. And what an anticlimactic heat final, impenetrable armour versus weak axe. And wouldn't you know it They coupled this episode with the worst of the 15 side events, the Middleweight Final. Typhoon barely had to spin to knock out all the other competitors.
Before I go on and reveal number 1, here's two more near misses.
Series 5 Heat F (Dominator's Heat). The worst of Series 5. Corkscrew and 13 Black didn't show a lick of destruction between them. Corkscrew was a disappointment with its broken weapon, and we were robbed of the Dominator vs X-Terminator match I was looking forward to. Still, Dominator pulled its weight, and punched its way to a well-deserved win.
Series 4 Heat C. (Firestorm's Heat) Excluded because of the cutoff being Extreme 1, but still worth mentioning. To be fair, Diotoir probably would have lost in round 1, completed robot or no, what with its high is ground clearance and lack of srimech. Say what you will about the efficacy of the Bolt From The Blue vs Firestorm decision, but you can't argue that Firestorm looked wholly unimpressive. So too The Morgue, who proved that the only thing it was really good at is getting rolled around by rear-hinged flippers. It's the classic quandary of no good robots left to root for. Firestorm sealed the deal by driving into the pit and tainting the victory regardless of which way the decision went. Add to that three low-scoring trial runs in the side event, and you've got an episode where no one walks away happy

Ok, that's enough stalling, time for what you came here for, my least favourite episode - excluding Series 4 and prior. I'll tell you right now that it was an episode that came with a fair bit of buildup, and had a very impressive robot lineup, but ultimately managed to deliver an entire set of forgettable battles. It's.....

1. Extreme 2, New Blood Championship Final.
Yep, that's right, the finale to the biggest event in Extreme 2. Now, each robot looked great in their respective heat, and did brilliant to get this far. But something about these particular combinations made it all fall apart. I know this pick at #1 comes as a surprise, but let's go through match by match and I'll prove to you how bland this all was.
Storm 2 vs Thor: Much as JP tries to dress this up as touch-n-go, it's just the robots missing each other a bunch of times. Storm 2 finally connects and gets some good slams I guess. But it's clear the match is over when Thor's hammer breaks, and the rest of the time is spent with Thor hanging on for a judges' decision it can't possibly win.
Mute vs Cedric Slammer: Another 2 good robots, Cedric has a good dominant start, but it amounts to no visible damage. The first big hit knocks both robots out. Whee.
Cedric Slammer vs Thor: The best fight of the night. Thor gets a few good taps in, then Growler performs a cheap kill-steal.
The final, Mute vs Storm 2: Poor Mute, getting listed twice. Storm 2 breaks its wedghe almost immediately and can't get under Mute. It spends most of the match gnawing at Mute's side, whilst Mute gets a brilliant two flips in. Yawn. The decision, well, my first impression was to disagree, but on further review, there was so little action that I wasn't too bothered by it. JP gets special accolade for speculating that Mute's flipper wasn't working, when it was blatantly obvious that there was no point in firing the flipper when Storm was only a centimeter up their wedge. The dying seconds were good, with those 2 flips by Mute, but that wasn't by a long shot enough of a payout for sitting through the rest of the episode. Thankfully, the S7 version of Stom 2 was much improved, in both fighting prowess and excitement factor. Much as I hate to admit it, I can see why the producers were weary about Storm 2, what with its lack of weaponry, paint, and driving practice - that's how bad this episode was. Thankfully Storm rectified all three in Series 7, and confined itself to just appearing on my list once.
Blogs from now on
Edit
I've decided to start posting new writing pieces as blogs. Not only is this page getting cluttered, but comments will be more organized.
Top 11 robots that were too darn creative for their own good
Edit
User_blog:RA2/Top_11_robots_that_were_too_darn_creative_for_their_own_good