Undertaker was the successor to Havoc, which competed in Series 3 of Robot Wars. Its name is derived from the occupation that handles corpses.
"As long as we don't do anything stupid in the early rounds we have a good a chance as anyone. Our robot is fast, manoeuvrable, and not overly complicated. I believe that these are a winning combination. But to answer your question I will be happy with a place in the semi final."
— The Team's high hopes for the robot, ultimately unrealised[1]
Undertaker is wedge-shaped in design, resembling a coffin, hence its grim name. The team claimed that Undertaker could pull a Land Rover, and it was painted so that the armour looked like wood, but it was in fact made of 2mm thick T6 aircraft-grade aluminium and travelled on go-kart wheels at 15mph. Undertaker looked a lot like Gravedigger, but with a scythe that functioned as an axe as its weapon, rather than a flipping arm.
Robot History
Edit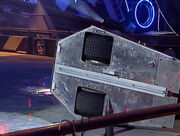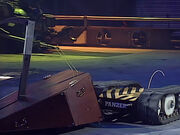 Undertaker went up against Panzer in its only battle of the Third Wars. In the battle, Undertaker was rammed by Panzer onto an arena spike, which bounced it up and down numerous times. Undertaker looked as though it was having some control problems, but was still mobile at the end of the battle. Nevertheless, Panzer had been the more aggressive after driving all over Undertaker and went through, thus eliminating Undertaker from the competition.
UNDERTAKER - RESULTS
Series 3
The Third Wars - UK Championship
Heat, Round 1
Heat L, Round 1
vs. Panzer
Lost
Wins/Losses
Edit
Series Record
Edit
Undertaker was originally given the name Reaper according to the team's website.
References
Edit
External links
Edit
The archived Undertaker website
Ad blocker interference detected!
Wikia is a free-to-use site that makes money from advertising. We have a modified experience for viewers using ad blockers

Wikia is not accessible if you've made further modifications. Remove the custom ad blocker rule(s) and the page will load as expected.