Tyranabot was an American competitor robot that fought in Season 2 of Robot Wars: Extreme Warriors as well as Nickelodeon Robot Wars. Tyranabot made it to the Heat Final of Extreme Warriors, losing to Falcon Mark 2. It also fought in the United States Championship of the Nickelodeon series, which it won. Tyranabot was also the original belt holder in the Challenge Belt competition, but lost the belt to Tut Tut in the first round.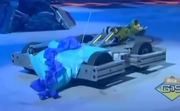 As its name suggests, Tyranabot is a four-wheeled robot resembling a Tyrannosaurus Rex with a crushing jaw at the front and a stuffed tail at the back. Though its weapon didn't cause much damage, the robot had decent traction.
Robot History
Edit
Tyranabot's first match was against Buzz and Xylon. It teamed up with Buzz to take out Xylon, who was eventually flipped over by Buzz. Xylon self-righted and slammed into Tyranabot's tail. The match ended with Tyranabot going through with Buzz.
In the second round, Tyranabot faced Bunny Attack. Bunny Attack tried to use its hammer on Tyranabot but it failed to cause any damage. Tyranabot was then pushed into Sergeant Bash's corner patrol zone who set Tyranabot's stuffed tail alight. Tyranabot was then attacked by the house robots where Sergent Bash chewed off Tyranabot's weaponry but Tyranabot managed to hit the Pit Release button and Bunny Attack reversed itself into the Pit.
Tyranabot went through to the Heat Final where they faced Falcon Mark 2. Falcon Mark 2 managed to get under Tyranabot twice but Tyranabot escaped both times. Tyranabot then pressed the Pit Release button but Falcon Mark 2 managed to get under Tyranabot again. The match went to a judges decision and Tyranabot was eliminated from the competition.
Nickelodeon
Edit
Tyranabot fought Ninjitsu in the first round of the Nickelodeon United States Championship. Ninjitsu managed to get a few hits with its blade on Tyranabot, ripping up its tail. However, at the end, Ninjitsu had broken down. It was eventually flipped and pitted, allowing Tyranabot to go through to the Final against Probophobia.
Probophobia managed to push Tyranabot against the arena wall and tear off its tail, but then Tyranabot reversed into Probophobia and slammed it into Matilda's flywheel. Probophobia was smoking and left without drive. It tried to use its forks as a walking mechanism, but the judges deemed it immobilized and was dumped into the Pit by Sir Killalot, making Tyranabot the Champion.
Aside from a trophy, Tyranabot was also given the Challenge Belt and accepted the task to defend it against three other competitors. Tut Tut, a loaner robot driven under the supervision of Team Juggerbot, was its first opponent. Tut Tut managed to get a few hits in on Tyranabot with its axe, but Tyranabot pushed it into Dead Metal who sawed into Tut Tut's side. Tyranabot was then trapped in the corner and Tut Tut buried its axe into its internals, striking the on/off switch and therefore leaving it immobilized. Dead Metal then proceeded to saw through Tyranabot's tyre before Tyranabot was counted out. Tyranabot was then placed onto the Floor Flipper, flipped across the arena and eventually pitted by Shunt, losing the Challenge Belt.
Wins/Losses
Edit
Series Record
Edit
| Series | Tyranabot Series Record |
| --- | --- |
| Nickelodeon | Grand Champion |
When entering the arena for its Heat Final in Season 2, Tyranabot was erroneously referred to by its opponent's name, The Falcon Mark 2.