Typhoon Thunder was a lightweight robot that competed in the Lightweight Championship in Extreme Series 2, which it won. Typhoon Thunder was one half of the Typhoon Twins, alongside Typhoon Lightning, which achieved second place in the Extreme 2 Middleweight Championship.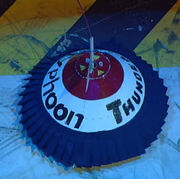 Its design was virtually the same as the other machines from Team Typhoon, making it a full-body spinner, spinning at roughly 200PX. Unlike with other Typhoon robots, the robot was decorated with a fabric skirt.
Robot History
Edit
Extreme 2
Edit
Team Typhoon entered the battle with complete confidence, showing no fear of their opposition. Typhoon Thunder didn't have much to do against Ellie's Little Pink-Bot as the pink robot failed to move. Typhoon Thunder hit it a few times, knocking off their hole saw before Ellie's Little Pink-Bot was counted out and destroyed by Growler. The champion Typhoon Thunder was safe to keep its distance and celebrate its victory.
Wins/Losses
Edit
Wins: 1 (plus 1 as part of the Typhoon Twins)
Losses: 0 (plus 1 as part of the Typhoon Twins)
Series Record
Edit
Ad blocker interference detected!
Wikia is a free-to-use site that makes money from advertising. We have a modified experience for viewers using ad blockers

Wikia is not accessible if you've made further modifications. Remove the custom ad blocker rule(s) and the page will load as expected.