Ad blocker interference detected!
Wikia is a free-to-use site that makes money from advertising. We have a modified experience for viewers using ad blockers

Wikia is not accessible if you've made further modifications. Remove the custom ad blocker rule(s) and the page will load as expected.
"The team's fought in previous lightweight and middleweight championships, now they want this heavyweight to be top of the bill!"
— Jonathan Pearce's prophetic words as Typhoon 2 entered the arena in Round 1 of Series 7
Typhoon 2 was a competitor robot and heavyweight entry from multiple middleweight and lightweight champions Team Typhoon. Designed the same as its middleweight inspiration, Typhoon 2 was a powerful full-body spinner and went on to win The Seventh Wars, the only series it competed in.
Typhoon 2 was created by cadets from the Air Training Corps, and was intended as a project designed to get young people interested in engineering.
Typhoon 2 was essentially a scaled-up version of Team Typhoon's middleweight and lightweight competitors, consisting of a circular base with a conical body painted red, white and blue to resemble the Royal Air Force roundel. The cone also rotated on a central main shaft and acted as the robot's full-body spinner, with a heavy steel rim and four large cutting blades which could cause significant damage to other competitors and the arena wall when spun up to full gyroscopic speeds. This appearance gave Typhoon 2 the description of a UFV (Unmanned Fighting Vehicle).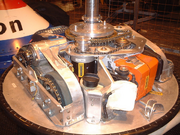 Typhoon 2 also featured a petrol engine for its drivetrain and weapon, with the weapon driven by a starter freewheel attached to the main shaft, although it used electric motors for its appearance in the Extreme 2 Annihilator, and was 8kg lighter there. It also featured two independent drive systems based on the principles found in most modern aircraft, which allowed all four of its wheels to remain functioning even if one of the systems was disabled or if the machine lost drive to one side. However, Typhoon 2 was unstable when spinning at low speeds, could topple over easily and had no self-righting mechanism.
"There wasn't a srimech in Typhoon 2. We looked at putting one in and had a number of ideas including car air bags or a giant ring on top however at the end of the day we decided not to bother as they would take away from the look of the machine."
— Gary Cairns
Team Typhoon jokingly mentioned that Typhoon 2's controller featured a 'self-destruct' button where, should the robot become immobilised, it would be used "to stop their technology falling into enemy hands". However, its true purpose was to trigger a series of small pyrotechnics intended for theatrical effect, although these were not seen in either of Typhoon 2's appearances.
Qualification
Edit
Despite later becoming a Robot Wars champion, Typhoon 2 never won a qualifier battle. It was presented with two opportunities in Series 6 - in one, it lost alongside Prime Evil to qualifier Fluffy. In its second, it fought Kat3, Woden and Granny's Revenge 2. In the fight, Typhoon caused major damage to Kat3's polycarbonate armour, but Typhoon's spinner was fouling on the chassis bumper ring, and eventually it was flipped by Woden. Kat3 won the battle, and the team later discovered that the ring had only been polished in one spot.
In Series 7's qualifiers, Typhoon 2 fought Araknia, Ewe 2 and Big Nipper. Typhoon 2 was fitted with "funky DIY" omni-wheels for the battle, though these did not work as well in practice as the team hoped. The battle was won by Ewe 2, but regardless all four robots were awarded places in the Seventh Wars.
Robot History
Edit
Extreme 2
Edit
"...planning to whip up a storm with this, or self-destruct"
— Jonathan Pearce on Typhoon 2
For its debut Robot Wars appearance, Typhoon 2 exclusively competed in the Annihilator in the second series of Extreme, where it was placed up against Revenge of Trouble & Strife, Thermidor 2, Raging Reality, Kan-Opener and Major Tom. No sign of its future promise or the success of its predecessors was evident in the first round. In this battle, Typhoon 2 spun up to speed, but its first blow skewered it on the claws on Kan-Opener, stopping the spinner completely. It was unable to start spinning again, and before it could retreat to make a run, Raging Reality came in and flipped Typhoon 2 over onto its back, where it was unable to self-right. Typhoon 2 was eventually counted out, and eliminated from the competition.
"Will we see the self-destruct button?"
— Jonathan Pearce after Typhoon 2 was flipped by Raging Reality
The eventual champion was almost eliminated in its very first fight with 4th seeds Bigger Brother, veterans Colossus and newcomers U.R.O.
Jayne Middlemiss: "What are your tactics when you're driving out there?"
Gary Cairns: "Well, I'm sorry, but that's a military secret!"
— Pre-Round 1 interview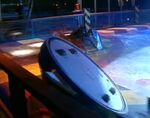 In this battle, it did very little whilst Colossus was flipped over by Bigger Brother, and U.R.O. broke down. Typhoon 2 wasn't spinning properly and was eventually flipped over by Bigger Brother as well, but caught a lucky break as Colossus and U.R.O. were immobilised first. Only when Typhoon was turned over could it start to spin up to speed.
In the second round, Typhoon 2 came up against Hammerhead 2. It instantly ran away to get the disc up to speed. Hammerhead could not catch Typhoon until it had already reached top speed. It began to strike Hammerhead until the Dutch entry lost drive on one side. Side panels started being ripped off Hammerhead until it completely broke down and was counted out. Team Typhoon referenced this battle when asked about their favourite match in the series, in their Grand Final interview.
The Heat Final against Iron-Awe 2.1 was done in similar fashion. Typhoon ran away to start spinning, and Iron-Awe was unable to catch it, due to the arena floor being coated in a slippery substance for Sir Killalot's benefit. Typhoon 2 was almost at full speed which caused Iron-Awe to spin violently each time it was hit, in combination with the slippery floor. The flipper was buckled and Iron-Awe hit the wall after one of Typhoon's strikes where it broke down, and was counted out. Typhoon kept its distance afterwards, and progressed to the series semi-finals.
"It's taken over the mantle of Hypno-Disc!"
— Craig Charles after Typhoon 2's Heat Final victory
The first round of the Semi-Final was fairly easy for Typhoon 2, as it took just one strike to knock 14th seeds Thermidor 2 (one of the machines present in Typhoon 2's annihilator loss) out, clashing between the lobster's claw and wheel.
"You can feel the effect of Typhoon 2's slam from up here, and I think that is done for Thermidor 2. That is immensely powerful!"
— Jonathan Pearce
Typhoon 2 did not hit Thermidor any more times than necessary, and progressed to the next round, leaving Thermidor to be attacked by the house robots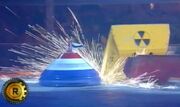 In the second round it once again ran away to get up to full spinning speed, but Atomic instantly came in and attempted to flip it. Typhoon was launched across the arena, not quite turning over. However, on Atomic's second flipping attempt, it got the flipper caught on the angle grinders and flipped itself over. Instead of self-righting, the flipper stayed stuck open and it started venting CO2 gas. By this point Typhoon 2 was spinning so quickly that a whirring sound could be heard coming from it.
"I think we could be looking at a potential champion here..."
— Jonathan Pearce as the Refbot counts out Atomic
After a few spectacular strikes, sending sparks flying and causing major damage, Atomic completely broke down and Typhoon 2 was through to the Grand Final.
"Could this be the most impressive of all, though?"
— Jonathan Pearce on Typhoon 2 whilst reviewing the Grand Finalists and how they reached the final
Typhoon 2 met its first non-flipper robot in a 1 -on-1 match in the Grand Final; the 11th seeds X-Terminator. It too had a spinning weapon but its height and low speed meant it couldn't catch or strike Typhoon 2. After a few strikes, X-Terminator's drive-train for the flywheel was knocked loose, leaving it with no weaponry. However, Typhoon 2 hit the arena wall, destroying it, so cease was called.
"X-Terminator hopes bashed, our arena smashed!"
— Jonathan Pearce
The judges said that Typhoon 2 was potentially the most dangerous robot in Robot Wars, as no other had ever destroyed the wall with a spinning weapon at such a high power. The bout was restarted and X-Terminator was knocked out in one strike, so Typhoon 2 progressed through to the Final.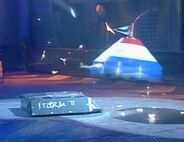 What followed was arguably the most controversial fight of Robot Wars against New Blood champions Storm 2. The 16th seed charged straight at Typhoon 2 but missed, it then simply bounced away after the first strike with no damage. Typhoon 2 ran away until it hit the arena wall and stopped spinning. Storm 2 then came in and attempted to flip Typhoon 2. Typhoon 2 got away and struggled to get up to speed, so Storm 2 came once again and attempted to flip it.
"If it does go over, it's all over!"
— Jonathan Pearce as Storm 2 tries to topple Typhoon 2
Typhoon 2 escaped once more and got up to speed. It then hit the wall and knocked another panel out, so cease was called again. The arena wall was fixed and the battle started again.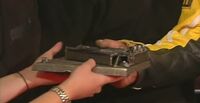 Storm 2 was able to attack Typhoon 2 even when it was spinning at full speed without sustaining any damage. It pushed Typhoon 2 into Matilda's CPZ and attempted to flip it again. Typhoon 2 was pushed across the arena where one of the blades caught on the pit panel and gave it an opportunity to escape. It got up to full spinning speed again and was nearly pushed into the pit. Storm 2 started slowing down and Typhoon 2 stopped spinning. Storm 2 started slamming Typhoon 2 into the wall, where a panel at the front came off just moments before cease was called.
"Oh what's happened to Storm 2, they've taken some damage on the front! Where on earth did that happen! That is major damage, major damage to Storm 2... has the Grand Final turned again!"
— Jonathan Pearce as the late twist unfolds
The judges said that control and aggression was won by Storm 2, but that style and damage was won by Typhoon 2. But since damage carries the most points, the win, and the Championship Title, was controversially awarded to Typhoon 2.
As the new UK champion, Typhoon 2 was due to enter The Third World Championship and fight Tough as Nails and Rawbot in its first battle. However, the team had run out of batteries (although Pearce claimed the robot was having "technical difficulties"), having used their last ones for their Middleweight robot to defend its title in the Middleweight Championship. Because of this, Typhoon 2 was forced to withdraw and the other two robots were left to fight alone.
TYPHOON 2 - RESULTS
Extreme Series 2
Annihilator
Sixth Place
Round 1
vs. Kan-Opener, Major Tom, Raging Reality,
Revenge of Trouble & Strife, Thermidor 2
Eliminated
Series 7
The Seventh Wars - UK Championship
Champion
Heat O, Round 1
vs. Colossus, Bigger Brother (4), U.R.O.
Qualified
Heat O, Round 2
vs. Hammerhead 2
Won
Heat O, Final
vs. Iron-Awe 2.1
Won
Semi-Final 2, Round 1
vs. Thermidor 2 (14)
Won
Semi-Final 2, Round 2
vs. Atomic
Won
Grand Final, Eliminator
vs. X-Terminator (11)
Won
Grand Final
vs. Storm 2 (16)
Won
The Third World Championship
Representing UK, Eliminated in Heats
Heat
vs. Rawbot (SWE), Tough as Nails (NED)
Withdrew
NOTE: Before the battle had started, a lack of available batteries forced Typhoon 2 out of the competition, leaving Tough as Nails and Rawbot to fight alone.
Wins/Losses
Edit
Series Record
Edit
Although Team Typhoon did not enter the 2016 series, driver Gary Cairns participated with his own team, PP3D Robotics and their robot, PP3D.
Outside Robot Wars
Edit
Typhoon 2 also competed at international level for a while, in the Heavyweight Division of the American combat tournament RoboGames in 2005. Although it lost its first round battle against SJ (SlamJob from BattleBots), it progressed through the losers bracket, getting revenge on SJ in the process, before facing defending champion Megabyte in the Bracket Final. Although Typhoon 2 won, it sustained severe damage which was not repairable in time for the Grand Final where it was due to fight Sewer Snake. As a result, it withdrew and won the silver medal overall.
Typhoon 2 was retired from combat altogether shortly after this. As of 2012, Typhoon 2 was being rebuilt to repair the damage sustained at RoboGames.
Typhoon 2 also made 2 appearances at the Dundee Science Centre in 2013 and 2014.
In every fight bar its Grand Final eliminator, there was at least one robot with either a flipper or lifter against Typhoon 2.
Throughout Series 7, the team made jokes about parts of the robot, such as their tactics and how the machine worked as being "military secrets".
After Gary Cairns confirmed that Team Typhoon would not be competing in the 2016 reboot of Robot Wars, Typhoon 2 became the only UK Robot Wars champion to not attempt to defend its title in the following series. Cairns would enter with his own robot, PP3D, although it has no other connection to Team Typhoon.
Typhoon 2 is one of seven robots to smash the arena wall, and one of two full-body spinners to destroy it.
Typhoon 2 is one of two semi-finalists from the Seventh Wars that lost its original qualifier battle and had to rely on a discretionary place from the producers. The other was Tough as Nails.
Typhoon 2 and Razer are the only UK Champions (and indeed, domestic champions of any kind) to lose their first televised battle.
External links
Edit