Twister was Team Berserk's Series 5 entry and final entry to Robot Wars. It lost in the first round, the first ever robot to lose to a walkerbot in the main competition.
Team Berserk had previously entered with the Super Heavyweight Berserk in Series 2, and Berserk 2 in Series 3 and 4.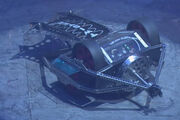 Twister was an axlebot with a front flipper. Its rear bludgeoner, from which it got its name, could spin at 55 mph, and it also featured glancing spikes for ramming and spinning. It was invertible with two wheels on the top and bottom of the robot, with the top wheels set slightly ahead of the bottom. Its variety of weapons gave it an element of choice in how to attack, but at the expense of power on each weapon.
Qualification
Edit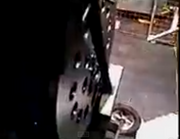 Retaining only the bludgeoner, Twister was completely redesigned and rebuilt for Series 6, with a four-wheeled pyramid shape and two cutting discs added at the front - a design largely based on Pussycat. The bludgeoner was now set on the base of the robot and lacked the drill extension it had in Series 5.
"A very well built machine..."
— Laurie Calvert on Twister, during the Series 6 qualifiers[1]
Twister was immobilised in its qualifier battle against Barbaric Response and Lightning, the former winning the battle to earn its place in the Sixth Wars.
Robot History
Edit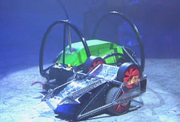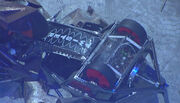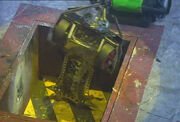 Twister started quickly against Clawed Hopper, but seemed unsure of how to attack its opponent, despite its powerful weaponry. After driving around Clawed Hopper, Twister rammed into its side and started drilling a hole in the side of Clawed Hopper, but then broke down only 15 seconds into the battle. Dead Metal came into attack, cutting through it with his saw and placing Twister on the flame pit, whilst Clawed Hopper slowly went off to open the pit, and eventually nudged Twister into the pit.
"By the time Halley's Comet next passes the earth, they'll be in the pit"
— Jonathan Pearce as Clawed Hopper slowly pits Twister
TWISTER - RESULTS
Series 5
The Fifth Wars - UK Championship
Heat, Round 1
Heat L, Eliminator
vs. Clawed Hopper
Lost
Wins/Losses
Edit
Series Record
Edit
Team Berserk were notable in that most of the team members were deaf, communicating in sign language. This allowed the team to have one extra team member to act as a translator.
References
Edit
↑ Private correspondence with User:Toon Ganondorf
Ad blocker interference detected!
Wikia is a free-to-use site that makes money from advertising. We have a modified experience for viewers using ad blockers

Wikia is not accessible if you've made further modifications. Remove the custom ad blocker rule(s) and the page will load as expected.