This article is about the Dutch competitor. For other uses, see Twister.
Twister was a competitor in Dutch Robot Wars: Series 2 and UK Series 7. It was more successful on home soil, causing lots of damage before falling in the Heat Final, then receiving a wildcard place in the Grand Final, where it was knocked out by the eventual champion, PulverizeR, having already lost to the runner-up, Philipper. It lost in the first round of the Seventh Wars.
The team had a signature "windmill dance" which they did after each of their victories. A picture of Twister from Dutch Series 2 was displayed on the team's hats during UK Series 7.
Versions of Twister
Edit
Twister (Dutch Series 2)
Edit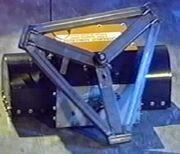 Originally, Twister was an upright box shape with a large spinning triangle mounted at a 45-degree angle. Though it had balancing issues due to its two-wheel drive and raised weaponry, and could not self-right, the spinning blade was capable of great destruction. The robot was fairly reminiscent of a windmill.
Twister (UK Series 7)
Edit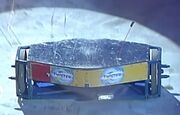 In Series 7, Twister fixed its self-righting issue by switching to an invertible design. The spinning triangle with blunted vertices ran through the lower centre of the robot, allowing the weapon to defend the robot from both sides.
Qualification
Edit
In its Series 7 qualifier, Twister defeated Ceros in a head-to-head battle. Regardless, both robots qualified for the series as Ceros was given a discretionary place.
Robot History
Edit
Dutch Series 2
Edit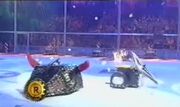 In its first battle, Twister faced The Black Beast. Twister spun up its weapon and slammed into Black Beast, destroying its decorative eyes and one of its horns. Twister came in with another hit and destroyed Black Beast's other horn. The blunt force knocked something loose from Black Beast, and it was deemed immobile.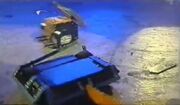 In the second round, Twister met Impact. Twister took a few harmless blows from Impact's hammer before getting its own weapon up to speed and chopping off one of Impact's forks. It continued its attack, tearing Impact's front armour off completely. Impact was counted out, and Twister advanced to the Heat Final.
There, it faced Philipper 2. Twister spun up its hammer and struck Philipper, but it bounced off without inflicting damage, wobbling dangerously off-balance. It came in for another attack, but Philipper flipped it over, immobilizing it. Philipper came in and dug into one of its wheels with its crusher, before Sir Killalot dumped it down the pit.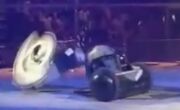 Though it lost the Heat Final, Twister received a wildcard and was granted entry to the Grand Final. It first opponent was PulverizeR. The fight had a tentative start, with each robot trying to avoid the other's spinner. PulverizeR got Twister from behind and hit it hard, sending Twister flying across the arena. PulverizeR then hit the pit release before striking Twister again, this time flipping Twister onto its side. Twister tried to use its weapon to self-right, but could only skitter on the arena floor. PulverizeR finished it off by dropping it down the pit.
UK Series 7
Edit
Twister's first venture into the UK Championship saw it face number 9 seeds Pussycat, as well as returning Sixth Wars first round losers Roobarb and Brutus Maximus in the opening heat of the Seventh Wars.
Twister was immediately charged by Pussycat, before Roobarb joined in and flicked Twister with two flips. After this, Twister went on the offensive, knocking Pussycat aside with a hit which lifted Pussycat off the arena floor temporarily. Twister then attacked the reversing Brutus Maximus, shattering some of its protective covering and damaging one of its saw blades. Twister and Pussycat then clashed head-on - an attack which sent Twister up into the air but also damaged Pussycat's spinning blade, ceasing its movement. Twister was then reversed into by Brutus Maximus, but the latter came out the worse as its entire row of saw blades came loose. Suddenly, after more pressure at close-quarters from Pussycat and Roobarb, Twister's weapon stopped working, and Roobarb followed this up by inverting Twister with a flip.
"Be interesting to see who survives from the remaining three though. Twister needs to do a lot, here, in the closing stages."
— Jonathan Pearce as the battle runs down towards a judges' decision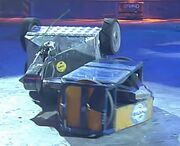 From this point on, Twister was forced to resort to pushing its opponents around, as it edged Pussycat against the arena wall. Pussycat then attacked Twister with its now-revived spinning disc, but another solid connection saw Pussycat's weapon stop working again. With time ticking down, Twister tried to force both Roobarb and Pussycat backwards, but its efforts proved ineffective. Cease was called, and with Brutus Maximus counted out by Refbot before time was up, Twister went to a judges' decision along with Pussycat and Roobarb. However, the judges went in the way of the other two surviving robots, and its Seventh Wars campaign ended at the first hurdle.
TWISTER - RESULTS
Dutch Series
Series 2
Dutch Championship
Grand Final, Round 1
Heat B, Round 1
vs. The Black Beast
Won
Heat B, Semi-Final
vs. Impact
Won
Heat B, Final
vs. Philipper 2
Lost
NOTE: After losing in the Heat Final, Twister was given one of the three wildcards into the Grand Final.
Grand Final, Round 1
vs. PulverizeR
Lost
UK Series
Series 7
The Seventh Wars - UK Championship
Heat, Round 1
Heat A, Round 1
vs. Brutus Maximus, Pussycat (9), Roobarb
Eliminated
Wins/Losses
Edit
UK Wins: 0
UK Losses: 1
Dutch Wins: 2
Dutch Losses: 2
Series Record
Edit
UK Series
Edit
Dutch Series
Edit
| Series | Twister Series Record |
| --- | --- |
| Series 1 | Did not enter |
| Series 2 | Grand Final, Round 1 |
Outside Robot Wars
Edit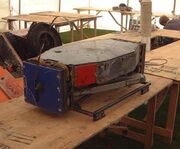 Twister was entered into the 2006 UK Championships, hosted by Roaming Robots. It was placed in Heat F with Corkscrew (which withdrew), PulverizeR and the 10th seeds UFO. Twister failed to progress beyond the heats after losing to UFO, despite defeating the heat winners PulverizeR in a battle as well.
Twister was later purchased by the builder of Hammerhead.
At 2006 UK Championship, Twister had eight wheels (four wheels on each side) instead of two.
External links
Edit