Twisted Metal
Talk

4
1,514pages on
this wiki
Twisted Metal



Twisted Metal Evo

Participation Information
Dutch Series
1-2
Other Names
Twisted Metal Evo
(Dutch Series 2)
Team Information
Team
Team Twisted Metal
Team Members
Willem Kiers
Harjo Everts
Chris Mennenga
(Dutch Series 1)
Johannes Scholtens
(Dutch Series 2)

Robot Statistics
Weight
100kg
Dimensions
0.20m x 1.34m x 0.90m
Power
2 x 800W Motors
Weapons
Spinning Disc

Robot statistics correct as of its most recent appearance on the show
Twisted Metal was a competitor in the both series of Dutch Robot Wars. It was an, invertible, box shaped robot with a powerful spinning disc at the front. It featured flashing lights and a truck horn. Twisted Metal tore through the opposition to win its heat, before falling in the melee of the Grand Final.
For Series 2, it was redesigned as Twisted Metal Evo, and destroyed its first two opponents to reach its heat final, but it was defeated there on a judges decision by Krab Bot. This version of Twisted Metal was very similar in design to UK machine Disc-O-Inferno.
Robot History
Edit
Dutch Series 1
Edit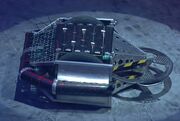 In its first battle, Twisted Metal faced Pyramid of Chaos. Pyramid of Chaos's odd shape made it difficult for Twisted Metal to cause external damage, but Twisted Metal managed to dig into the shell by aiming for the corners. The damage had immobilized Pyramid of Chaos, so Twisted Metal was through to the next round. There, it met Alien Destructor. It spun up its disc and tore away at Alien Destructor's decorations. It clipped Alien Destructor at the rear and buckled its tail. Alien Destructor rammed into Twisted Metal, but Twisted Metal kept its disc spinning, and buckled Alien Destructor's tail. Twisted Metal went for the pit release, shattering the tyre's plastic casing. Time ran out, and the match went to a jury's decision, which was in favour of Twisted Metal. In the heat final, Twisted Metal met Pullverizer. Initially, it took some hits from Pullverizer's flywheel, but it got around to Pullverizer's side and managed to disable one of its wheels. Pullverizer had become immobile, and while the house robots attacked it, Twisted Metal came in and tore off one of its wheels.
In the Grand Final, Twisted Metal had a good start, tearing off some of Lizzard's tail armour. However, its movement was somewhat jerky, and it could do little when Lizzard retaliated with its tail. Slicer upended it with its drum, and Twisted Metal appeared to be immobilized. After it was counted out, the house robots put it on the floor flipper. Sir Killalot tore off one of its sides and then disposed of it in the pit.
Dutch Series 2
Edit
Twisted Metal returned to Dutch Robot Wars with a lower, flatter body, and a new name; Twisted Metal Evo. In the first round, Twisted Metal Evo got its spinning disc up to speed as the axlebot, Slamtilt, tried to get its axe into play. Twisted Metal Evo whacked one of the exposed wheels of Slamtilt, buckling it, but not immobilising the robot. Twisted Metal Evo chased Slamtilt into a CPZ giving Growler the opportunity to attack. After both machines escaped, Twisted Metal Evo turned and hit Slamtilt again, knocking a wheel off and allowing it to be counted out by the Refbot before taking severe damage from the house robots and drop zone. In the heat semi-final, Twisted Metal's first attack on the wedge shaped Flepser cut through its flipper. Twisted Metal Evo activated the pit and almost drove straight down, but escaped and punctured one of Flepser's tyres, leaving it spinning around in circles. A merciless Twisted Metal Evo closed in and ripped the front armour of Flepser to shreds before nudging it into the vertical flywheel of Matilda, who flipped Flepser onto its side where incredibly it was still moving, under a hail of debris. The next attack by Twisted Metal Evo almost made it bounce straight into the pit of oblivion. Flepser was systematically ripped apart by attacks from the house robots, losing both wheels and Twisted Metal Evo was through to the heat final against Krab Bot. Twisted Metal came onto the attack, hitting one of Krab Bot's claws, but failed to cause any damage. Krab Bot grabbed the static front disc of its opponent and slammed Twisted Metal Evo into the arena side wall and into a CPZ. Here, Sir Killalot took over from Krab Bot and lifted the former grand finalists into the air before letting go. Twisted Metal Evo simply couldn't get its spinner to work like in the first two rounds, and it spun into Matilda's CPZ where the flywheel flayed a piece of armour on the front of the machine. Krab Bot repeated its tactic of pushing Twisted Metal Evo into the corner patrol zone and this time Killalot spun Twisted Metal around and threw it. Twisted Metal lasted the full five minutes but was eliminated on the judges' decision.
TWISTED METAL EVO - RESULTS
Series 2
Dutch Championship
Heat Final
Heat C, Round 1
vs. Slamtilt
Won
Heat C, Semi-Final
vs. Flepser
Won
Heat C, Final
vs. Krab Bot
Lost
Wins/Losses
Edit
Series Record
Edit
Series 1: Grand Final, Round 1
Series 2: Heat Final