Triforce is a heavyweight robot which qualified to compete in Series 10 of Robot Wars. However, it was forced to withdraw due to mobility issues.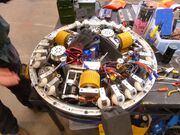 Triforce is a ring spinner, capable of up to 1800rpm, powered by two brushless motors. The weapon can reach 2500rpm when the robot itself spins on the spot too, delivering over 120kJ of kinetic energy. It is invertible, and uses a unique locomotion setup with each one of three wheels pointing in a different directions, giving the robot omnidirectional movement. The armoured rim consists of 35mm thick HARDOX 500, while the robot's top and bottom are armoured with aluminium. However, its overall clearance from the floor was extremely low, resulting in a lack of grip in the Arena, particularly due to its soft wheels.
The robot's name comes from its unique three-wheeled drive system, and the original design for the spinning ring which had only 3 blades.
Qualification
Edit
Triforce first attempted to enter Series 9, and applied with CAD as the robot's construction was in its infancy. Triforce was not selected to compete in Series 9, but work progressed and it qualified for Series 10 upon application. However, upon testing within the Robot Wars Arena after the team's arrival, it was discovered that Triforce lacked controlled movement, and withdrew.
Robot History
Edit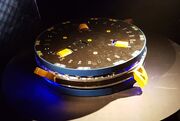 Series 10
Edit
Triforce was intended to compete in Heat 4, where it would have faced Iron-Awe 6 and The Kegs. However, when it entered the Robot Wars Arena for testing (it was deemed too unsafe to run in the standard testing arena), Triforce's mobility issues were discovered, and the team withdrew. Triforce was then replaced by Tauron.
Series Record
Edit
External Links
Edit