"Tip-Top tastic!"
— A banner in the audience supporting Tip-Top
Tip-Top was a robot that competed in Series 5. It lost in the first round to Bigger Brother, after being flipped out of the arena. It would later attempt to enter Series 6, but would ultimately fail to qualify.
Tip-Top's name comes from its unusual locomotion.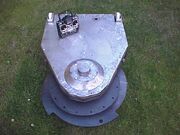 Tip-Top was a box shaped robot with a horizontal substantial inertia flywheel driven by a petrol-fuel 72CC disc cutter engine as weaponry. It was fitted with a pair of actuators that could raise the robot by about 40mm from either way up. The disc's axle was rounded at both ends and long enough to touch the ground, balancing the disc on the arena floor like a top.
The robot was unique in that it did not have drive motors for its wheels. When the disc was spinning at full speed, the actuators could be fired to tip the disc mechanism, and the resultant gyroscopic forces from the dome pressing against the ground would move the robot. This unique locomotion gave rise to the name Tip-Top, and was notably the only time such a locomotion would be used in Robot Wars. However, the innovative system proved too unresponsive against its first and only opponent, Bigger Brother.
Qualification
Edit
Tip-Top defeated Cerberus to qualify for Series 5, but failed to pass the Series 6 qualifiers with an unchanged machine. At the Series 6 qualifiers, Tip-Top was originally due to fight King B Powerworks, but the engine stalled just before the battle, so the team withdrew from the fight. They were given a second chance, this time against Robochicken, but the engine stalled again just as the battle started, so Tip-Top failed to qualify[1].
Robot History
Edit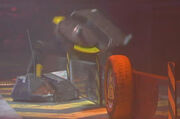 Tip-Top's first battle in the warzone was against Bigger Brother. Tip-Top tried to get its flywheel up to speed, but was too sluggish to find cover, and Bigger Brother quickly came in and flipped Tip-Top over. Bigger Brother then pushed Tip-Top against the arena side wall and flipped it again, stranding Tip-Top on the wall itself. Bigger Brother then quickly flipped Tip-Top out of the arena, eliminating it from the competition.
TIP-TOP - RESULTS
Series 5
The Fifth Wars - UK Championship
Heat, Round 1
Heat I, Round 1
vs. Bigger Brother
Lost
Wins/Losses
Edit
Series Record
Edit
References
Edit
Ad blocker interference detected!
Wikia is a free-to-use site that makes money from advertising. We have a modified experience for viewers using ad blockers

Wikia is not accessible if you've made further modifications. Remove the custom ad blocker rule(s) and the page will load as expected.