"To be honest, this has been utter pants in previous wars"
— Jonathan Pearce introduces Thunderpants, before realising that it's not moving
Thunderpants (also spelt thUnderpants) was a heavyweight robot that entered Series 7 of Robot Wars. It was the final Robot Wars entry from Team Panda. The robot never fought on the televised show, merely making an appearance concealed in shadow behind an entry gate, as its drive belts had broken beyond repair. An interview with the team was filmed, but was not shown on the televised show, nor were its statistics displayed.
The robot was named after the film of the same name due to the fact that Pete Collier's and Steve Bracewell's daughters Megan and Amelie were huge fans.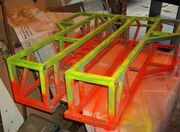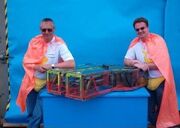 Thunderpants was a low invertible box-shaped robot armed with a sledgehammer. Thunderpants was constructed using the base of its predecessor Hot Pants as a template. The hammer featured a rather unique mechanism which enabled it to move both up and down from its starting point, allowing Thunderpants to attack an opponent with its hammer even when inverted.
Qualification
Edit
In its Series 7 qualifier, Thunderpants fought M2, King B Powerworks and Pressure. It was during this battle that King B Powerworks damaged Thunderpants' wheels beyond repair, and it lost the battle, with King B and M2 being declared as joint winners. Regardless, Thunderpants was offered a discretionary place into the series.
Robot History
Edit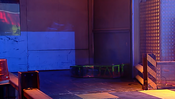 In Heat E of the Seventh Wars, Thunderpants was due to go up against newcomers Leveller 2, veterans Tetanus Booster and previous heat finalists Barber-Ous 2'n a Bit in its first round battle. However, Thunderpants didn't make it out of the starting gates due to damage to its drive belts. Thunderpants was given the red card by Refbot and was automatically eliminated from the competition before activate was even sounded.
"As I drove Thunderpants forward there was a lurch and then nothing!! I could hear nothing either. They opened the gates and hauled her back. Both drive belts had come off!!! This had never happened before. On later analysis we realised that the damage to the wheel supports from King B3 had twisted the wheels so they were no longer straight. Under load the belts went! Derek [Foxwell] gave us a few minutes to try to get them back on but to no avail. We were out in the worst possible style!"
— Team Panda website[1]
The melee continued as the remaining three robots went into battle.
"So only three remain after the wonderful, wonderful competitive spirit from Thunderpants"
— Jonathan Pearce as activate is sounded
The battle eventually ended with Barber-Ous 2'n a Bit being eliminated from the competition, alongside Thunderpants.
THUNDERPANTS - RESULTS
Series 7
The Seventh Wars - UK Championship
Heat, Round 1 (forced to retire before the battle)
Heat E, Round 1
vs. Barber-Ous 2'n a Bit, Leveller 2, Tetanus Booster
Withdrew
NOTE: Thunderpants broke down in the entry gate and never made it into the arena, leaving the other three robots to fight alone.
Series Record
Edit
In the edited version of the Seventh Wars shown on Jetix and Fox Kids, all of the robots' introductions were removed to cut the show to 30 minutes. Thunderpants was the sole exception due to it not making the arena.
References
Edit
Ad blocker interference detected!
Wikia is a free-to-use site that makes money from advertising. We have a modified experience for viewers using ad blockers

Wikia is not accessible if you've made further modifications. Remove the custom ad blocker rule(s) and the page will load as expected.