"Scottish Spirit"
— The robot's strengths.
The Tartan Terror (also referred to as T3 at one point by Jonathan Pearce) was a Scottish competitor that fought exclusively in the fifth series of Robot Wars. It lost its only battle in the first round, but managed to hold together despite being axed by The Steel Avenger and Shunt, as well as having its body set on fire.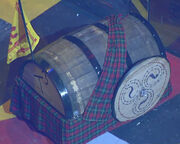 Built by three distillery workers, The Tartan Terror was a two-wheeled, barrel-shaped robot whose body was made out of an old whiskey cask and attached to a wooden base. It was decorated with a tartan kilt and a Highlander-style Targe shield, while its statistics board listed its weapons as an axe and ball & chain. However, when it entered the arena, The Tartan Terror's only weapon was a static ice pick attached to the robot's base, which proved ineffective. Additionally, its wooden body was easily damaged, and highly flammable alongside the decorative kilt.
Robot History
Edit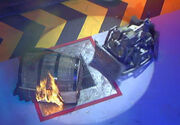 Before its only battle, one of The Tartan Terror's axles sheared, leaving it running on one wheel only. In the first round of the heat, The Tartan Terror was axed repeatedly by The Steel Avenger. With only one wheel working, it could only spin in place, so it was defenseless as The Steel Avenger continued to hammer away at its barrel. The House Robots came out to jostle and topple it before Refbot counted it out. Shunt pushed it onto the flame pit, which set its tartan kilt on fire. The House Robots placed The Tartan Terror on the floor flipper three times, despite the Scottish robot showing tiny gasps of movement. The kilt had been ripped away, revealing Tartan Terror's charred frame underneath.
"The Tartan Terror? Who's it terrorising then? Certainly not The Steel Avenger..."
THE TARTAN TERROR - RESULTS
Series 5
The Fifth Wars - UK Championship
Heats, Round 1
Heat A, Round 1
vs. The Steel Avenger
Lost
Wins/Losses
Edit
Series Record
Edit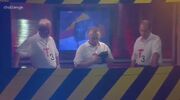 In the series re-cap in the Grand Final, Jonathan Pearce incorrectly claimed that Chaos 2 defeated The Tartan Terror in Round 1, despite The Steel Avenger being visible in the clip. Chaos 2 was in the same Heat, but defeated Storm Force in Round 1.
Ad blocker interference detected!
Wikia is a free-to-use site that makes money from advertising. We have a modified experience for viewers using ad blockers

Wikia is not accessible if you've made further modifications. Remove the custom ad blocker rule(s) and the page will load as expected.