The Stag
Talk

0
1,514pages on
this wiki
The Stag



The Stag in Series 7

Participation Information
UK Series
6-7
Team Information
Team
Team Bodgeit
Team Members
Terry Martin
David Martin
Mark Pepper
Other Entries
Staglet
(Series 7)
Whipper
(Series 7)
Robot Statistics
Weight
99kg
Dimensions
0.26m x 1.20m x 0.93m
Top Speed
8mph
Power
2 x 800W electric motors
Weapons
Hydraulic pincers

Robot statistics correct as of its most recent appearance on the show
The Stag was a robot that competed in Series 6 and 7 of Robot Wars. It was invertible, two-wheel driven and designed to resemble a stag beetle and had hydraulic pincers as weapons that could crush with 7 tonnes of pressure and a rear spike. It had an aluminium shell and home-made speed controllers but the wheels were exposed. The main feature of the team was team member Mark Pepper's hi-tech hat which was worn in both appearances and a chicken was displayed on the back of the robot in its début. It never made it out of the first round of both wars, and had previously failed to qualify in the Fifth Wars under the name Mr Hyde.[1] Team Bodgeit also competed in the Seventh Wars with two featherweights, Whipper and Staglet.
The Stag competed in Techno-Games as BeetleBot, working with Brutal Beetle (The Alien) in the football competition. It also competed in the Assult course.
In 2011, the empty shell of The Stag, without electronics, was sold on eBay.
Robot History
Edit
"Now this one can beetle about!"
— Jonathan Pearce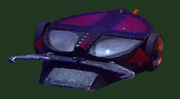 The Stag started moderately well in its first and only battle of Series 6. It grabbed hold of the seeded Wild Thing 2 and managed to peel away some of its armour until Vader began to hit it with its flywheel. The strikes caused The Stag to lose a tyre, immobilise it on one side and bend its pincers out of shape. It reversed into Sir Killalot's CPZ where it was picked up by the House Robot and thrown around. Sir Killalot let go after tilting forwards. Because The Stag had stopped on one side, the Refbot came in to count it out. The defeated machine then spun around in circles before being pitted by UFO moments before the battle ended.
The Stag didn't perform much better in Series 7. It started by grabbing Scorpion and pushing it around, but it got hit by IG-88 and flew through the air with the pincers bent out of shape and armour falling off. It then pushed the pit release button and grabbed Scorpion again before IG-88 managed to flip it again with its spinning axes. The Stag started to push IG-88 but drove away and into the pit by accident, eliminating itself from the Seventh Wars.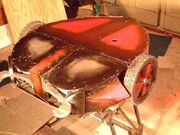 Wins/Losses
Edit
Series Record
Edit
Series 1-4: Did not enter
Series 5: Failed to qualify as Mr Hyde
Series 6: Heat, Round 1
Series 7: Heat, Round 1
In each of The Stag's battles, one of its opponents that defeated it was from Team Vader.
References
Edit