The Spider
Talk

1
1,514pages on
this wiki
The Spider



The Spider

Participation Information
UK Series
Extreme 1
Team Information
Team
Team Tarantula
Team Members
John Udale
Robert Udale
Carol Udale
Other Entries
Robocow
(Series 3)
Robot Statistics
Weight
100kg
Dimensions
0.60m x 1.33m x 0.90m
Power
750W electric motor
Weapons
4 x Rotating Spikes

Robot statistics correct as of its most recent appearance on the show
The Spider was an Extreme-only competitor, as it fought exclusively in the first series of Robot Wars Extreme. The Spider was a long invertible wedge with a steel frame and an insignia of a spider on it with a set of rotating spikes powered by a TRANS advanced starter motor. Much like its predecessor Robocow, it was too close to the weight limit and as a result was forced to remove some of its armour, leaving it very exposed. It competed in only two battles, and lost them both going out very quickly in each.
Team Tarantula previously competed in Series 3 of Robot Wars with Robocow. The team also failed to qualify for Series 4 with Son of Robocow.
Robot History
Edit
Extreme Series 1
Edit
The Spider's first appearance in Robot Wars Extreme saw it get placed up against former Semi-Finalists Behemoth in a Wild Card Warrior battle. In the battle, The Spider's weaponry had little effect on Behemoth's thick front lifting scoop, so it could cause no damage what so ever. It was a matter of seconds before Behemoth flipped The Spider over and forced the Wild Card Warrior back towards the arena side wall, then hoisted out of the arena, declaring Behemoth the winner and meaning The Spider had failed its challenge.
The Spider then later appeared in a Mayhem qualifier battle, where it was placed up against two experienced machines in Napalm and Gemini, this was for a right to fight in the second annihilator of the series. In the battle, after attacking Napalm side-on with its weaponry, The Spider carelessly drove onto the flame pit, and its exposed engines burnt out due to the heat from the flames. This left The Spider immobilised, and was later counted out by the Refbot, eliminating it from the battle. As Gemini was then counted out, The Spider was placed onto the arena floor flipper by the house robots, and flipped, before cease was called.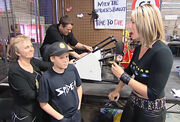 Wins/Losses
Edit
Series Record
Edit
Series 1-2: Did not enter
Series 3: Entered with Robocow
Series 4: Failed to qualify with Son of Robocow
Series 5-7: Did not enter