"Two wheel drive, invertible, with a 20 kilo spinning disc, ramming spikes, 6mm polycarb armour. Mostly made of scrap, the scrap pile's where it could end up!"
— Jonathan Pearce sums up The Scrapper
The Scrapper was a robot that exclusively competed in Series 7 of Robot Wars. It was eliminated in the first round, being flipped out of the arena by eventual Series 7 Semi-Finalist St. Agro one minute into its only battle.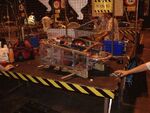 The Scrapper was a two-wheel drive, invertible box wedge-shaped robot made out of scrap, hence its name, and featuring transparent polycarbonate armour, "6 mil doubled up" according to Andrew Brown. It's weapons consisted of a 950RPM, 20kg spinning disc at the front, along with a set of rear ramming spikes, although little was seen of these weapons during its only fight.
Robot History
Edit
"Newcomers, looks dapper, Scrapper!"
— Jonathan Pearce introduces The Scrapper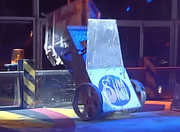 Newcomer The Scrapper went up against three veterans of Robot Wars in Round 1 of Series 7, fighting St. Agro, Mega Hurts LT and Revolution 3. As soon as activate was called, Revolution 3 rammed into The Scrapper. The Scrapper attacked Mega Hurts LT with its spinning disc weapon, but caused minimal damage. Revolution 3 then continued attacking The Scrapper, leaving the newcomers spinning in circles as a drive had gone.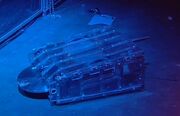 Without waiting for The Scrapper to be counted out, St. Agro gathered up the limping machine and brought it over to the arena wall where the Cornish robot threw The Scrapper out of the arena, eliminating it from the competition.
"If they [flippers] are powered by a CO2 bottle, the supply is limited, so, is, the life, of, The Scrapper! Gone!"
— Jonathan Pearce as The Scrapper is flipped out of the by St. Agro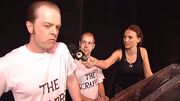 Wins/Losses
Edit
Series Record
Edit
Ad blocker interference detected!
Wikia is a free-to-use site that makes money from advertising. We have a modified experience for viewers using ad blockers

Wikia is not accessible if you've made further modifications. Remove the custom ad blocker rule(s) and the page will load as expected.