The Predator was a competitor robot that entered Series 4 of Robot Wars. It lost in the first round to second seed Hypno-Disc. The team previously entered Series 3 with Crippler.
The robot was based on the titular character from The Predator films.
"Pneumatically powered weaponry here. A lifting fork at the front, a spiked pickaxe at the rear, the head comes from a wok, the dreadlocks from a beaded curtain, the chassis from the armour plating of a police fan."
— Jonathan Pearce introduces The Predator
The Predator was designed to resemble its namesake, with a large body and silver dreadlocks. It also featured "teeth" - knitting needles that could be remotely controlled for entertainment purposes, like Beast of Bodmin's eyes. The robot itself was a large box shaped robot with a forklift on its front and a rear axe weapon. The chassis was made from a police van and the armour was aluminium covered teflon. The Predator's shape, head, arms and rear exoskeleton also gave it a passing resemblance to House Robot Sir Killalot.
The Predator was redesigned for Series 5, with the top being more rounded and the head being moved to the middle of the body. The forklift was turned into a wedge, and the paintjob was given a greenish look, to resemble the film character further. However, the team failed to qualify.
Robot History
Edit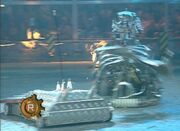 The Predator did very little in its first and only battle. It and Raizer Blade were completely overshadowed by Hypno-Disc, and wasn't even acknowledged for having entered previously. The Predator moved into the battle, and Hypno-Disc proceeded to shred the rear armour repeatedly. Hypno-Disc hit Raizer Blade, before striking The Predator again and causing a battery to fall out. Neither The Predator nor Raizer Blade was moving at the end, but The Predator was eliminated because it had sustained much more damage.
THE PREDATOR - RESULTS
Series 4
The Fourth Wars - UK Championship
Heat, Round 1
Heat P, Eliminator
vs. Hypno-Disc (2), Raizer Blade
Eliminated
Wins/Losses
Edit
Series Record
Edit
After The Predator was cleared up after its only battle, the team presented the breastplate from the front of The Predator to the Hypno-Disc team as a "trophy".
Both Raizer Blade and The Predator were treated as newcomers in Heat P of Series 4, despite competiting in Series 3 as Raizer Blade and Crippler. Due to a substantial amount of time being spent on Hypno-Disc's recap and the amount of time dedicated to Raizer Blade's mechanical plight later in the episode, it is possible that this was cut for pacing reasons.