The Marshall
Talk

0
1,514pages on
this wiki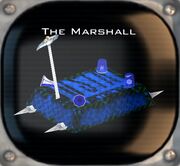 The Marshall was a middleweight competitor robot in the game Robot Wars: Arenas of Destruction. Its weapons were an axe and some spikes and it was armoured in aluminium. It could self right.
Components
Edit
Locomotion: 4 x Large Inner Pneumatic
Power: Kestral K13 "Samson" 12 volt sealed lead acid battery
Drive: 4 x Dosch 12 volt electric drill motor
Weapons: Small eccentric electric & 4 x 15cm Titanium ramming spikes
Armour: Aluminium Step Plate
Extras: 2 x Police Siren & 2 x Police Lights
Strategies
Edit
Using The Marshall
Edit
The Marshall is relatively slow, so sometimes can't escape and get round some of the other robots in the game. The Marshall has pretty good pushing power, but its weaponry has low damage potential, especially compared to some of the other overhead weapons available in the game. It's also best to keep out of the way of destructive weapons, as The Marshall only has aluminium armour.
Against The Marshall
Edit
The Marshall has pretty weak armour in aluminium, so it will peel away pretty quicky. The Marshall takes a long time to turn on the spot, so a manoeuvrable robot can easily take advantage of that. Also The Marshall can easily be outclassed in pushing power from the side, and so can be shoved into pits and traps. The small axe can't cause much damage, especially not to strong armoured robots.