Not to be confused with the similarly named robot The Green Mouse.
The Green House was a loanerbot that competed in Robot Wars: Extreme Warriors. It entered the Robot Rebellion in Season 1, driven by Team Bot-Head, but it lost in its qualifier to Tut Tut.
It was also involved in Nickelodeon Robot Wars under the name Vert-I-Go, where it was driven by Team In-Theory. It was more successful, reaching the final of the Mayhem competition.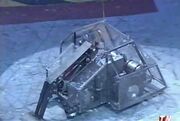 It was a box shaped robot with a flipping arm for a weapon. Its primary weakness was that it was armoured in polycarbonate which if damaged could leave its electronics highly exposed. Also, the robot's flipper was not very powerful. The robot's normal name comes from the robot's design similarities to a greenhouse, whereas the Nickelodeon name is in reference to either the medical condition vertigo or the Alfred Hitchcock film of the same name.
Robot History
Edit
"If he gets flipped over on his back, he will look like a cockroach trying to get back onto its feet."
— Stefan Frank comments on The Green House's lack of srimech
Under the ownership of Team Bot-Head, The Green House fought fellow loanerbot Tut Tut. At the start, The Green House turned Tut Tut before lifting it. The house robots attacked both machines before Tut Tut slammed The Green House. Tut Tut then pushed The Green House into Dead Metal, but it escaped. Tut Tut then axed The Green House and dragged it towards the pit release, then onto the edge of the pit. The Green House escaped, but Tut Tut chased it into the arena wall, before dragging The Green House into the pit.
"Tut Tut puts Green House into his own tomb."
— Stefan Frank, as Tut Tut pits The Green House
Nickelodeon
Edit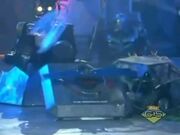 The robot, now known as Vert-I-Go, was given to Team In-Theory for the Mayhem competition, where it faced Joker and Techno Trousers in the first round. It progressed after Joker's link fell out, and Techno Trousers also became immobile.
However, in the Ultimate Mayhem, Vert-I-Go was severely damaged by Propeller-Head and was pitted along with The Revolutionist once immobilised.
Wins/Losses
Edit
This Robot Wars related article is a stub. You can help Robot Wars Wiki by expanding it.
Ad blocker interference detected!
Wikia is a free-to-use site that makes money from advertising. We have a modified experience for viewers using ad blockers

Wikia is not accessible if you've made further modifications. Remove the custom ad blocker rule(s) and the page will load as expected.