"A four-horsepower lawnmower engine provides plenty of kangaroo hop here. The fuel tank's actually a plastic model aircraft inside a steel box. Weapon; a horizontal circular saw"
— Jonathan Pearce introduces Terror Australis.
Terror Australis was, as its name suggests, an Australian robot that competed in the First World Championship of Robot Wars.
The team also attempted to enter Terror Australis into the International League Championship, but arrived with their robot in pieces following an airport search during transit. Team Nemesis lent Nemesis to them, but this robot failed to give the Terror Australis team any success.
It was a green box shaped robot that could run inverted. It was armed with static spikes on the back and a horizontal circular saw at the front, but both this and the robot itself failed to work in its battle and was easily defeated.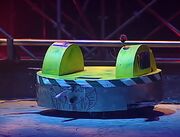 When competing under its guise as Nemesis, it featured the same core design and weaponry as Nemesis, but replaced the fur coat with a yellow top.
Robot History
Edit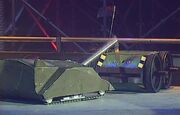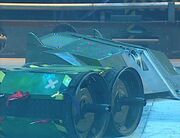 Terror Australis came up against Mortis in its only First World Championship fight. It did not even move (according to Jonathan Pearce, the clutch broke three days before) as Mortis came in and attacked it with its axe. Mortis then made several holes between Terror Australis' eyes before getting its lifting arm inside the mouth of the Australian machine, lifting it up and dropping it back down. Cease was called as Mortis pushed Terror Australis towards the pit.
"Well, Terror Australis about as menacing as a koala bear..."
— Jonathan Pearce sums up Terror Australis' performance.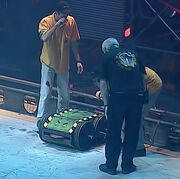 Terror Australis also competed in the International League Championship (retaining the scars it sustained from Mortis), but the robot was not ready in time for its first battle against Depoppesaurus Rex. As a result, Team Nemesis lent the team their Nemesis robot, which had the fur taken off and replaced with green and yellow paint. The new Terror Australis started the battle with Depoppesaurus Rex again and it was the Belgian machine that dominated, lifting its opponent up several times, but was unable to finish it off, so a draw was declared. The robot then came up against the team that had built it with Diotoir and, after a lot of pushing around the arena, with neither robot able to use their weapons to great effect, Terror Australis was pushed into the pit. The robot would later fight a grudge match against Mortis in a one-off battle called The Ashes. Despite using a working robot this time, the team still failed to win after Mortis lifted it onto its back.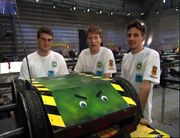 Wins/Losses
Edit
Wins: 0
Losses: 3
Draws: 1
Terror Australis' name is a pun on Terra Australis, one of the names given to a hypothetical continent that appeared on European maps from between the 15th and 18th Centuries, once believed to be the location of the geographical South Pole.
Terror Australis is one of only two Australian robots ever to compete in Robot Wars, the other being Bondi Titch.

Neither robot ever won a battle, but Terror Australis did manage to draw one battle using a borrowed robot (Nemesis).

In its battle against Diotoir, the Terror Australis team used Nemesis, Diotoir's predecessor, so this was one of very few occasions where two robots of the same team competed in the arena at the same time.

It is also one of the very few times two robots from a single team fought each other. Most of the other times two robots from a single team were in the same fight occurred in Tag Team Terrors, where they were working together (four examples being Team Mouse in Extreme 2, Team Juggerbot in Extreme Warriors Season 1, Rocky-Bot-Boa/Black Widow in Extreme Warriors Season 2 and Team Logicom in Nickelodeon Robot Wars).
Ad blocker interference detected!
Wikia is a free-to-use site that makes money from advertising. We have a modified experience for viewers using ad blockers

Wikia is not accessible if you've made further modifications. Remove the custom ad blocker rule(s) and the page will load as expected.