Team Joint Effort, previously Team On-the-Edge, was a veteran team from the early series of Robot Wars, who also entered in Series 6. They entered a different robot in each series, Scrapper in Series 1, G.B.H. in Series 2, reaching the Series Semi-Finals, Facet in Series 3 and GBH 2 in Series 6.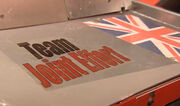 The Team originally consisted of Mike Smith, Mike Rickard, Ken Toogood, Charles Lavery and Alvin Orton, the most amount of team members in one team at one time. After Scrapper was retired, Orton and Toogood left the team.
Smith, Rickard and Lavery remained for G.B.H. and Facet, but Mike Smith's son Alex appeared with GBH 2. Rickard and Lavery had left the team by this point, with Steve Dove becoming the final member of the team.
Dove, who had been captain of the retired Challenger robot, was an experienced roboteer who had also controlled Eubank the Mouse in Series 1. He was a work colleague of Mike Smith.
| Name | Weight Class | Series |
| --- | --- | --- |
| Scrapper | Heavyweight | Series 1 |
| G.B.H. | Heavyweight | Series 2, 6 |
| Facet | Heavyweight | Series 3 |
Wins/Losses
Edit
Series Record
Edit
After their meeting in Series 2, Team Joint Effort and Team Ivanhoe never appeared in the same wars, despite one of the two being in every series, except for Series 7, 2016 and Extreme 2.
External Links
Edit
Ad blocker interference detected!
Wikia is a free-to-use site that makes money from advertising. We have a modified experience for viewers using ad blockers

Wikia is not accessible if you've made further modifications. Remove the custom ad blocker rule(s) and the page will load as expected.