"Taking axe technology to the next level"
— Team Hurtz Website
Team Hurtz is a team from Oxfordshire who competed in every series of Robot Wars except for Series 1 and the first series of Robot Wars Extreme.
The team consisted of John Reid, who designed the robots using computer software, with Rebecca Reaston-Brown from Series 2 to 4 and Dominic Parkinson from Series 2 to 6. After Series 6, Parkinson left the team and was replaced by James and Nick Lynch.
"Whilst captain, John, competed in Series 5 of Robot Wars with an old version of Terrorhurtz, his now team mate, Nick, was watching the show on TV (and didn't know John at all), and had an idea of how to improve John's robot. Nick emailed John a 3D interactive physics simulation of how to make the axe more powerful – John immediately offered him a place on the team."
— The Official Robot Wars Website on how Nick Lynch joined the team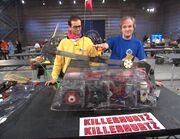 Team Hurtz's first robot for Robot Wars was Killerhurtz, which fought in Series 2-4 and represented the Czech Republic in the First World Championship, due to Dominic being half-Czech. Despite performing very well in side events and overseas competition - especially in BattleBots - Killerhurtz did not enjoy great success in the main series. Its best performances there came in Series 2, where it reached the Arena Semi-Final stage, and in Series 4, where it reached the second round. In the First World Championship, Killerhurtz's mascot was the Pokémon Charmander.
Their next machine, Terrorhurtz, was much more potent, with a more powerful double-headed axe. While it fell in the second round in Series 5, it finished fourth in Series 6 as an unseeded entry, defeating the seeded Panic Attack, Spawn Again and Bigger Brother along the way. Terrohurtz was seeded third for Series 7, however the team were disqualified due to it being only partially finished. It - and Team Hurtz - would later return for the Series 8 of Robot Wars, reaching the Head-to-Head round there, then competing in Series 9, finishing in the same position. Throughout Series 9, John Reid was more vocal with his orders as team captain, telling Nick Lynch when to fire the axe, and when to avoid using the axe, with greater success in Series 10 where Terrorhurtz reached the Heat Final.
Team Hurtz's third robot, Basher, was equipped with a hammer, and competed in the 2016 pilot. Basher was defeated in the first round after accidentally falling into the pit, but would later compete in BattleBots, where it was known as Beta.
Battle of the Stars
Edit
John Reid was specifically chosen to be a mentor in Robot Wars: Battle of the Stars. He appeared in Episode 2, mentoring rapper Jordan Stephens from the pop duo Rizzle Kicks, where they competed with Dee. The other two members of the team were Joshy and Pete Cannon.
John Reid repaired Dee when necessary, and also provided the tactics for its battle with Kadeena Machina, though Reid's tactics noticeably backfired in this battle. Reid's humour came out when he signed a 'loser L' at Robo Savage's team following Dee's victory. However, Dee finished fourth overall.
| Name | Weight Class | Series |
| --- | --- | --- |
| Killerhurtz | Heavyweight | Series 2-4 |
| Terrorhurtz | Heavyweight | Series 5-10, Extreme 2 |
| Basher | Heavyweight | Series 8 (Pilot only) |
Wins/Losses
Edit
Series Record
Edit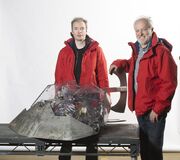 Outside Robot Wars
Edit
Team Hurtz continues to fight today at live events with Terrorhurtz. They have enjoyed considerable success in the period during Robot Wars' hiatus, winning the Roaming Robots/FRA UK Championship in 2004 and 2009 and finishing second in 2005 and 2007.
Team Hurtz also competed in BattleBots with Beta. For more information, see Basher.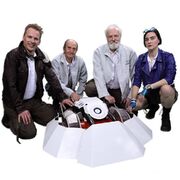 In October 2017, John Reid collaborated with Team Legion to enter Tánshè into the Chinese TV show King of Bots. The robot, an upscaled version of Team Legion's titular featherweight, is armed with a flipping bucket at the front. The word Tánshè is Mandarin for 'catapult'.
Team Hurtz was the only team to have their robots appear in merchandise for both Robot Wars and BattleBots.
John Reid is the younger brother of experienced Le Mans and touring car driver Anthony Reid.[1]
Team Hurtz have fought the first five UK champions at least once during their career. Their robots have fought Roadblock in Series 2, Panic Attack in Series 6, Chaos 2 in The First World Championship and the Northern Annihilator, Razer in Series 6 and Tornado in the All-Stars and Challenge Belt of Extreme 2.
Just like the other three teams in Series 9 to debut in Series 2 (Team Make Robotics, Team Supernova and Team 13), Team Hurtz finished third in its heat during Series 9.
In recognition of their engineering, axe weapons and successes inside and outside of Robot Wars, Team Hurtz's robots Killerhurtz and Terrorhurtz were both inducted into Mark Joerger's Combat Robot Hall of Fame in 2003 and 2009 respectively. Basher/Beta received an Honorable Mention in the Hall of Fame in 2017, making Team Hurtz the only UK-based team to have three heavyweight representatives on the list.[2]
References
Edit
Ad blocker interference detected!
Wikia is a free-to-use site that makes money from advertising. We have a modified experience for viewers using ad blockers

Wikia is not accessible if you've made further modifications. Remove the custom ad blocker rule(s) and the page will load as expected.