Team Firestorm
Talk

9
1,514pages on
this wiki
Team Firestorm



Team Firestorm in Series 5

Participation Information
UK Series
2-7, Extreme 1-2
Team Information
Team Members
Graham Bone
Alex Mordue
(Series 2-5, Extreme 1)
Hazel Heslop
(Series 5-7, Extreme 1-2)
Home Town
Langley Moore, County Durham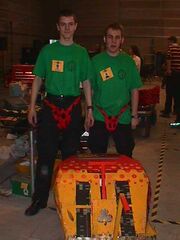 Team Firestorm was one of the longest-competing teams on Robot Wars, appearing in six main series and both series of Extreme. The team first competed in Series 2 and was originally made up of Graham Bone and Alex Mordue from Durham. They were joined by Graham's fiance Hazel Heslop for Extreme 1 and Series 5, after which Alex Mordue left the team leaving Graham and Hazel to compete alone.
The team originally competed in Series 2 with Groundhog, reaching the arena stage of its heat. The rest of the team's appearances were with Firestorm, which was very successful, reaching the semi-finals in all five series it entered and finishing third on three occasions. In total, there were five Firestorm robots, but they were all essentially upgraded versions of the same basic machine. The team won its only official honour as the champion of the Commonwealth Carnage competition in Extreme Series 2.
Despite being armed with a front-hinged flipper, the Firestorm series was very potent at performing Out of the Arenas, managing a total of seven. This total gave the team second place in the "Most Out of the Arena Flips" table, it was the only front-hinged flipper to flip another robot out of the arena.
Graham and Hazel are now married (Hazel's name is now Hazel Bone) and have retired Firetstorm, though it did compete in the live circuit for a while after Robot Wars finished.
Team KaterKiller
Edit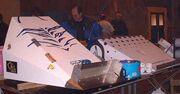 Team Firestorm was very close friends with Team KaterKiller, this is evident in several places. One sign of this was when Hazel Heslop briefly joined Team KaterKiller for the Iron Maidens competition in Extreme Series 2. Another sign was when the two teams teamed up in Robot Wars' sister show Techno Games, the duo competed together in the football event as Team Snow Cat, finishing as runners-up. Team Firestorm entered with a white, weaponless Firestorm machine, with exposed wheels, under the name Snowstorm, it also adopted the same style paint-job as the Firestorm machines. In the event, Snowstorm fought alongside Team KaterKiller's Kat's Whiskers, which like Snowstorm, was a white, weaponless version of the team's current heavyweight.
| Name | Weight Class | Series |
| --- | --- | --- |
| Groundhog | Heavyweight | Series 2 |
| Firestorm | Heavyweight | Series 3-7, Extreme 1-2 |
Wins/Losses
Edit
Series Record
Edit
Honour
Most UK Championship Victories (25)
Honour
Joint most Grand Finals reached (3)
Honour
Most UK Series Semi-Finals reached (5)