Team Cassius
Talk

7
1,514pages on
this wiki
Team Cassius



Rex Garrod with Cassius

Participation Information
UK Series
1-3
Team Information
Team Members
Rex Garrod
Simon West
Edward Bull
(Series 2)
Mick Cutter
(Series 3)
Home Town
Stowmarket, Suffolk
"If at first you don't succeed, you are above average"
— Rex Garrod's motto
Team Cassius was a team from Stowmarket in Suffolk that entered the first three series of Robot Wars. The team originally entered Recyclopse in Series 1, reaching the Grand Final. Cassius was entered in Series 2, finishing as runner-up to Panic Attack, before being redesigned and entered in Series 3 as Cassius 2, losing in the second round.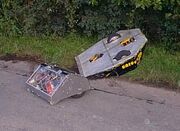 The team was closely associated with Team Chaos, having worked together to create their initial robots (Robot the Bruce and Recyclopse). Rex Garrod also helped with Chaos 2, with Chaos 2's first ever battle being an informal roadside skirmish with Cassius, which Chaos 2 won 4-1.
The team captain was Rex Garrod, who was joined by Simon West for all three series. Edward Bull was also part of the team for Series 2 and Mick Cutter moved from Team Chaos to join the team in Series 3.
Notable Achievements
Edit
Cassius was nominated for both Best Design and Best Engineered Awards in Series 2, but lost both.
Cassius was also the first robot to successfully self-right, meaning that Rex Garrod is often credited with the invention of the srimech, despite the fact that George Francis's robot Chaos had previously attempted, but failed, to self-right earlier in the series, and that US robots Biohazard and Vlad the Impaler had succeeded in doing so in the US Robot Wars before that. However, Biohazard and Vlad the Impaler's self-righting attempts were performed after their matches had finished, holding no bearing on the outcome.
Recyclopse also set the record for the fastest battle in the UK Series of Robot Wars, at 15 seconds, after it flipped Scrapper over. However, this was beaten later on in the First Wars by featherweight and fellow Grand Finalist Cunning Plan, and the final record was set in the Seventh Wars at 6 seconds.
Rex Garrod
Edit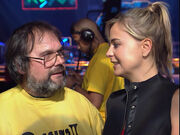 Rex Garrod was a former children's television presenter who was captain of Team Cassius throughout its run on the show. He was well known for his cheery and sporting demeanour and always helped other roboteers to modify and repair their robots when problems arose. He was also reluctant to attack other robots once they had been immobilised, preferring instead of attack the house robots.
Garrod's Protest
Edit
Rex Garrod harboured an intense resentment for several of the Robot Wars rules, as he felt many were unnecessary whilst some other areas were grossly inattended.
"...most of them stupid, and written by some twerp who sits behind a desk, has never got his / her hands dirty, and never made anything, let alone a sophisticated machine like a robot. And furthermore, so intoxicated with self importance and will not seek help from professionals or listen to experts, who could help them."
— Rex Garrod on the Robot Wars rules
During Series 2, Rex was told off by one of the health and safety inspectors for a very mild incident. In his anger, Rex told the inspector that much worse things could occur because of their negligence in the areas of fail-safe devices. His protests landed on deaf ears.
Not long afterwards, a robot went "berserk" and a person was hospitalised as a result. Rex expected Mentorn to have learned their lesson, and turned up for Series 3 expectantly. However, in the pits, More Panda Monium was dropped, causing its spike cannon to activate and stab somebody in the leg. Immediately, Rex retired from Robot Wars in protest.
"For one accident to occur is bad, but for two of the exact same fault to occur in my book is nothing short of criminal. I have no intention of returning to Robot Wars until I'm satisfied that safety is up to the standards I am used to in my profession (Special effects for T.V Films & Advertising). After these almighty cock-ups things have taken a giant step forward, but from information received by many of the last wars contestants, it still has a long way to go. And self important people still rule, both in safety and common courtesy"
— Rex Garrod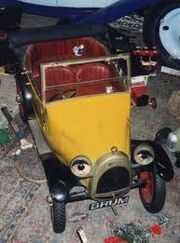 Wins/Losses
Edit
Series Record
Edit
Series 1: Grand Final with Recyclopse
Series 2: Runner-up with Cassius
Series 3: Heat, Round 2 with Cassius 2
Series 4-7: Did not enter
Honour
First robot in UK to successfully self-right