"Tauron is a fast, fully invertible, highly manoeuvrable, charging robot, equipped with a powerful, reversible, vertical spinning bar. An unusual feature is the articulation which allows the weapon section to swing into the new position when the robot is inverted."
— Team Tauron website on the original robot
Tauron was a robot which competed in Series 9 of Robot Wars, returning to Series 10 as Tauron Mk 2, entered by a father-and-son team. Tauron was defeated in the first round by a fellow newcomer, after its removable link was knocked out by Concussion. The robot's name is a portmanteau of taurus (Latin for 'bull') and automaton (a self-operating machine).
"Tom has been a Robot Wars fan since he was a child, and says he always dreamed of entering. He realised entering Robot Wars was a possibility when the new series started. He now works as video games tester in Birmingham and has used these skills in building Tauron. Tim has always been interested in how things work, and has made lots of things from musical instruments to a 13' boat, which was built in the 13'6" living room of the family home. Tauron is Tim's first venture into robotics."
— Robot Wars website on the origins of Tauron
Versions of Tauron
Edit
Tauron (Series 9)
Edit
"The weapon weighs 13 kilograms and is powered by a brushed DC motor running at 42 volts. This delivers approximately 3,000 revolutions per minute and a tip speed of around 100 metres per second. Tauron features an innovative pivoting design which allows the weapon to function equally lethally when inverted."
— Robot Wars website on Tauron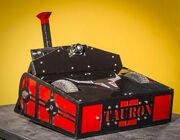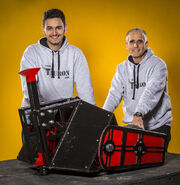 Tauron was a box-shaped robot armed with a 13kg vertical spinning bar, 65cm in length, made from HARDOX 450, with a maximum speed of 220mph - roughly 3100rpm. The robot was powered by two wheels, which were exposed on top of the robot, making the robot invertible, with top speeds of 12mph. Uniquely, Tauron's bar spinner was mounted on a pivot, so if Tauron was inverted, the weapon would rotate into the upright position, or its direction could be reversed, like IG-88's spinning axe.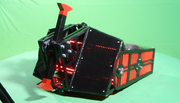 Tauron's chassis and exoskeleton were made out of 6mm and 4mm HARDOX 500, with additional 6mm polycarbonate armour. 2x 1.5 horsepower electric motors powered the drive, and the robot used a 32V lithium polymer battery. To conserve weight, many sections were cut out of the HARDOX frame, and the robot was internally lit by red LEDs. The robot's batteries were two ZIPPY Flightmax 8000mAh 5S1P 30C, running at 18.5 volts.
Tauron Mk 2 (Series 10)
Edit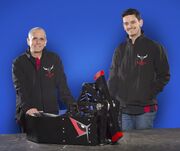 Series 10's version of Tauron, styled by the team as Tauron Mk II, was a complete rebuild of the previous machine. Tauron Mk 2 was much more low-profile, using a pointed design, but was still two-wheel driven and invertible. The robot's bar spinner was visibly thicker at 600mm, and holes were cut out of it to reduce its weight to 18kg. The bar spinner runs at 3,600rpm, for a tip speed of 244mph. The pivot in which the bar spinner was held is now found within the centre of Tauron Mk 2, instead of being the robot's entire front end as before. Eyes were designed into the front of the robot for aesthetics. However, Tauron Mk 2 can still be stranded on its flat sides.
Qualification
Edit
Like Hobgoblin, Tauron was one of only a small selection of robots to qualify for Robot Wars despite not being built at the time of application. Team Tauron instead applied for Series 9 using a CAD of Tauron and a wooden prototype, but this was enough for Tauron to be accepted into the series.
For Series 10, Team Tauron returned with the new design of Tauron Mk 2, but due to the show featuring only 30 robots as opposed to the previous 40, there was no longer room for Tauron in the initial line-up of the series. However, the team were invited to bring their robot to filming as a reserve, and when Triforce withdrew from the competition due to locomotion issues, Tauron Mk 2 took its place, the first reserve to join the main competition.
Robot History
Edit
Dara Ó Briain: "Have you tried the smaller weight classes? Have you attempted anything?"
Tim Brewster: "No."
Dara Ó Briain: "You've just gone straight in at this level?"
Tom Brewster: "Yeah, never built a robot before, start at the deep end, there you go."
— Dara Ó Briain discusses with Team Tauron their decision to build the heavyweight Tauron as their first robot
Tauron competed in Heat 3. In its Group Battle, it faced Series 8 fourth-place finisher Thor, Series 8 returnee Chimera2 and fellow newcomer Concussion, whose team formed a friendship with Team Tauron after sharing a workbench with them in the pits. Tauron started the battle by dodging Concussion's initial charge and driving away from Thor, its spinning bar sending sparks flying as it hit Thor's side while the latter tried to push it. It was then buffeted away by a slam from Concussion, the impact causing more sparks to fly and dislodging Tauron's removable link, leaving it immobilised close to the wall.[1]
"And what is, err, Tauron doing? Hello, TAURON! What are you doing? Not a lot."
— Jonathan Pearce notices Tauron's immobility
Tauron was briefly nudged aside as Thor charged after Concussion and Chimera2, and was eventually eliminated from Series 9 along with Chimera2, which became immobilised later on in the battle. Off-screen, Tauron's top armour was punctured by Shunt, and the robot was heated over the flame pit[2].
"Tauron, what happened to you, Tom and Tim? Oh deary, deary me!"
— Jonathan Pearce as Tauron and Chimera2 are eliminated
Following this loss, Tauron's link was plugged back into the robot, and proved to be fully functional in the test arena. Team Tauron remained on-site in case other teams withdrew, but Tauron ultimately did not return to the arena.
Series 10
Edit
Tauron Mk 2 competed in Heat 4, replacing Triforce.
TAURON MK 2 - RESULTS
Series 10
Series 10 - UK Championship
Unknown
Heat 4, Group Battle
vs. Unknown
Unknown
Wins/Losses
Edit
Series Record
Edit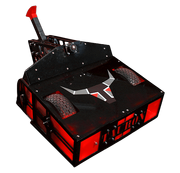 Outside Robot Wars
Edit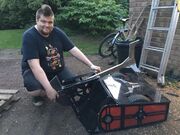 With help from Dorset Roboteering Team, Series 9's version of Tauron was converted to be safe for live events, while spinning weapons were still deemed unsafe. Tauron's gear ratio was altered to compensate for a new weapon, an axe in the shape of Tauron's logo, mounted in the same place as the spinning bar before it.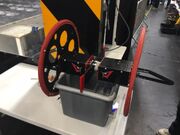 At Extreme Robots in Guildford, Tauron fought Behemoth, Atom and Expulsion, but its axe weapon broke early into the fight, and it was stranded on its side by Behemoth for a large portion of the match. It also broke down in a match with Expulsion, Atom, Suspension and Cyclone. It also fought Ripper and Saint but did not win. In the Tag Team event, it partnered with Thor to battle Audacious and Weird mAlice, but Tauron broke down upon its first contact with Audacious.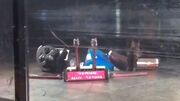 The new, third version of Tauron competed at Extreme Robots in Gloucester, where spinning weapons were now legalised, although it did not use the weapon in battle with Manta, Two-Headed Death Flamingo and Vortex, where it was the only robot to take Manta to a Judges' decision, but lost. It also fought Gabriel, Audacious and Griffalo, pushing the latter into the pit. In battle with Eruption, Two-Headed Death Flamingo and Beast, Tauron eventually became stranded on its own weapon.
In addition to Tauron, Team Tauron have recently built and competed with Straddle, a two-wheeled featherweight axlebot with a vertical bar spinner and a design initially inspired by Gabriel.[3] Straddle made its combat debut at the 2017 FRA Featherweight International Championships, where it finished thirteenth in the main championship, won a whiteboard battle and finished runner-up in a 20-way 'Gladiator' battle.[4][5]
References
Edit
External Links
Edit
Ad blocker interference detected!
Wikia is a free-to-use site that makes money from advertising. We have a modified experience for viewers using ad blockers

Wikia is not accessible if you've made further modifications. Remove the custom ad blocker rule(s) and the page will load as expected.