Tartarus was a robot that competed in the second Dutch series and the seventh UK series, having lost in round one both times.
Martin Scholten, the builder of Tartarus, was unable to attend filming of Series 7 so Bryan Cutler, the captain of Reaper NP2, and Michael Hanser, the captain of Sniper who lost in the qualifiers, entered the robot in his place. The team jokingly claimed that Scholten was a top secret agent who was currently on a secret mission.
Versions of Tartarus
Edit
Both versions of Tartarus were designed to resemble a dragon, though during Series 7, Jonathan Pearce described it as being "part bird, part dragon, part frog but most of all robot".
Tartarus (Dutch Series 2)
Edit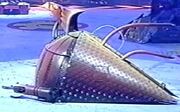 The original version of Tartarus featured a crushing head, a lifting arm at the rear, and an arm with a small set of pincers at the front. It featured some holes in its armour to reduce weight.
Tartarus (Series 7)
Edit
For Series 7, the crusher was replaced with a hydraulic claw while the flipper and pincer arms were removed altogether. The head could be "bowed" down to increase the attack range of the weapon, but this feature was never seen in battle. The robot itself has a very low and unimpressive speed and also lacks a self-righting mechanism to which veterans Behemoth exploited.
Robot History
Edit
Dutch Series 2
Edit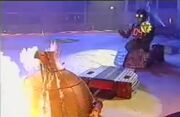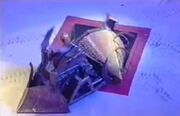 Tartarus first participated in Heat B of Dutch Series 2, and faced Trazmaniac in the first round. In the battle, Tartarus kept its sides pointed at Trazmaniac in order to deflect its opponent's spinning drum. However, Trazmaniac soon got around to its front and charged at it, immobilising Tartarus upon impact. Tartarus was subsequently counted out by the Refbot, and then dumped into the pit by Shunt, eliminating it from the second Dutch series.
UK Series 7
Edit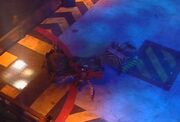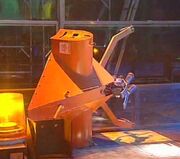 Tartarus participated in Heat L of the Seventh Wars. In its first round battle, it was drawn up against UFO, Crushtacean and the tenth seed Behemoth. Five seconds into the battle, Tatarus was attacked and flipped over into Shunt's CPZ by Behemoth, where it was left unable to self-right and pinned against the wall by Shunt. Eventually, Refbot came in and counted Tartarus out, just as Crushtacean was flipped out of the arena by Behemoth. After being counted out, Dead Metal came in and attacked Tartarus, causing more damage to its shell. 'Cease' was called, and Tartarus was eliminated from the Seventh Wars along with Crushtacean.
TARTARUS - RESULTS
Dutch Series
Series 2
Dutch Championship
Heat, Round 1
Heat B, Round 1
vs. Trazmaniac
Lost
UK Series
Series 7
The Seventh Wars - UK Championship
Heat, Round 1
Heat L, Round 1
vs. Behemoth (10), Crushtacean, UFO
Eliminated
Wins/Losses
Edit
UK Wins: 0
UK Losses: 1
Dutch Wins: 0
Dutch Losses: 1
Series Record
Edit
UK Series
Edit
Dutch Series
Edit
Tartarus was the only competitor to compete in the main competition in two different countries, and fall in Round 1 in both.
External links
Edit
Ad blocker interference detected!
Wikia is a free-to-use site that makes money from advertising. We have a modified experience for viewers using ad blockers

Wikia is not accessible if you've made further modifications. Remove the custom ad blocker rule(s) and the page will load as expected.