For the New Blood Champion and Series 7 runner-up, see Storm 2.
Storm Force was a robot that singularly competed in Series 5 of Robot Wars. It was defeated in its only battle by then-reigning champion Chaos 2.
Storm Force was a three-wheeled, silver barrel-shaped robot with aluminium armour and lightning bolts painted on either side. It was similar in design, shape and weaponry to the original Mini Morg. It featured a powerful scoop strong enough to lift a small car, and a sharp axe capable of chopping bricks in half. However, these weapons were not used to great effect in its only battle.
Robot History
Edit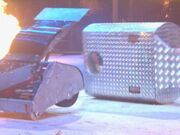 Storm Force had an unlucky draw in Series 5, as it was up against the two-time and reigning UK Champions Chaos 2 in Round 1. Storm Force was on the back foot straight away in its battle, with Chaos 2 flipping it numerous times, but its barrel shape meant that Storm Force kept rolling back onto its wheels. It then started to gush smoke and was flipped into Matilda's flywheel, which Chaos 2 took minor damage from as well. After a few more flips, Storm Force stopped moving. It was then flipped onto the Pit of Oblivion, which Chaos 2 lowered by pressing the pit release button, eliminating Storm Force from the competition.
STORM FORCE - RESULTS
Series 5
The Fifth Wars - UK Championship
Heats, Round 1
Heat A, Round 1
vs. Chaos 2 (1)
Lost
Wins/Losses
Edit
Series Record
Edit
Robot Wars Live Events
Edit
Storm Force made its first appearance in the new Robot Wars live events at Barnsley in February 2013. It took part in a whiteboard fight against Toon Raider and St Hammer, in which it lost after its batteries died. It also suffered from the same bad luck at Widnes in May 2013 when it fought in the team challenges. According to Liam Bryant, Storm Force is in sleep mode.
Outside Robot Wars
Edit
In 2007, Storm Force was sold to John Findlay of Team Roaming Robots, where it was brought out of retirement in a Robot Rumble, managing to defeat Dantomkia along the way. However, Findlay had too little time to take Storm Force as a project, so drivers such as Tom Kane and WJ Dijkstra took turns in fighting with it instead. By the end of 2008, Storm Force was sold once more to Liam Bryant of Team Bud, along with Jason Marston with a newly improved Thor and Shane Swan from Team S-tec with his newest machine Envy.
Ad blocker interference detected!
Wikia is a free-to-use site that makes money from advertising. We have a modified experience for viewers using ad blockers

Wikia is not accessible if you've made further modifications. Remove the custom ad blocker rule(s) and the page will load as expected.