"Named because of the two spikes at the front, of high-tensile steel. Has a srimech, can pull a car, gets up to 17mph. Oh yes, you have to get on your bike to keep up with the spike!"
— Jonathan Pearce introduces Spikasaurus in Series 4, Heat J
Spikasaurus was a competitor robot from Manchester which fought exclusively in Series 4 of Robot Wars. Although it was eliminated in the first round of the main competition and finished joint-fifteenth in the Pinball Warrior Tournament, it emerged victorious in the Northern Annihilator, outlasting then-reigning UK Champion Chaos 2 and Series 4 third-place finisher Stinger in the process.
The Spikasaurus team consisted of Stuart Pearson, Andrea Whittle, Lee Ainscough and Andrew Pearson. The latter was not present as a team member in the main series or for Spikasaurus' Pinball Warrior run, but took Ainscough's place for the Northern Annihilator; Ainscough was still credited as a team member in the latter, however.
"A spiky character indeed, with its two 12-inch prongs of high-tensile steel and interchangeable ramming bar. Can pull a car, can raise 17 miles an hour, but can it take punishment?"
— Jonathan Pearce introduces Spikasaurus in the Northern Annihilator

Spikasaurus was a basic, angled box wedge-shaped robot with four-wheel drive, a total power output of 3kW and a top speed of 17mph. Its armament consisted of two interchangeable pairs of 12 or 18-inch front ramming spikes, which were intended to damage opponents as Spikasaurus drove into them. These spikes were also interchangeable with a ramming bar and a curved scoop which was originally designed for use in Soccer events; however, neither of these weapons were used during Spikasaurus' televised appearances. Spikasaurus itself also featured sets of metal rollbars attached to the top, which successfully prevented the robot from being stranded upside-down when flipped. On the robot's underside, the slang acronym 'F.U.B.A.R.' (Fouled Up Beyond All Recognition) was printed in green letters, and could be seen whenever Spikasaurus was inverted. At exactly 80.0kg, Spikasaurus weighed 0.6kg over the original Heavyweight limit.
The robot's artwork and name originated from a competition held by Southlands High School, Chorley, with twelve GCSE Graphics Art students taking part and contributing potential artwork for the competition. The final artwork used by Spikasaurus – featuring a green, blue and brown colour scheme - was produced by student Steven Whittaker.
Qualification
Edit
Spikasaurus was first built for Series 3, and initially attempted to enter the latter series. Although it was not selected for the main competition, it was nonetheless invited to take part in a planned Tag Team competition alongside Schumey Too, with the team having completed its bodyshell and made several modifications to its chassis and weapons following the auditions. However, the Tag Team competition, along with a Grudge Match against its would-be teammate[1], were cancelled following a behind-the-scenes accident; as a result, Spikasaurus would not appear in Series 3.
Spikasaurus successfully qualified for Series 4 after winning two qualifiers; one against Hit Man, where it damaged the latter's wheelguard, and another against 'Octospike'.
Robot History
Edit
"Our robot is built for power and speed. There is nothing more to it... and we're here to have a good time!"
— Stuart Pearson prior to Spikasaurus' debut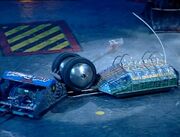 Entering the Fourth Wars as a newcomer, Spikasaurus competed in Heat J. In its eliminator, it faced two returning machines from the previous series - Bulldog Breed 2 and the thirtieth seed Stinger. Spikasaurus turned and darted around both of its opponents in the opening seconds, before turning sharply and stopping short of Bulldog Breed 2. This allowed the latter to flip Spikasaurus over; Spikasaurus rolled back onto its wheels, before driving at high speed into Shunt and Stinger. A second charge at the latter allowed it to spear through one of Stinger's tyres and drag it back with its right spike.
"Look at the speed of Spikasaurus... wow, and the spikes at the front – they just go right through Stinger's tyres! Wow, just skewered 'im..."
— Stefan Frank reacts to Spikasaurus' attacks on Shunt and Stinger in the Grand Champions dub of Heat J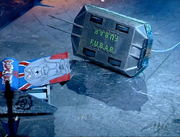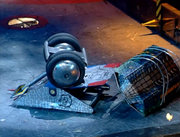 Stinger responded by whacking Spikasaurus' front end, but the two competitors separated, with Spikasaurus reversing quickly over the Flame Pit and ramming into the side of Bulldog Breed 2 almost immediately afterwards. It momentarily reversed into Shunt again before driving underneath Stinger, pushing it around in a semi-circle and spearing one of its tyres once again. Spikasaurus crashed into the wall as it reversed free, before driving away. Eventually, it attacked Bulldog Breed 2's side again, before being thrust onto its side by the latter and rolling back onto its wheels. After being hit by Stinger, Spikasaurus reversed, before driving straight up Bulldog Breed 2's flipper and being rolled over completely for the second time. Again, Spikasaurus backed towards and dodged Shunt, before ramming Stinger into one of the wall grinders, turning the axlebot onto one wheel in the process. The three competitors converged next to the Flame Pit, with Spikasaurus being lifted by Bulldog Breed 2 again before ramming into Stinger twice more.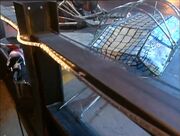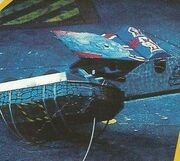 After sustaining a hit from Stinger, Spikasaurus drove straight into the wall, impaling itself with the spikes, only for Dead Metal to break it free from the plexiglass panel. Spikasaurus reversed away, before being flicked away by Bulldog Breed 2 – it then turned and pushed Stinger again, only to briefly impale itself through the wall near Shunt's CPZ. Shunt pushed Spikasaurus free, with Spikasaurus escaping after Bulldog Breed 2 got underneath and lifted it again. Not much more was seen of Spikasaurus from this point onwards, although it was eventually flipped over by Bulldog Breed 2 and sustained more hits from Stinger's mace. After rolling back onto its wheels, Spikasaurus speared Stinger again just before 'cease' was called, with the battle going to a Judges' decision. Despite displaying sustained aggression throughout the battle, the decision went unanimously against Spikasaurus, eliminating it from the main competition of the Fourth Wars.
"We fought a gallant battle but lost to two great Robots..."
— The official Spikasaurus website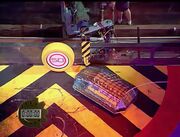 Spikasaurus made two more appearances in side competitions held throughout the Fourth Wars. With its spikes and rollbars removed, it first took part in the Pinball Warrior Tournament; the start of Spikasaurus' run saw it quickly slalom towards and knock down the right-hand set of barrels. It proceeded to drive towards Sergeant Bash, trying numerous times to drive around him and hit his 50-point target, but failing to succeed. Spikasaurus rammed into the side of Sergeant Bash before partially reversing up the see-saw ramp and hitting the multi-ball release – although without releasing any of the balls. It sped across the arena to a CPZ behind the car doors, but struggled for traction as it attempted to get a clear run through them.
"Not really scoring enough points here, Spikasaurus... if they can open that car door, they'll get 25 points, and they badly need points!"
— Jonathan Pearce as Spikasaurus struggles to drive through the car doors
Eventually, Spikasaurus bumped the car doors open, but spun round in doing so, and bumped into Matilda twice as time ran out. Shortly after 'cease' was called, it hit the other 50-point target, although this came too late to increase its final score. Spikasaurus ended its run with only 40 points, resulting in it finishing joint-fifteenth in the Pinball Warrior standings with Attila the Drum.
"Oh, how disappointing for them, but it really was a very poor run!"
— Jonathan Pearce at the end of Spikasaurus' Pinball Warrior run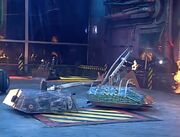 Spikasaurus made one more appearance in the Northern Annihilator, where it competed alongside Stinger, Dominator 2, Killerhurtz, Suicidal Tendencies and then-reigning UK Champion Chaos 2.
"This is going to be chaos – good luck, everyone!"
— Jonathan Pearce at the start of the Northern Annihilator
In the first round, it was immediately attacked by Killerhurtz before driving away and past Stinger; Spikasaurus was promptly axed and pushed again by the Team Hurtz machine as they met over the Flame Pit. Nevertheless, Spikasaurus drove away and turned round, before retreating and driving into the side of Suicidal Tendencies. Its spikes got underneath Suicidal Tendencies as the latter attempted to push it back, although this allowed Killerhurtz to strike Spikasaurus a third time before dragging it around with the axe.
"Now it seems to me that Spikasaurus is in a little bit of trouble, but okay now!"
— Jonathan Pearce as Spikasaurus is attacked by Killerhurtz for the third time
The two competitors were separated by a flip from Chaos 2; seconds later, Spikasaurus turned into and was axed by Killerhurtz once more, dragging the latter around in circles while being lifted by Chaos 2 and bumping into Suicidal Tendencies. Killerhurtz lifted itself over while retracting its axe, allowing Spikasaurus to break free and ram into it as Dominator 2 drove in. Spikasaurus turned round and rammed the inverted Killerhurtz twice more as the latter self-righted, before spearing the side of Suicidal Tendencies and being bumped by Chaos 2. As Killerhurtz and Dominator 2 proceeded to attack Chaos 2, Spikasaurus rammed head-on into Suicidal Tendencies, before attacking Stinger and spearing the former's left-hand side. It remained stuck to Suicidal Tendencies as Stinger attacked the pair of them, and was axed by Dominator 2 as both competitors manoeuvred into an empty CPZ. Spikasaurus slowly dragged and pushed Suicidal Tendencies back as Chaos 2 was damaged by Killerhurtz and Dominator 2. It eventually rammed Suicidal Tendencies into Chaos 2 and Sergeant Bash just before 'cease' was called; although Spikasaurus had succeeded in immobilising the former, the UK Champion had already been eliminated. After the battle, it was discovered that Dominator 2's attacks had damaged one of Spikasaurus' batteries – the force of its attack on Suicidal Tendencies was such that the latter also had to be dismantled in order to separate the two robots.
"We spiked Suicidal Tendencies and got welded together. To get free we had to remove Suicidal Tendencies' side panel and hit it hard with a big hammer."
— The official Spikasaurus website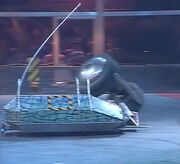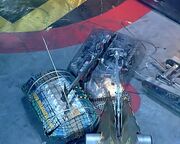 In the second round, Spikasaurus started tentatively again, before slamming into the side of Dominator 2 and spearing its right wheel. It pushed Suicidal Tendencies back before dodging an axe blow from Dominator 2 and darting head-on into Killerhurtz, deflecting off the latter's front end, before spearing into Suicidal Tendencies, Killerhurtz and Stinger in succession. Spikasaurus spun over the Flame Pit following a ram from Killerhurtz, slammed into the latter's side in retaliation and dodged another axe blow as it drove away. However, it was rammed, axed and dragged again by Killerhurtz, which was in turned axed and dragged forwards by Dominator 2. The three competitors separated, allowing Spikasaurus to retreat to the far end of the arena and slam into Dominator 2. In the process, its spikes caught the back end of Killerhurtz, allowing Spikasaurus to push it across the arena before hitting Sergeant Bash.
"Spikasaurus is game, isn't it? Ha, ha ha...unwise to take on the Sergeant in the big game, though!"
— Jonathan Pearce as Spikasaurus bumps into Sergeant Bash while pushing Killerhurtz around
Undeterred, Spikasaurus drove slowly around the arena, before driving around Stinger. It eventually attacked Stinger – itself immobilised on one side following attacks from Dominator 2 – and rammed into Suicidal Tendencies again before having one of its armour panels removed by Dominator 2's axe. Spikasaurus survived another axe blow from the latter just before 'cease' was called, and progressed to the third round in spite of the damage sustained.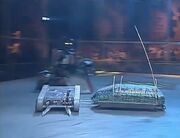 There, it began by ramming Killerhurtz, pursuing and pushing it into Dominator 2. Spikasaurus proceeded to get underneath Killerhurtz as Suicidal Tendencies lifted the latter, only to reverse and spear the side of Suicidal Tendencies with its spikes. As with the first round, the two robots became stuck together, with Spikasaurus ramming Suicidal Tendencies into the walls before finaly breaking free. It proceeded to back away and hit Dominator 2's back corner, before forcefully separating it and Killerhurtz and reversing over the flame jet. Spikasaurus bumped into Suicidal Tendencies, before spearing through Killerhurtz' armour, pinning it against the former and pushing it up Dominator 2's bi-wedge bodyshell.
"…Spikasaurus, look at this, coming in again on a - a ramming run! I thought this would happen, once the gaps of the arena started to emerge... and Spikasaurus could yet spring a surprise here in the Annihilator..."
— Jonathan Pearce as Spikasaurus spears and pushes Killerhurtz around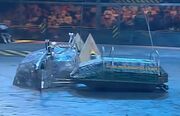 Once both competitors separated, Spikasaurus dodged a pursuing Killerhurtz, before driving into Dominator 2 and Killerhurtz again in rapid succession. Spikasaurus and Killerhurtz were stuck together again, with Dominator 2 striking Killerhurtz again and helping Spikasaurus manoeuvre it onto the Flame Pit. The three competitors split up, with Spikasaurus retreating to the far end of the arena and surviving as Suicidal Tendencies was deemed immobile, in spite of having one its batteries damaged again by Dominator 2.
"Round 4 - Dominator 2 and Killerhurtz both underestimate the power of Spikasaurus and try to take each other out. We help Dominator 2, as Killerhurtz scares us to death."
— The official Spikasaurus website
The penultimate round saw Spikasaurus immediately get collected and pushed sideways by Killerhurtz – however, it escaped as Dominator 2 axed the latter, before ramming Killerhurtz as the latter's CO2 system was ruptured. Spikasaurus rammed into the side of Dominator 2 and drove between its two opponents, before forcefully ramming and impaling Killerhurtz with its spikes. As it pushed and dragged Killerhurtz around and into Sir Killalot, Dominator 2 axed the Team Hurtz machine numerous times, before Spikasaurus sustained damage to its front armour as Sir Killalot and Matilda attempted to separate the two competitors. When it became clear that the Spikasaurus could not break free, Sir Killalot proceeded to grab and lift it by its right spike, freeing both competitors and bending the spike as he did so.
"I wonder if Spikasaurus can free itself from Killerhurtz, or whether the spike itself so deeply, into the back of Killerhurtz, they can't get away. Well, Killalot could have a remedy for that – 'I'll cut your spike off!'"
— Jonathan Pearce as Spikasaurus sustains damage from Sir Killalot
With its spikes damaged, Spikasaurus hesitated before pushing Killerhurtz towards the reversing Sir Killalot. It suddenly stopped in the middle of the arena, but twitched and crawled slowly as Killerhurtz drove itself into the entry gate and became immobilised. Despite the damage sustained, it and Dominator 2 survived to the final round.
Julia Reed: "Well, we heard you were having problems, but you're looking quite calm now. Are you going to make it back into that arena?"
Stuart Pearson: "Oh yeah, we've patched it up – we're gonna dominate Dominator 2 and we're gonna send them flying!"
— Stuart Pearson expresses confidence ahead of the Northern Annihilator final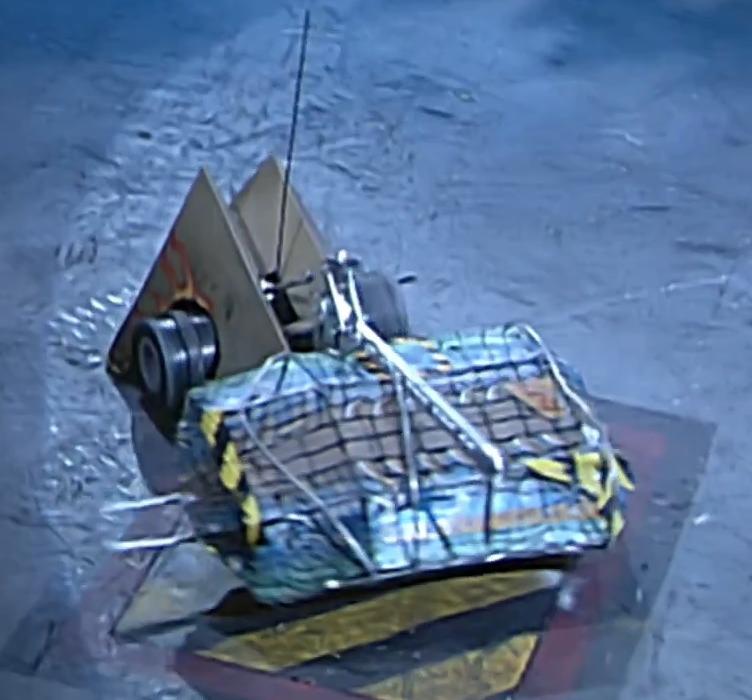 The final began with Spikasaurus shutting back and forth, avoiding a side-on attack from Dominator 2 and driving around the arena. The two competitors met, with Spikasaurus ramming Dominator 2 into Dead Metal after being axed by the latter. However, the same attack left Spikasaurus impaled on the wall, leaving it vulnerable to another axe blow from Dominator 2 which damaged one of its rear rollbars. Eventually, it pulled itself from the wall panel with Refbot's assistance, before reversing and charging head-on into Dominator 2. Spikasaurus dodged an axe blow, slowly reversing and driving up Dominator 2's right wheel as the latter again attempted to hit its rear corner. This allowed Dominator 2 to push Spikasaurus back, before repeatedly striking its armour and rollbars with the axe.
"Six bots went to mow; five spikes, four axes, three controllers, two are left... who will survive?"
— Jonathan Pearce as Spikasaurus is repeatedly axed by Dominator 2
With its front rollbar completely flattened, Spikasaurus drove backwards, and was promptly axed by Shunt before Dominator 2 resumed its attacks. It lured Dominator 2 across the arena before being collected and axed several more times by the latter. Spikasaurus was pushed over the closed pit by Dominator 2, but slowly broke itself free – it quickly became apparent that Dominator 2 had lost mobility altogether. With its batteries low on charge, Spikasaurus shuffled back and forth once more as the House Robots attacked Dominator 2; the latter was eventually thrown by the Floor Flipper and pitted. 'Cease' was called, and Spikasaurus emerged as the surprise winner of the Northern Annihilator, ending its solitary Robot Wars run.
"We couldn't believe it, Dominator 2 just stopped moving. We were on our last legs, the batteries had all but run out after the five battles, with very little chance to recharge. We just kept inching back and forth to show we were still alive. We WON!!! Spikasaurus are Victorious!!!...Damage to Spikasaurus - Swiss Cheese rings a bell..."
— The official Spikasaurus website on the team's Northern Annihilator victory
SPIKASAURUS - RESULTS
Series 4
The Fourth Wars - UK Championship
Heats, Round 1
Heat J, Eliminator
vs. Bulldog Breed 2, Stinger (30)
Eliminated
Pinball Warrior Tournament
Equal Fifteenth (with Attila the Drum)
Pinball
40pts
15th
Northern Annihilator
Champion
Round 1
vs. Chaos 2, Dominator 2, Killerhurtz,
Stinger, Suicidal Tendencies 2
Qualified
Round 2
vs. Dominator 2, Killerhurtz, Stinger, Suicidal Tendencies 2
Qualified
Round 3
vs. Dominator 2, Killerhurtz, Suicidal Tendencies 2
Qualified
Round 4
vs. Dominator 2, Killerhurtz
Qualified
Round 5
vs. Dominator 2
Won
Wins/Losses
Edit
Series Record
Edit
Spikasaurus was one of four Annihilator champions to have never progressed beyond the first round in a domestic championship. The others were Drillzilla, Cyclone and Kan-Opener.

It and Kan-Opener are also the only two UK Series side competition winners to never win a battle in the main UK Championship.
Along with Kan-Opener and Disc-O-Inferno, Spikasaurus is one of three robots to win a UK Annihilator after being eliminated in the first round of the main series it competed in directly before.
Of all the UK Annihilator champions, Spikasaurus is also the only one which did not make more than one attempt at the main UK Championship.

An initial concept image of Spikasaurus suggests that it was originally intended to be dome-shaped, with front, side and rear spikes as well as a rear chainsaw.
References
Edit
External Links
Edit