Spectre was a reverse-wedge shaped robot that only appeared in the Robotic Soccer tournament of Series 3 of Robot Wars. It featured two spikes and a pickaxe weapon. It also had little football boots covering its spikes to get into the spirit of the competition. It lost in the qualifiers to The General.
The team also attempted to qualify for the Fifth and Sixth Wars with Spectre 2, a low wedge shaped robot which retained the pickaxe weapon of its predecessor, of which the team were very proud, but failed to do so despite winning one of its qualifiers for the Fifth Wars.
Robot History
Edit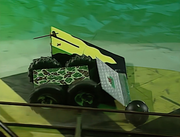 The General got to the ball first, but the ball was knocked away by
Matilda
. Spectre span on the spot for a bit and then tackled The General, but failed to get the ball. Spectre tackled again, knocking the ball away, but The General regained control and dribbled the ball down the arena wall. The General was then blocked, but the ball went in the goal, bouncing off Matilda, meaning Spectre was eliminated.
Series Record
Edit
Series 1-2: Did not enter
Series 3: Robotic Soccer only
Series 4: Did not enter
Series 5-6: Failed to qualify with Spectre 2
Series 7, 2016: Did not enter