"Reborn and ready for revenge!"
Spawn Again was Team Scutterbots's third and final entry to Robot Wars. It competed in Series 5, 6 and 7 of Robot Wars, plus both series of Robot Wars Extreme. Spawn Again also represented the UK in Robot Wars: Extreme Warriors. It was the successor to Spawn of Scutter.
Armed with a powerful flipper, Spawn Again was capable of throwing robots out of the arena, doing so twice to Evolution and Chip. Spawn Again suffered from erratic consistency in Robot Wars, with malfunctioning electronics and weaponry. Despite this, it managed to reach the Semi-Finals of Series 5 and 6 where it lost to Razer and Terrorhurtz respectively. It also reached the heat final of Series 7, where it was defeated by Raging Knightmare in a grudge match from Series 4.
"We're faster, more powerful, and we've got a full bar pressure 1000 psi flipper, like Chaos only bigger, and this time anyone who comes near us is going into orbit!"
— Darren Hayden-Ball in the team's introduction, shown before Round 2 and in the Semi-Finals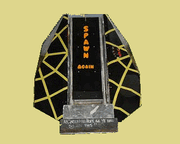 Spawn Again was a large black four-wheel driven, aluminium box-sectioned, wedge-shaped robot with a powerful rear-hinged flipper. The flipper was 1m tall and enormously powerful, having the ability to throw opponents clean out of the arena, which it achieved twice (against Evolution and Chip) and it often flipped itself over during stationary flips due to the immense 1000PSI pressure released from the flipper at full charge. A rollcage was added to the back of the robot in Series 6, replacing the very rarely used spike and, in Extreme 2, the mechanism for the flipper and the drive system were completely changed as well as the new steel armour. This was further upgraded in Series 7, although mostly it was all internally. Initially painted a reddish colour not too dissimilar to Scutter's Revenge, for Series 5 onwards it was painted black with yellow webbing across its body.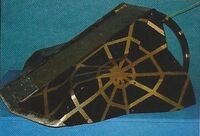 Despite the success rate and the claims that the robot could reach 25mph, the Spawn Again robot was well known for its lack of reliability; the robot often lost battles after breaking down or suffering mechanical problems such as slow control responses. The original robot was very lightweight at only 79kg. In Series 6, Extreme 2 and 7 Spawn Again's speed was reduced to 20mph.
Robot History
Edit
Extreme 1
Edit
Spawn Again's first appearance came in the Tag Team Terror competition alongside Comengetorix, the successor to Vercingetorix - a robot which Team Scutterbots had defeated in The Fourth Wars. In the duo's first battle, they faced off against Bigger Brother and Major Tom, with Spawn Again starting the battle in the CPZ. The battle started slowly as Comengetorix only caught Bigger Brother with a glancing blow from its axe, while Bigger Brother emitted CO2 as it spun around and flipped at thin air. After a short period of intermittent movement, Comengetorix then lifted Bigger Brother and drove it across the arena floor. Meanwhile, Spawn Again decided to come out of the CPZ and made its first move by throwing Major Tom onto its back; however, Spawn Again's flipper had jammed in an upright position. Bigger Brother then came across to attempt to right its teammate, with Comengetorix using the opportunity to inflict damage to the baseplate of Major Tom. Bigger Brother finally managed to topple its partner back onto its wheels, but Major Tom remained idle. Spawn Again then engaged in a tussle with Bigger Brother, pushing it into an angle grinder at one point, while Refbot counted out Major Tom. From this point on, Spawn Again largely struggled for movement, but both Spawn Again and Comengetorix survived the whole bout, and the two progressed to the Semi-Finals.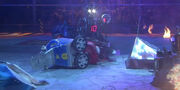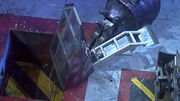 In the Semi-Final, the pair faced Diotoir and Pussycat. Spawn Again started the battle against Pussycat and attempted an early attack on its opponent, but only managed to flick it up onto all four of its wheels with a flip. Spawn Again then danced on the flame pit as it waited for its flipper to retract, before thrusting Pussycat into Matilda's CPZ. Spawn Again switched out for Comengetorix, which struggled to move freely as Pussycat activated the pit release button. Diotoir was then tagged by Pussycat and attacked the inactive Comengetorix, before Spawn Again rushed out and tried to help its teammate by trying in vain to throw Diotoir over. Suddenly, all four competing robots were in the centre of the arena, as Pussycat got back into the action. Diotoir continued to target Comengetorix and edged it towards the pit, but Spawn Again did enough to separate the two. However, shortly after, Spawn Again broke down, with the now revived Comengetorix having to fight the remainder of the battle alone. Spawn Again was counted out by Refbot and axed by Shunt before being thrown by the floor flipper and pitted, and Diotoir and Pussycat went through to the Tag Team Terror final.
Spawn Again was also due to compete in the Mayhem qualifiers for one of the two Annihilators, but it withdrew for unknown reasons.
"Big fan club! Has a high-powered CO2 flipper at the front and a high-powered spike at the rear, twice series Semi-Finalists, 25mph top speed, the fastest in the heat, 4-wheel-driven, should drive all the way to the Semis again!"
— Jonathan Pearce introduces Spawn Again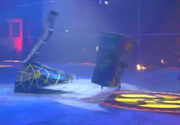 Spawn Again entered the Fifth Wars as the number 13 seed, and started its campaign with a first round battle against newcomers Hydra. Spawn Again started strongly, immediately flipping Hydra over, and it kept the pressure on its opponent by flipping it over three more times after Hydra had righted itself. Hydra then stopped moving after self-righting for a fourth time. Spawn Again used Hydra's immobility to drive it towards the arena wall, where it rammed it multiple times before lifting it up onto its back once more. Spawn Again then attempted to flip Hydra out of the arena, but Hydra tumbled over the back of Spawn Again and into the CPZ. Spawn Again had still done plenty enough to progress though, and Refbot counted out Hydra before the House Robots pitted the beaten machine.
"Well, it's a completely new robot since last year, we've got the same drive system, bit faster, but we've got a full bar pressure flipper on it now, bit like Chaos, but a bit sort of higher than Chaos' one. Yeah, it seems to be working well!"
— Darren Hayden-Ball to Craig Charles after Round 1
The second round saw Spawn Again drawn against Evolution, which made it to the second round after beating Sabretooth. Evolution started the battle spinning on the spot, but this did little to deter Spawn Again, which narrowly missed with a flip. Spawn Again then quickly slid underneath Evolution and chucked it over, before driving it towards the arena wall and flipping it out of the arena. This flip saw Spawn Again finish off its opponent in 21 seconds, and it move on to the Heat Final.
"Exactly to plan! You see, we was going to go in there, get them straight out, and we did the job, straight away!"
— Luke Jackman after the fight
Spawn Again faced the experienced Diotoir machine in the Heat Final, which had defeated the 12th seeds Tornado in the second round to progress to this stage.
"They're a good bunch of lads, and they're actually the ones who fixed our robot to get us here to this fight, so there's no bad feelings towards them!"
— Darren Hayden-Ball on his opponents
In the battle, Spawn Again continued its trend of fast start as it flipped over the Irish robot immediately. Diotoir attempted to self-right, but only managed to lose its eyes in doing so. Spawn Again, with its flipping arm now stuck open, darted towards the pit release button in an attempt to fulfil the gentleman's agreement that was made between the two teams, with both teams agreeing that if one robot became immobile then the other would pit the beaten machine before the House Robots could inflict more damage.
However, this plan backfired when Spawn Again curiously came to a halt as it attempted to reverse the now-counted-out Diotoir into the pit, which meant that Matilda and Sergeant Bash were free to come in to attack. Spawn Again had still completed its job of winning the battle though, and was through to the Series Semi-Finals.
Craig Charles: "What robots do you want to avoid?"
Darren Hayden-Ball: "Uh, Razer!"
— Ironic foreshadowing after the Heat Final
In the Series Semi-Finals, Spawn Again met the 4th seeds, reigning world champions and eventual champions Razer in Round 1, and Spawn Again was immediately under pressure as Razer slipped under Spawn Again's ground clearance and pierced its flipper arm. Razer continued to inflict further damage to Spawn Again as it held it against the arena wall, before Spawn Again was hassled into a CPZ, where Shunt, Sergeant Bash and Razer all took turns at damaging the 13th seeds.
"I don't think Spawn Again can get away from their peril! Semi-Finalists of Series 3 with the Scutter's Revenge machine, Semi-Finalists with Spawn of Scutter in Series 4, and to me Spawn Again are going to fall at the same hurdle!"
— Jonathan Pearce as Razer pierces Spawn Again
Finally, Spawn Again managed to free itself, and backed into space as it looked to line up an attack, but the damage it had sustained meant that its flipper was no longer working. In a desperate attempt to turn the battle, Spawn Again charged across the arena floor and activated the pit release button. However, Spawn Again then suddenly stopped moving, and Razer was able to submerge Spawn Again down into the pit.
Craig Charles: "I tell you what, you couldn't have gone out to a better robot though!"
Darren Hayden-Ball: "If you're going to go out, go out to the double world champions!"
— Post-match interview
With this defeat, Spawn Again dropped into Losers Melee with S3 and the 9th seed Wild Thing. Spawn Again targeted S3 first of all, but lost the front blade of its flipper. Wild Thing then drove Spawn Again across the arena floor, before S3 came in with a hit which sent Spawn Again up into the air. After this attack, Spawn Again failed to move, and was counted out by Refbot before being pitted by Sergeant Bash. As a result, it was eliminated from the competition, with Wild Thing also failing to progress, as it lost out to S3 in the judges' decision.
At the end of the series, Spawn Again was nominated for the Best Engineered Robot Award, but lost out to Derek.
This time around, Spawn Again was seeded number 10, the lowest ranked Semi-Finalist from the previous series.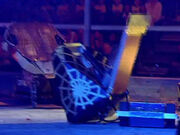 In its first battle in the Sixth Wars, it faced veterans Supernova and Tiberius 3, as well as newcomers Short Circuit.
"So, Spawn Again with all the capability and experience here! Three times Semi-Finalists."
— Jonathan Pearce on the pedigree of Team Scutterbots
Spawn Again struggled for mobility from the off, and failed to get into the action while the other three competing robots tussled with each other. Finally, after Supernova had immobilised the inexperienced Short Circuit, Spawn Again was approached by both Tiberius 3 and Supernova, and it sustained damage as Supernova caught the front of it with its weapon. Supernova had also thrown aside Tiberius 3 with a hit, which consequently saw it limited in terms of movement. Spawn Again then crept into position and threw Tiberius 3 over, but also managed to flip itself over in the process. Spawn Again managed to self-right safely, but was then attacked multiple times by Supernova. Thankfully for Spawn Again, Tiberius 3 was still lying on its back, and was counted out by Refbot, and as a result, Spawn Again scraped through to the second round by the skin of its teeth.
"I'll tell you what, of the two, Supernova was by far the more impressive. Spawn Again, one launch of the flipper, that was about it!"
— Jonathan Pearce after Tiberius 3 was counted out.
In Spawn Again's second round battle it was up against
Spam
. Before the fight, major repairs were needed. Despite this, the team were confident that they could beat Spam.
"The chassis' been cut, re-welded, new bits put in it. There's been reinforcements put in, electrical problems, gearbox has been rebuilt. Bearings have been replaced, batteries have been replaced. And that's the only ones I can think of at the moment, but I'm sure there's more!"
— Darren Hayden-Ball on the repairs to Spawn Again
Spawn Again managed to move more freely than it had in its first round battle, and forced itself underneath Spam's ground clearance on multiple occasions. However, Spawn Again's flipper did not activate once, and as the battle drew on, the 10th seed began moving slower and slower. Spam then activated the pit release and began to nudge Spawn Again towards the pit, before Spawn Again's flipper suddenly fired. However, before Spawn Again could use it offensively, an out of control Spam drove straight into the pit of its own accord.
Craig Charles: "You were lucky to get through that!"
Darren Hayden-Ball: "Oh yeah, really lucky!"
— Post-battle interview
This put Spawn Again into the Heat Final where it went up against Supernova again. Once again, heavy repairs had to be made for the battle, as the motors were causing frequency interference, meaning the team had to switch from a starter motor to a lawnmower motor.
Spawn Again started the Heat Final quickly, dodging an attack from Supernova, before flicking it aside with a flip. Supernova then drove into an angle grinder, and started to have issues with its traction. Spawn Again used this impairment to its advantage by flipping Supernova up against the angle grinder. Refbot nudged Supernova back down from the arena hazard but Spawn Again continued to pressurise the Sri Lankan robot, and flipped it once more. Supernova's wheels continued to spin, but it was still unable to gain sufficient purchase on the arena floor.
"Spawn Again on top, and just when they needed it to, the flipper has found its form!"
— Jonathan Pearce as Spawn Again flips Supernova into the arena wall
As a result, Supernova was counted out by Refbot, putting Team Scutterbots through to the Series Semi-Finals for the fourth time in a row.
"And though it seemed unlikely 5 or 6 minutes ago, Spawn Again will be making another series Semi-Final!"
— Jonathan Pearce as Supernova is counted out and flipped
In its first Semi-Final battle it faced off against the unseeded Terrorhurtz, which had beaten the likes of Kronic 2 and Panic Attack to reach this stage. Terrorhurtz started fast as it brought its axe down on Spawn Again multiple times in the opening stages before spiralling out of control briefly. Terrorhurtz continued to dominate proceedings by severely denting Spawn Again's armour with its bladed axe, and after Spawn Again received further damage from Dead Metal, it was counted out by Refbot. Spawn Again was then plucked by Mr. Psycho, which dropped Spawn Again onto the lip of the pit after parading it around the arena, with Dead Metal required to nudge Spawn Again down to defeat.
"Spawn Again simply never go going!"
— Jonathan Pearce as Spawn Again lies immobile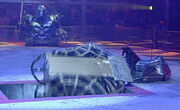 "It might run, but it might fall to bits! But, it's going against Hypno-Disc, so either way it's; we either trash it ourselves, or it gets trashed!"
— Darren Hayden-Ball before the Losers Melee
After this defeat, Spawn Again took part in the Losers Melee for a second series in a row, where it faced Bigger Brother and Hypno-Disc. Hypno-Disc was harried by the other two machines from the off, and although it inflicted damage to both Spawn Again and Bigger Brother, it became immobilised when its flywheel connected with the arena wall. With the number 4 seeds immobilised, Spawn Again and Bigger Brother engaged with each other, with Spawn Again coming close to flipping Bigger Brother out of the arena. After this flip though, Spawn Again mobility became laboured, with its flipper also stuck in an upright position. This allowed Bigger Brother to edge Spawn Again over the pit of oblivion before pushing it down - eliminating Spawn Again from the competition.
Extreme 2
Edit
"We've just brought it into the 21st century, but we won't find out how good it is until we get in there."
— Darren Hayden-Ball on the upgrades to Spawn Again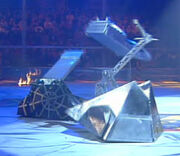 Because it reached the Semi-Finals of the Sixth Wars, Spawn Again earned the right to compete in Extreme 2's All-Stars tournament. In the first round, it went up against Hypno-Disc and Dominator 2. The battle got off to a fast start as a strong drive from Dominator 2 flicked Hypno-Disc up onto its side momentarily. Spawn Again then made its first move, as it drove at Hypno-Disc and hurled it up into the air with a strong flip. Both Spawn Again and Dominator 2 continued to focus their attacks solely on Hypno-Disc, and after Dominator 2 pushed Hypno-Disc around, Spawn Again came in and flipped Hypno-Disc once more. Hypno-Disc responded as it crashed into Dominator 2's right-hand side wheel guard before catching Spawn Again with another attack, but after some more pressure Hypno-Disc broke down. Spawn Again and Dominator 2 continued to attack the immobile Hypno-Disc, as Dominator 2 axed Hypno-Disc's flywheel multiple times, before Spawn Again threw it onto its back. Finally, Hypno-Disc was counted out by Refbot, and Spawn Again advanced to the next round along with Dominator 2.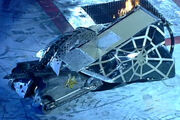 In the second round, Spawn Again was up against former UK Champion Razer for the second time - a vengeance battle from the Series 5 Series Semi-finals.
Philippa Forrester: "Tactics?"
Darren Hayden-Ball: "Beat them!"
— Team Scutterbots talk tactics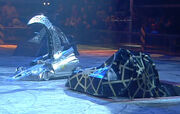 In the opening stages of the battle, Spawn Again largely retreated as it attempted to keep its distance from Razer. Razer then caught up to Spawn Again and slid under the front of it before driving it back in towards Sergeant Bash. After this, Razer moved Spawn Again over the flame pit and attempted to crush into the flipper of its opponent, but Spawn Again held firm and sustained little damage. Spawn Again then managed to move away and decided to press the pit release button. Unfortunately for Spawn Again, it drove over the descending arena hazard as it attempted to go onto the attack, and found itself beached over the pit of oblivion. Razer raised its wings in celebration, before Spawn Again activated its flipper in a desperate last attempt to free itself, but it only succeeded in chucking itself fully into the pit, eliminating it from the competition.
"It's basically the same design, but it's all new internally now, so it's new electronics, new batteries, new weapon, new weapon control, new mixer. But yeah, basically everything's new, and hopefully it'll all work!"
— Darren Hayden-Ball on the improvements to Spawn Again
Spawn Again returned for Series 7, this time seeded 6th as it was one of only seven returning Semi-Finalists from the previous series.
"People are going to need an "Arena Re-entry Device" from now on, because that's the only place people are going, it's outside the arena!"
— Luke Jackman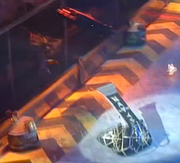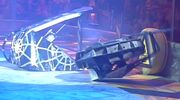 In the first round, Spawn Again was up against Chip, NEATer Machine and Revenge of Trouble & Strife. Spawn Again buzzed around in the opening moments of the battle before manufacturing the first pivotal moment, as it drove underneath Chip and hurled it out of the arena. Meanwhile, NEATer Machine lost its axe tip and was immobilised by Revenge of Trouble & Strife, and although this meant that both machines were through, that didn't stop Spawn Again, as it flipped Revenge of Trouble & Strife over several times, to the point where it could not self-right. NEATer Machine was counted out by Refbot and pitted by Mr. Psycho, and Spawn Again's progression was confirmed, having defeated all three opponents.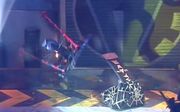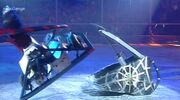 "Throw them out of the arena! Ten seconds maximum!"
— Luke Jackman's tactics for fighting R.O.C.S.
In the second round, Spawn Again was drawn up against R.O.C.S., which made its way through by edging past Topbot and The Executioner in the first round. Spawn Again started with a quick flip on its opponent, before righting it with another attack. Spawn Again continued its dominant start with another flip, before coming close to flipping R.O.C.S. out of the arena. R.O.C.S. managed to self-right, and then came onto the attack itself, as it clamped onto the back of Spawn Again. Sir Killalot dragged the two out of the CPZ, and R.O.C.S. dragged Spawn Again backwards, across the arena floor. Spawn Again managed to free itself from R.O.C.S.' grip just before it pressed the pit release button, and then asserted itself once more, toppling R.O.C.S. onto its back. This time, R.O.C.S. was unable to right itself, and Spawn Again had sealed its place into the Heat Final as Refbot counted R.O.C.S. out.
In its Heat Final, it was drawn against Raging Knightmare, a rematch from Series 4, where Spawn of Scutter beat Knightmare.
"Same as always; flip them, flip them hard, and flip them out of the arena!"
— Confidence before the battle from Darren Hayden-Ball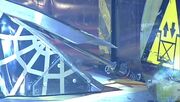 Both robots started by meeting in the centre of the arena, where Raging Knightmare flipped Spawn Again over. Spawn Again quickly self-righted, before pushing back onto Raging Knightmare, which flipped itself over while attempting to flip Spawn Again. Spawn Again attempted to follow this up with a flip of its own, but it pneumatics system exploded spectacularly as the machine landed back on the arena floor, sending CO2 gas everywhere. With the flipper now inactivate and the ram hanging out the front of the robot, Spawn Again dashed towards the pit release button, but missed its target, and instead, its exposed ram plunged into the arena floor, pinning itself in the process. Raging Knightmare then flipped Spawn Again free, but over onto its back, which meant that it could line up another attack. It came in once more, lifting Spawn Again up, but not out of the arena, which left it balancing on top of the arena wall, before Raging Knightmare flicked Spawn Again for a final time, toppling it out of the arena. This was the first and only time Spawn Again, and Team Scutterbots, had failed to reach the series semi finals.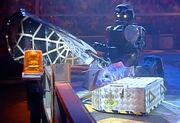 "Now, you can't sit there all day. That's better."
— Jonathan Pearce on Spawn Again being balanced on the arena wall from a flip from Raging Knightmare, then being flipped out completely.
Spawn Again was offered the opportunity to compete in the All-Stars tournament at the end of Series 7, as the team had competed in at least five series. Unfortunately, the damage taken in the Heat Final battle with Raging Knightmare was enough to keep it from competing. After many other eligible robots were also unable to compete, Dantomkia was used as a 'filler robot'.
US Season 1
Edit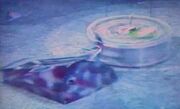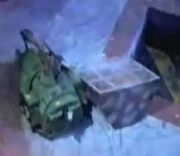 Spawn Again represented the UK in the War of Independence Special in the first season of Extreme Warriors, but didn't last long in its only battle, as the first attack from its opponent, Joker, was enough to immobilise it. Spawn Again was quickly counted out by Refbot, and was thrown by the floor flipper. The British hopes were then pitted to end the battle.
SPAWN AGAIN - RESULTS
UK Series
Extreme Series 1
Tag Team Terror
Competing with Comengetorix, Round 2
Round 1
vs. Bigger Brother & Major Tom
Won
Round 2
vs. Diotoir & Pussycat
Lost
Series 5
The Fifth Wars - UK Championship
13th Seed, Semi-Final, Round 1
Heat G, Eliminator
vs. Hydra
Won
Heat G, Semi-Final
vs. Evolution
Won
Heat G, Final
vs. Diotoir
Won
Semi-Final 1, Round 1
vs. Razer (4)
Lost
Semi-Final 1, Losers Melee
vs. S3, Wild Thing (9)
Lost
Series 6
The Sixth Wars - UK Championship
10th Seed, Semi-Final, Round 1
Heat H, Round 1
vs. Short Circuit, Supernova, Tiberius 3
Qualified
Heat H, Round 2
vs. Spam
Won
Heat H, Final
vs. Supernova
Won
Semi-Final 2, Round 1
vs. Terrorhurtz
Lost
Semi-Final 2, Losers Melee
vs. Bigger Brother (2), Hypno-Disc (4)
Lost
Extreme Series 2
All-Stars
Heat, Round 2
Heat B, Round 1
vs. Dominator 2, Hypno-Disc
Qualified
Heat B, Round 2
vs. Razer
Lost
Series 7
The Seventh Wars - UK Championship
6th Seed, Heat Final
Heat N, Round 1
vs. Chip, NEATer Machine, Revenge of Trouble & Strife
Qualified
Heat N, Round 2
vs. R.O.C.S.
Won
Heat N, Final
vs. Raging Knightmare
Lost
US Series
Season 1
War of Independence
Representing UK, Round 1
Eliminator
vs. Joker (USA)
Lost
Wins/Losses
Edit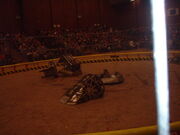 UK Wins: 10
UK Losses: 7
US Wins: 0
US Losses: 1
Series Record
Edit
Spawn Again was one of eight competitors in The Seventh Wars that competed in at least 5 series of Robot Wars that were excluded from the All-Stars tournament at the end of the series for their own reasons.
Spawn Again is one of only nine robots to debut in Extreme 1 and to fight in one of the main competitions. The others were 3 Stegs to Heaven, Axe-Awe, Comengetorix, Fighting Torque, Fluffy, NEAT Machine, Sub-Version and The Executioner. It is also the only robot to debut in Extreme 1 to ever reach a Semi-Final.
Spawn Again is the only heat winner from Series 5 and 6 to never fight Firestorm.
Spawn Again fought a different vertical crusher wielding robot in every main series in which it competed.
"Spawn Again" is the title of a song by Australian band Silverchair that featured on the 1997 film Spawn.
Spawn Again's weakness according to its tech stats in Extreme Warriors Season 1 was referred to as having no self-righting mechanism despite the fact that it was armed with a flipper (though this could technically be true since it did not have a roll-cage at that time)
Spawn Again is one of only three robots to compete in multiple series and be seeded in each of them, the other two being Gemini and Wheely Big Cheese.
Spawn Again's defeat to Raging Knightmare as vengeance for the Series 4 Heat Final meant that Scutterbots/Knightmare became the second of three rivalries (after Team 101/King Buxton and followed by Pulsar/Ironside3) where both teams reached a semi-final by defeating the other.
Spawn Again and Wild Thing are the only robots to fight in Losers Melees in both Series 5 and 6 and lose on both occasions.
Nominations
Ad blocker interference detected!
Wikia is a free-to-use site that makes money from advertising. We have a modified experience for viewers using ad blockers

Wikia is not accessible if you've made further modifications. Remove the custom ad blocker rule(s) and the page will load as expected.