Sniper was a domed wedge shaped robot that competed in Dutch Robot Wars: Series 1. It was a decent performer, winning its first two battles before falling to Sater on a close Judges' decision.
Team captain Michael Hanser attempted to enter UK Series 7 with a new version of Sniper, but failed to qualify. He was however part of the Tartarus and Reaper NP2 teams during the main series and the Third World Championship, which both failed to win a single battle.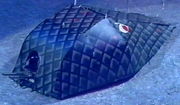 It was designed to resemble an alligator, and was armed with a pneumatic flipper and rear mounted spikes. The spikes were designed to look like protruding sniper rifle barrels, which resulted in Sniper's name. The team took pride in Sniper's virtually impenetrable armour, which could take a hit from a claw hammer and remain completely unscathed.
Robot History
Edit
Dutch Series 1
Edit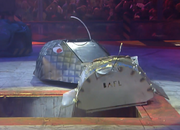 In the first round battle with Maximill, both machines started rather slowly. Sniper got itself wedged on the pit, and Maximill pressed the pit release button. The pit descended underneath Sniper, but its long body prevented it from going down, and just managed to reverse away from danger. The pair continued by pushing each other around the arena, until Maximill reversed near the pit. Sniper took full advantage of this, by shoving Maximill onto the edge and eventually down the pit of oblivion.
In the next round, it faced World Championship competitor NEAT Machine. Sniper almost immediately went for the pit release tyre this time, while NEAT Machine slammed into Sniper with the axe. Sniper's response was to flip NEAT Machine over. Despite numerous, desperate attempts to self right with the axe, and with the tyre that was touching the ground, NEAT Machine was counted out by the Refbot, putting Sniper through to the heat final against Sater.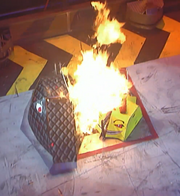 For the second battle in a row, Sniper's first tactic was to go for the pit release. Sater drove into the front of Sniper, but Sniper mistimed its flip. It then appeared to successfully draw Sater onto the flame pit and keep it there for a while. After Sater got away, the time ran out and the battle went to a jurys' decision, which went against Sniper.
SNIPER - RESULTS
Series 1
Dutch Championship
Heat Final
Heat E, Round 1
vs. Maximill
Won
Heat E, Semi-Final
vs. NEAT Machine
Won
Heat E, Final
vs. Sater
Lost
Wins/Losses
Edit
Series Record
Edit
Dutch Series
Edit
UK Series
Edit