Smog Head
Talk

2
1,514pages on
this wiki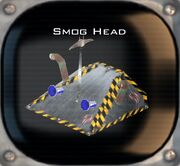 Smog Head was a middleweight competitor robot in the game Robot Wars: Arenas of Destruction. Its weapon was an axe and it was armoured in polycarbonate. It couldn't self right.
Components
Edit
Locomotion: 4 x Medium Inner Pneumatic
Power: 2 Stroke 3 HP Gas Engine
Drive: 4 x Differential and Low Ratio Gearbox
Weapons: Spring Powered Axe
Extras: 2 x Pipes & 2 x Police Siren
Strategies
Edit
Using Smog Head
Edit
Smog Head has a useful pick axe which is pretty powerful, although it takes a while to retract. Smog Head is armoured in polycarbonate, so is quite resilient in a melee or annihilator battle. Smog Head is also pretty quick due to the 3 stroke engine, although that can sometimes be subject to breaking down. Smog Head must try and avoid flippers at all costs as it can't self-right at all.
Against Smog Head
Edit
Smog Head has a powerful weapon, so it would be wise to avoid it, and Smog Head's armour can take a bit of a beating before it starts breaking away. Smog Head can sometimes mysteriously break down due to the petrol engine, however that shouldn't really be counted on for a win. As Smog Head can't self-right, a flipping weapon would work best against it.