Shunt/Robot Wars: Metal Mayhem
Talk

0
1,514pages on
this wiki
Shunt was a House Robot designed to resemble a bulldozer. It boasted three powerful weapons; a lifting scoop, snowplough and a powerful axe. It was very effective at pushing robots around the Robot Wars Arena, and piercing them with its diamond-edged axe. Shunt appeared in all five of the Robot Wars video games.
Appearance and Armament
Edit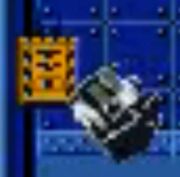 Robot Wars: Metal Mayhem was the first Robot Wars game, and as such it was the first video game appearance for Shunt and the other four House Robots around at that time. Due to the Game Boy Color's comparatively poor graphics, the arenas and robots could not be very detailed, and this is also true for Shunt.
Shunt's three weapons are visible in the game, and its colouring is fairly accurate. The snowplough is protruding at a different angle, however, and its axe blade is wider than the incarnation of Shunt that Metal Mayhem's Shunt was based upon. Despite the comparatively poor graphics of the Game Boy Color, parts of the robot can be made out, such as the box section around the wheels and the bodywork surrounding the axe.
Shunt does not feature in the arena battles, instead featuring in the Gauntlet mode as the first obstacle on the far-right route. Both Shunt's axe and pneumatic scoop constantly move during the Gauntlet, and it uses these two weapons simultaneously to damage competitors.
Differences between game and real life
Edit
Shunt's weapons do not act independently, rather, they seem to both activate at once and clamp a robot between.
Like all flipping robots in Robot Wars: Metal Mayhem, Shunt's lifting scoop simply damages opponents rather than flipping them.