"We've got good driving, that's me, we've got a very good weapon, and we've got a very sharp, lethal spike on the back"
— Nathaniel Poate on Short Circuit's strengths before the first-round battle
Short Circuit was a competitor robot which fought exclusively in Series 6 of Robot Wars. In its only appearance, it lost its first round battle after sustaining substantial damage from Supernova.
Short Circuit was originally designed for Series 2, but the robot took years to complete.[1] It initially attempted to enter Series 5, but failed to qualify despite beating Atomic 2 in its qualifier battle.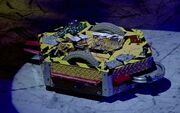 Short Circuit was a yellow and red, hexagonal-shaped robot with two-wheel drive and two weapons - a small front spinning disc and a large rear ramming spike. The robot was built with a solid bolted, aluminum-plated chassis, and its top panels were decorated with circuit boards and wires as a reference to its name. While the team were confident about Short Circuit's driving and damage potential, the robot had thin armour and a ground clearance of 3cm, which not only made it fragile against spinning weapons, but also made it vulnerable to getting lifted or flipped.
"...it was the same bot (with a few mods like a chainsaw back then). we did have it for series 6, however a few days before the filming, at the qualifiers, we decided to flood the chainsaw, and so it corroded. DOH! But yes, we did beat atomic with the same bot."
— Nathanial Poate on the Series 5 version of Short Circuit
Short Circuit was originally armed with a chainsaw for the Series 5 qualifiers, which was replaced just before Series 6 after it became corroded.
Robot History
Edit
"Newcomers, and long odds for the Short Circuit boys."
— Jonathan Pearce introduces Short Circuit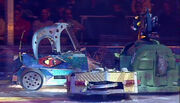 Short Circuit entered Heat H, and faced three experienced machines in its first round battle; Tiberius 3, Supernova and the tenth seed Spawn Again. It immediately retreated towards the edge of a CPZ as Supernova came to attack it, before slamming into Supernova as Tiberius 3 grabbed hold of the latter. This - combined with an intervention from Sergeant Bash - knocked Short Circuit's disc from its mount, leaving it dangling from its front as Sergeant Bash pushed it out of the CPZ. Short Circuit hesitated before bumping into Supernova again, with Supernova's disc tearing a massive gash in Short Circuit's rear panel and prising part of its baseplate off as the former pushed it around in circles. Another slam from Supernova bent the left-hand side of Short Circuit's chassis, and Short Circuit was left immobilised with its body and baseplate almost fully separated. As Refbot counted Short Circuit out, Supernova completely split it apart with another hit.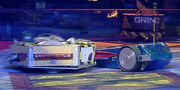 "That looks a mess, let's be honest. Ooooh, Supernova... split it!"
— Jonathan Pearce as Supernova separates Short Circuit's body from its baseplate
Sergeant Bash proceeded to pit Short Circuit, where it was soon joined by the also-immobilised Tiberius 3. This eliminated both robots from the Sixth Wars, with Short Circuit not returning after this early defeat.
"Short Circuit, short-circuited..."
— Craig Charles announces Short Circuit's elimination
Wins/Losses
Edit
Series Record
Edit
Thanks to his father, Nathaniel Poate owns one of the 10 points barrels from Series 2, possibly making it the only Pinball barrel left in existence, as the others were recycled.
Short Circuit was the only robot from Series 6, Heat H to be entered by a team which did not appear in another episode or series.
References
Edit