"As you would expect from Rolls Royce, Shogun was beautifully machined with CNC bits everywhere."
— Oliver Steeples[1]
Shogun was a competitor from the first series of Robot Wars. It was designed by Rolls Royce employees Robin Woodhead, Brian Carrington and Peter Fairbrother. After surviving both the Gauntlet and Trial, Shogun was beaten in the Arena Semi-Final by Killertron. It was over 3kg over the Heavyweight Limit at the time.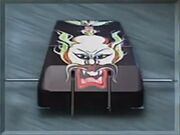 Shogun was a rounded box-shaped robot, with two ramming spikes on its side and a small forklift device on the front. The power came from a two-stage gearbox and the robot could travel at 7mph. The side spikes were interchangeable in size and thickness, making Shogun the very first robot to use interchangeable weaponry.
"Built around a complex chassis with 2 x 12V Sinclair C5 motors....weapons include a small forklift and the honour of the samurai!"
— Jonathan Pearce
Robot History
Edit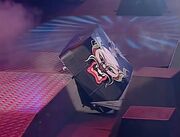 Shogun made steady progress in the Gauntlet, crossing the first ramp allowed it to easily beat the 2.93 metres set by Barry. However, upon going up the second ramp, it fell sideways off.
"Officer, breathalyse that driver!"
— Jonathan Pearce
It was the first robot to tackle the Sumo trial, but it was pushed off after 21 seconds. Grunt's suicidal leap put Shogun through against Killertron.
Shogun had hideous control in the final, driving very near the grills and only managing a few feeble circles before it drove onto them, essentially eliminating itself. Killertron struck twice before cease was called, knocking Shogun out of the competition.
Philippa Forrester: "How come you ended up on the grill?"
Robin Woodhead: "We had problems with the speed controller, we burnt one of them, we put another one in - it didn't match."
— After the battle
SHOGUN - RESULTS
Series 1
The First Wars - UK Championship
Heat Semi-Final
Heat A, Gauntlet
10.71m (5th)
Qualified
Heat A, Trial (Sumo)
21.51 seconds (4th)
Qualified
Heat A, Semi-Final
vs. Killertron
Lost
Wins/Losses
Edit
Series Record
Edit
The team members, Robin Woodhead, Brian Carrington and Peter Fairbrother, were all work colleagues at Rolls Royce, which was the reason that Shogun was constructed by some donated parts of a Rolls Royce.
Shogun was the smallest heavyweight in Series 1.
Shogun was the only robot Shunt defeated by himself in the Sumo during Series 1.
Technically, the Shogun team started the first Gentleman's Agreement, as before its battle with Killertron, it asked the Killertron team not to cause too much damage to their robot.
References
Edit
Ad blocker interference detected!
Wikia is a free-to-use site that makes money from advertising. We have a modified experience for viewers using ad blockers

Wikia is not accessible if you've made further modifications. Remove the custom ad blocker rule(s) and the page will load as expected.