"Built by the 39th Scouts group so be prepared. The spiked front edge for plenty of dib-dib-dob-dob and £500 to build, plenty of bobba-job."
— Jonathan Pearce introduces Shark Attack.
Shark Attack was a robot that entered Series 3 of Robot Wars, representing Huddersfield's group of boy scouts. It lost in the first round to Behemoth.
Shark Attack was large box-shaped robot built in the shape of a shark. The shark's head was lowered into a shovel for lifting with sharp hedge-trimmer blades and modified so that the whole body of the robot would jack up to help turn other robots over. This was run off two mid-welder bottles stashed away to protect them from impact. It cost £500 to build, had cased and fire-proofed electronics and was made by the 39th Huddersfield Scouts (later renamed Team Banshee), with the Scout Masters entering the robot. This lead to Philippa Forester jokingly saying that the scouts did all the work whilst the adults got to be on TV.
Robot History
Edit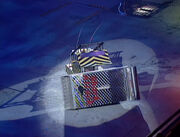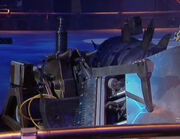 Shark Attack did not last long in the Third Wars where it met previous series semi finalists Behemoth in the first round. Both robots started fairly suggishly, with Behemoth lifting Shark Attack up, but not over. Behemoth then lifted it for a second time, but again failed to overturn it. Finally, Behemoth got another lift in, this time tipping Shark attack onto its side and immobilising it. The House Robots almost instantly came in to destoy Shark Attack, with Matilda knocking it on its back and Shunt axing a large hole in the base
"The only merit badge this little lot [The Team] are going to get is in welding, to repair that!"
— Jonathan Pearce as Shunt axes Shark Attack's underside
SHARK ATTACK - RESULTS
Series 3
The Third Wars - UK Championship
Heats, Round 1
Heat B, Round 1
vs. Behemoth
Lost
Wins/Losses
Edit
Series Record
Edit