Saw Point (Series 7)
Talk

4
1,514pages on
this wiki
Saw Point



Saw Point 2 from Series 7

Participation Information
UK Series
7, Extreme 2
Other Names
Saw Point 2
(Series 7)
Team Information
Team
Team A-Kill
Team Members
Ryan Delph
Chris Delph
Gordon Johncock
Robot Statistics
Weight
95kg
Dimensions
0.34m x 1.28m x 1.06m
Power
4 x 36V Motors
Weapons
2 x Pincers & Angled Cutting Discs

Robot statistics correct as of its most recent appearance on the show
"Weaknesses: we built it"
— Saw Point's statistics sheet
Saw Point was a heavyweight entered into Robot Wars by Team A-Kill. Originally, it was armed with crushers and two lifters on the front, but for Series 7 two spinning discs were added. It was a 2mm plate steel box and was renowned for being "tough as old boots" , despite taking large amounts of damage remained mobile, but had no weapons on the sides and only cost £200 altogether. It competed in the main competition of Series 7 as Saw Point 2 and in the Minor Meltdown tournament in the second series of Extreme, but lost in the first round of both, which was unsurprising due to the team's immense resentment to take the robot home again before the first round melee in Series 7.
Robot History
Edit
Extreme 2
Edit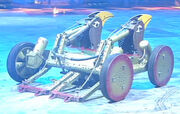 In the first battle of the Minor Meltdown, Saw Point played a very small part, being flipped by Bigger Brother and attacked by Growler who ripped two of its wheels off. Car parts were dropped on it before, just to add insult to injury, Sir Killalot picked it up and lifted it out of the arena when it had just one of its wheels remaining. Saw Point was out, although Bigger Brother pitted Lambsy just after it was counted out.
"Weakness is....We built it"
— Team A-Kill on their machine
Saw Point 2 faced a hard draw against reigning champion Tornado and flywheel-wielding Devastator. However, it would be the other robot in the battle, Ewe 2, that caused it the most trouble. Saw Point attacked Tornado before turning and clashing with Team Coyote's machine. After avoiding Tornado they continued to fight. Tornado then slammed into Saw Point twice, before the Chesham machine exchanged blows with Ewe 2 once more. Tornado then pushed Saw Point into Matilda's CPZ, and she attacked causing minor damage. Having escaped the CPZ, Saw Point appeared to break down. Ewe 2 took the opportunity to try to pit Saw Point, but it became wedged on the edge. Eventually Ewe 2 succeeded in pitting its foe. Saw Point 2 was out of The Seventh Wars.
SAW POINT 2 - RESULTS
Series 7
The Seventh Wars - UK Championship
Heat, Round 1
Heat E, Round 1
vs. Tornado (1), Devastator, Ewe 2
Eliminated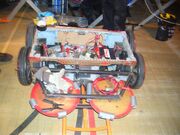 Wins/Losses
Edit
Series Record
Edit
Series 1-2: Did not enter
Series 3: Middleweight Competition with A-Kill
Series 4-5: Did not enter
Series 6: Entered with A-Kill
Series 7: Heat, Round 1
Outside Robot Wars
Edit
After Robot Wars ended, Saw Point 2 was sold on eBay to a team in Kent, who renamed and rebuilt it as Disc-struction!, and now use it for spinner demonstrations at live events. However, the robot also recently competed in the 2011 UK Championships without its discs.