Sabre Tooth (Video Games)
Talk

0
1,514pages on
this wiki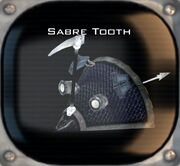 Sabre Tooth was a lightweight competitor robot in the games Robot Wars: Arenas of Destruction and Robot Wars: Extreme Destruction, undertaking similar guises in both appearances. In Arenas of Destruction, its weapons were an axe and a spike and it was armoured in kevlar. In Extreme Destruction, the drives were now 12 volts and the spike had gone. It could self right in both games.
Arenas of Destruction
Edit
Components
Edit
Locomotion: 2 x Small Inner Pneumatic & Castor
Power: Yuarta 100 12 volt sealed lead acid battery
Drive: 2 x Dosch 750 watt 24 volt DC electric motor
Weapons: Pneumatic Pick Axe & 30 cm Titanium Ramming Spike
Extras: 2 x Foglights & 2 x Searchlights
Strategies
Edit
Using Sabre Tooth
Edit
Flippers shouldn't be a problem as Sabre Tooth can self-right, unless the axe breaks off. Your best bet is to aim for robots that have weak armour and not too damaging weapons.
Against Sabre Tooth
Edit
Sabre Tooth can self-right, so unless Sabre Tooth's axe comes off flipping it would be a waste of time. Also, your robot might need strong armour like Titanium as the axe could cause damage if you get close enough.
Extreme Destruction
Edit
Components
Edit
Locomotion: 2 x Medium Suns
Drive: 2 x Moonium 12 volts
Strategies
Edit
Using Sabre Tooth
Edit
Against Sabre Tooth
Edit