"Built by Essex schoolboys, those SAT'arn pointed horns are made of shelving brackets bolted together, but a turning circle of a sluggish 3m could leave these hopes blunted."
— Jonathan Pearce introduces SAT'arn
SAT'arn was a featherweight robot that competed in Series 1 of Robot Wars. As Series 1 did not have any weight rules, SAT'arn competed in the main competition, despite being a featherweight robot. It managed to get to the Arena stage of its heat, before going out to future featherweight champion, Demolisher.
SAT'arn's armament consisted of front 'horns' made from shelving brackets bolted together. SAT'arn was based on a Tamiya monster truck with a thick (10mm) fibreglass shell. Much like toy monster trucks, however, the robot had an extremely large turning circle of 3m. Visually, it featured one open eye, and a snout, yet the rest of the design was covered in flames.
Robot History
Edit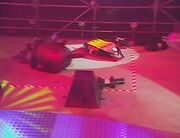 In the Gauntlet, SAT'arn appeared to have good manoeuvrability and dodged Sergeant Bash, but it looked a little uncontrollable as it drove first into the side railings and then into a pyramid. However it got away from them and neatly dodged Matilda to complete the course. It was shown to have completed it in the quickest time even though Demolisher only appeared to take nine seconds. In the Trial, which was Stock Car, SAT'arn started well only to be involved in a first corner crash with Cunning Plan and Demolisher. All three robots escaped and Demolisher quickly clocked up two laps before crashing again and getting flipped over. Meanwhile SAT'arn was making steady progress completing one lap, whilst Cunning Plan was on its second. SAT'arn finished a second lap and was shortly followed over the line by Cunning Plan, which had completed its final lap to win the race. SAT'arn came joint second and qualified for the arena, where it met Demolisher.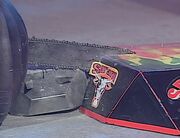 SAT'arn charged Demolisher, but missed, it tried again and twice managed to ram Demolisher. SAT'arn then seemed to break down afterwards and was attacked by Matilda's chainsaw, ideal for cutting into SAT'arn's wooden armour. However Demolisher got in the way and actually stopped large amounts of damage being done to SAT'arn. This did not help SAT'arn in the long run and was fully immobilised and eliminated from the competition.
SAT'ARN - RESULTS
Series 1
The First Wars - UK Championships
Heats, Arena Semi-Final
Heat D, Gauntlet
Completed (1st)
Qualified
Heat D, Trial (Stock Car)
2 laps (3rd)
Qualified
Heat D, Arena Semi-Final
vs. Demolisher
Lost
Wins/Losses
Edit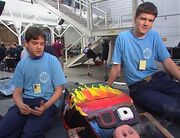 Series Record
Edit