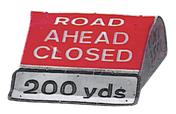 ATTENTION: Pre-air spoilers are strictly forbidden. Do not post any information on the brackets, results, or any information on the upcoming reboot unless it originates from the BBC or an official news source. THIS INCLUDES ALL PAGES, EVEN TALK AND PERSONAL PAGES. Unauthorized leakage may put yourself or the Wiki at risk of legal action. Additionally, taking photographs at filming is strictly forbidden. Photographs from the event will be immediately deleted, and punished with a temporary suspension on the FIRST OFFENCE. The Robot Wars Wiki thanks you for your cooperation.
Welcome to the Robot Wars Wiki
the Robot Wars encyclopedia that anyone can edit. We are currently working on 1,619 articles.

These articles relate to the UK television game show Robot Wars, including the ongoing series, pages on robots, presenters, battles, episodes and teams, as well as the Dutch, American and German counterparts. It also contains information on pages deemed relevant in terminology and the Robotic Combat sport.

This wiki only covers Robot Wars and as such does not provide detailed information or images from BattleBots, Robotica, The Robot Fighting League or other such competitions. Robot Wars Live Events are summarised on relevant pages, though live-specific articles are not covered.



Featured Article
To submit suggestions for future Featured Articles, Videos and Polls, see Robot Wars Wiki - Main Page/Featured Content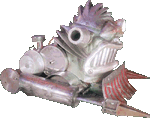 Cassius Chrome was the very last House Robot to be created, debuting in Series 7 of Robot Wars. He was designed by Rob Englebright (of Killer Carrot 2 fame) to look like a heavyweight boxer, complete with a black eye. The robot was named after the late heavyweight boxer Muhammad Ali's former name Cassius Clay.
His main weapons were a large shovel and two "boxing" arms with interchangeable fists, either sharp spikes or boxing glove-esque rams. The weapons on their own were generally ineffective, but Cassius Chrome was also able to use his speed and pushing power to great effect.
In March 2016, the BBC confirmed that Cassius Chrome alongside Growler, Mr Psycho, Refbot and Sgt Bash will not return for the 2016 series.
(more...)
Did you know...
...that the Milly-Ann Bug team got the idea for their robot after distributing a questionnaire amongst their work colleagues to get ideas for robots, then picked the most interesting suggestion?
...that Philipper is the only robot to have appeared in all four versions of Robot Wars, the English, the Dutch, the American and the German?
...that John Bell of Scorpion bought Dantomkia, the robot that defeated Scorpion in Series 7, after Robot Wars, while Stuart Barnwell, driver of the other robot to defeat Dantomkia in Series 7, joined its team in the 2016 series?
Notice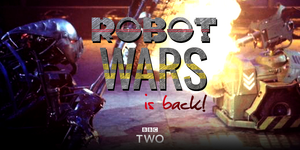 The 2016 series of Robot Wars is underway! Make sure to tune into BBC Two on Sundays at 8pm!
Featured Video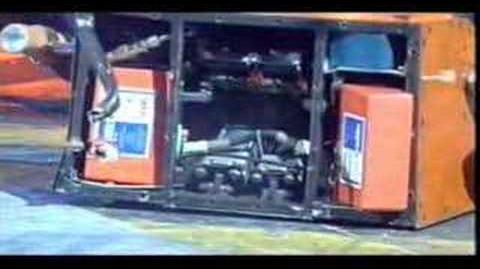 Poll
Which is your favourite one-time Grand Finalist (excluding champions, or teams that reached multiple Grand Finals with multiple robots)?
Helping out
To write a new article, just enter the title in the box below.
Not sure where to start?
Adding content
Talk and more...
Check out the community portal to see what the community is working on, to give feedback or just to say hi.
A host of forums can be found, starting with the index.