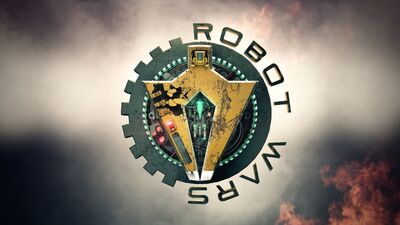 Welcome to the Robot Wars Wiki
the Robot Wars encyclopedia that anyone can edit. We are currently working on 1,760 articles.

These articles relate to the UK television game show Robot Wars, including the upcoming series, pages on robots, presenters, battles, episodes and teams, as well as the Dutch, American and German counterparts. It also contains information on pages deemed relevant in terminology and the Robotic Combat sport.

This wiki only covers Robot Wars and as such does not provide detailed information or images from BattleBots, Robotica, The Robot Fighting League or other such competitions. Robot Wars Live Events are summarised on relevant pages, though live-specific articles are not covered.



Featured Article
To submit suggestions for future Featured Articles, Videos and Polls, see Robot Wars Wiki - Main Page/Featured Content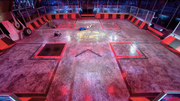 The current Robot Wars Arena is the sixth incarnation of the Robot Wars Arena, used for the three rebooted series of Robot Wars. The arena was custom built at a previously unused warehouse in Westway Park, Renfrew, in Glasgow, making this arena the first to move outside of England, and was designed by Robo Challenge. The wooden painted flooring of old was replaced with 6mm steel, with the arena walls being described by BBC Two's Twitter as "bulletproof".
The arena consists of a square, 6mm steel surface with an area of 15x15m surrounded by high steel walls, and a gap to the "bulletproof" panels. This outer box has an area of 20x20m. The walls consist of a solid wall of slightly higher height than previous arenas, with high bulletproof panels on top of most of the walls. There are three robot entrances - one in the middle of three of the walls - where the high bulletproof panels do not exist: these are theoretically the only places where a robot can throw another out of the arena.
(more...)
Did you know...
All facts are based on the upcoming Series 10.
...that a minibot named Nigel Barrage was almost entered alongside Donald Thump, but could not do so due to weight restrictions.
...that The Swarm is the first robot to enter a clusterbot made up of four similarly sized robots, rather than a main robot with minibots.
...that the second heat of Series 10 is the first heat ever not to feature a series newcomer; all competitors have appeared in at least one previous series of Robot Wars. Prior to this, the closest any heat came to having an all-veteran line-up was Heat I of Series 6. This is a trait it also shares with the later Heat 5 of the series.
...that the name Androne 4000 contains the highest numerical figure in any UK robot's name, and the second-highest number in any Robot Wars competitor overall, behind 6 Million Dollar Mouse.
...that if all Clusterbots and robots with minibots qualify for the 10-robot rumble, then there will be 20 individual robots in the arena at one time, excluding the House Robots.
Notice
Series 10 starts on October 22nd, 8pm on BBC Two. Please discuss with other members on what can be added to the Wiki and when here.
Featured Video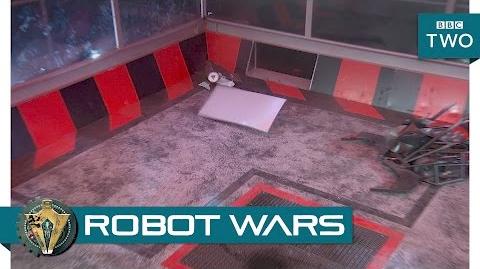 Poll
Which Robot do you think will win Heat 2 of Series 10?
Helping out
To write a new article, just enter the title in the box below.
Not sure where to start?
Adding content
Talk and more...
Check out the community portal to see what the community is working on, to give feedback or just to say hi.
A host of forums can be found, starting with the index.
Ad blocker interference detected!
Wikia is a free-to-use site that makes money from advertising. We have a modified experience for viewers using ad blockers

Wikia is not accessible if you've made further modifications. Remove the custom ad blocker rule(s) and the page will load as expected.