"Let me tell you- these little beauties, they don't mess around!"
— Jonathan Pearce on the featherweights
The Featherweight Championship of Robot Wars Extreme: Series 2 was an event which took place during the Robot Rampage episode of Robot Wars Extreme: Series 2. This small tournament was the third to feature robots weighing no more than 12kg, with 13 entrants being divided into one of two six or seven-way qualifying rounds. Two or three winners from each qualifier would progress to the final; the winner of this six-way melee would be declared the overall Featherweight Champion.
Competing Robots
Edit
Gi-Ant-O
Weight
3kg
Dimensions
19.9cm x 19.1cm x 10.8cm
Power
7.2v NiMH Battery
Weapons
Wedge
From: Buckinghamshire
Team Members: Craig Danby
Katnip
Weight
12.2kg
Dimensions
0.20m x 0.49m x 0.45m
Power
24V 3300mah NiMh Race Packs
Weapons
Pincers
From: Gloucestershire
Team Members: Stuart Barnwell, Roger Barnwell, Amanda Barnwell
Argh!
Weight
11.5kg
Dimensions
N/A
Power
N/A
Weapons
Spinning Disc
From: Gloucestershire
Team Members: Gordon Townley, Chenyl Townley
Bernard
Weight
12kg
Dimensions
N/A
Power
N/A
Weapons
Wedge and Circular Saw
From: Worcestershire
Team Members: Tim Jones, Arron Deakin, Daniel Holtom
AM CVn
Weight
5kg
Dimensions
N/A
Power
2 x RC motors
Weapons
Axe
From: Milton-Keynes
Team Members: John Barker, David Lott, Andrew Conway
Eddy Evolution
Weight
N/A
Dimensions
N/A
Power
N/A
Weapons
Circular Saw
From: N/A
Team Members: N/A
Neoteric
Weight
24kg
Dimensions
N/A
Power
N/A
Weapons
Large vertical cutting disc
From: Newcastle in Staffordshire
Team Members: John Findlay
Dragon
Weight
12kg
Dimensions
N/A
Power
2 x Motors
Weapons
Disc
From: N/A
Team Members: Tony Booth
Kitty
Weight
12kg
Dimensions
0.35m x 0.50m x 0.35m
Power
3 x 150W Gold Motors
Weapons
4000RPM 1kg Circular Saw
From: Gloucester in Gloucestershire
Team Members: Alan Gribble, Ann Gribble
Gladiator
Weight
12kg
Dimensions
N/A
Power
Window Wiper Motors
Weapons
Low Pressure Pneumatic Lifter
From: Leicestershire
Team Members: Dave Young
Micro-Mute
Weight
11kg
Dimensions
N/A
Power
250W Electric Motors
Weapons
Static Spike and Scoop
From: Stoke-On-Trent in Staffordshire
Team Members: Adam Emmett, Daniel Emmett
Cutlet
Weight
12kg
Dimensions
N/A
Power
N/A
Weapons
Saw Blade
From: Wellingborough in Northmaptonshire
Team Members: Ian Lockhart, Scott Lockhart, Daniel Lockhart
Flybot
Weight
12kg
Dimensions
N/A
Power
2WD Windowscreen wiper motors overvolted to 24v
Weapons
Electric Lifter
From: Leicestershire
Team Members: Alan Young
Dragon vs Kitty vs Gladiator vs Micro-Mute vs Cutlet vs Flybot
Edit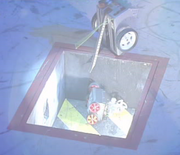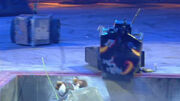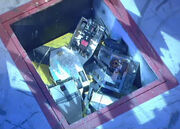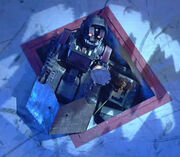 Flybot was the fastest out of the traps, pushing Kitty across the arena floor with ease, whilst Micro-Mute sped towards Cutlet, and Gladiator pressed the pit release button. Flybot used its lifter to overturn Kitty, then managed to push it right the way towards the pit of oblivion and in. But as Flybot pitted Kitty, the weight of its lifted foe meant it overbalanced and fell in itself. Dragon drove straight onto the wedge of Cutlet, which held Dragon in place using its circular saw, and drove it into the pit but appeared to stop after that, on the edge of the pit, allowing Gladiator to simply swoop in and nudge it into the pit. Knowing it was safely through, Micro-Mute dived into the pit to escape damage, and Gladiator was then pushed in by Refbot, who also fell in himself. Micro-Mute, Gladiator and Cutlet qualified on the basis that they were the last three robots pitted.
"In the end, to be honest, they all went in"
— Jonathan Pearce
Qualified: Micro-Mute, Gladiator & Cutlet
Gi-Ant-O vs Katnip vs Argh! vs Bernard vs AM CVn vs Eddy Evolution vs Neoteric
Edit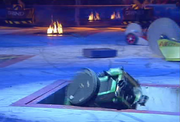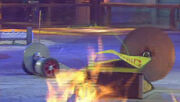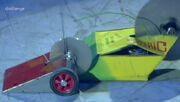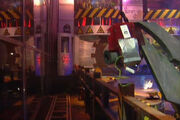 Argh! dominated from the start, causing major damage to the opposition with its powerful vertical spinner. Meanwhile, Eddy Evolution experienced problems from the off, first struggling to avoid the pit under its own steam, then being pushed by Bernard, before spinning wildly and into the pit. AM CVn was the next to fall after an onslaught from Neoteric and Argh! flipped it over, with Refbot counted it out and pitting it. Argh! then turned on Neoteric, attacking with Katnip to damage the walker's panels. Gi-Ant-O, an emergency replacement far smaller than its opponents, having already been eliminated by Neoteric, was picked up by Sir Killalot, and dumped out of the arena. Meanwhile, Team Roaming Robots' machine had ground to a halt, leaving only Katnip, Argh! and Bernard standing to reach the final.
Qualified: Katnip, Argh! & Bernard
Argh! vs Bernard vs Cutlet vs Gladiator vs Katnip vs Micro-Mute
Edit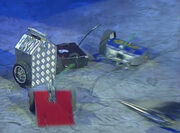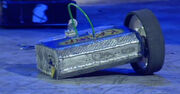 The final began with Katnip chasing down Gladiator, who continued its tactic of the first round by diving straight for the pit release. Gladiator then returned to the battle to attack Katnip, whilst Micro-Mute span wildly just outside the centre of the fight, returning to get in underneath Team BlazerBotics' robot and push it away. Argh! attacked Cutlet and Gladiator, before shoving Katnip, short of a wheel, into the pit. Team Reptirron's machine returned to attacking Cutlet, but was blocked by Micro-Mute.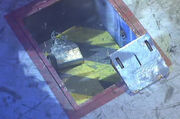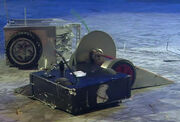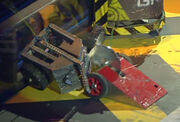 Argh! then turned its attention to Bernard, pushing one wheel over the pit, before focusing its attentions back on Cutlet and Gladiator, immobilising both of them. Unseen on TV, Micro-Mute had got itself stuck under an angle-grinder. Argh! ensured its victory by attacking Gladiator again, ripping a wheel off, and trying to pit Cutlet. Cease was called, and, as the only robot left fully mobile, Argh! was declared the winner.
Craig Charles: "Some of them are even lighter than you"
Gordon Townley: "They are now!"
— The Argh! team and Craig Charles
Featherweight Champion: Argh!