Robot Wars Extreme: Series 1/German Melee
Talk

0
1,514pages on
this wiki
The German Melee was a single battle event in the 12th episode of Robot Wars Extreme: Series 1. The battle took place between four representatives of Germany. The winner of the battle would be promised a place in The Second World Championship later in the series.
Although it lost the battle, Flensburger Power was awarded a Wild Card to enter the Second World Championship as well.
This was Golem's only appearance in the UK wars.
This battle was also broadcast as German Robot Wars Heat A's special event with new commentary being provided by Volker Wolf.
Competing Robots
Edit
Flensburger Power
Specifications

Weight: 92kg
Dimensions: 1.00 x 0.5 x 0.3m
Power: Electric motor
Weapons: Wheel cutters and spear
Strengths: Low ground clearance
Weaknesses: Slow & sluggish
From: Germany
Team Members: Michael Schnoor, Anita Jensen & Andre Bruske
Nasty Warrior
Specifications

Weight: 95kg
Dimensions: 1.1 x 0.7 x 0.45m
Power: 36V Electric motor
Weapons: Rotating lawnmower blade
Strengths: Invertible
Weaknesses: Exposed wheels
From: Germany
Team Members: Jan Vogt, Norman Theis & Marco Eberle
Ansgar
Specifications

Weight: 74kg
Dimensions: 0.75 x 0.75 x 0.34m
Power: 12V car window motor
Weapons: Flipper/lance/lever
Strengths: Interchangeable weapons
Weaknesses: Comparatively light
From: Germany
Team Members: Joachim Thomsen, Sascha Thomsen & Sunje Thomsen
Golem
Specifications

Weight: 100kg
Dimensions: 1.4 x 1.1 x 0.26m
Power: 36V Electric motor
Weapons: Carbon ramming spikes
Strengths: Invertible
Weaknesses: Effectiveness of weaponry
From: Germany
Team Members: Oliver Buchel, Dirk Ferschen & Andreas Seipel
The Melee
Edit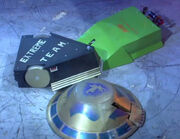 All four robots started slowly, Flensburger Power started to take on Ansgar while Golem and Nasty Warrior came together. Nasty Warrior led Golem to the arena wall where Golem then shoved Nasty Warrior against an angle grinder. Golem then reversed into Matilda's CPZ, where Matilda repeatedly lifted the rear end of Golem up and down using her tusks. Meanwhile Nasty Warrior took on Ansgar, both robots' weapons acting to no great effect.
"I don't know if Ansgar's actually moving, but at least they're trying to use the weapon and get the others going"
— Jonathan Pearce
Flensburger Power had fled from the heat of the battle and lingered by the arena wall until the dying moments of the fight.
Shunt and Matilda worked together to flip Golem. Having not moved too far since running into the CPZ, Refbot proceeded to counting Golem out, the pit release was then pressed with Golem already near it. The three remaining robots met in the centre of the arena, Ansgar's weaponry flicking ferociously, while Nasty Warrior started smoking. Flensburger Power, having done very little throughout the whole battle, was pushed towards the pit by Ansgar witnessing Golem's demise, pitted by Nasty Warrior. The battle ended there but with three robots still mobile, it went to the Judges.
With next to no damage to report on, the win was awarded to Ansgar on aggression.
Winner: Ansgar