Robot Wars Extreme: Series 1/Armed Forces Melee
Talk

0
1,514pages on
this wiki
"It's our Armed Forces Face Off. It should be one military mother of a battle!"
— Craig Charles
The Armed Forces Melee was a one-off battle between the British Army, Navy and Royal Air Force, held as part of Robot Wars Extreme: Series 1.
Armed Forces Melee
Edit
Anvil (RAF) vs Mega-Hurts (Navy) vs Rhino (Army)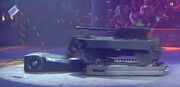 The fight started with all robots pushing and shoving each other, with Rhino immediately hitting the pit release, nearly catching out Dead Metal, who was lingering near the pit. Rhino pushed Anvil a few feet,but failed to make any impression. The three robots collided, and Rhino, using its tank treads, mounted Anvil, and climbed over the top of the RAF and Navy machines. Anvil then shoved Rhino against the arena wall, but meanwhile Mega-Hurts had run into the CPZ, where it was attacked by Dead Metal, and Shunt, but it escaped.
Rhino again pushed Anvil and Mega-Hurts, this time against the arena wall, but the two robots escaped and Anvil pushed back against the side of Rhino, dislodging the right tank track, but it appeared that Rhino was capable of movement on the wheels that the tracks ran on.
"Do boats go in reverse? I don't think they do, that's probably why they weren't used to it!"
— Jonathan Pearce discusses possible reasons for Mega-Hurts poor driving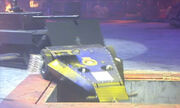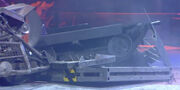 Mega-Hurts escaped the action; however, under no pressure at all, it backed itself onto the pit, leaving it incapable of moving. Shunt gave the Navy robot a nudge free, but no sooner than he had, Mega-Hurts got itself stuck again, and this time Rhino backed it down into the pit. Anvil then got underneath Rhino, and pushed it onto the edge of the pit, but couldn't finish it off. Dead Metal came and shoved Anvil, leaving all three machines in the pit. The judges were called upon, and voted in favour of Anvil.
Winner: Anvil
"Of all of our Armed Forces, one must reign supreme, and we've found that it's the RAF, on Robot Wars: Extreme"
— Craig Charles signs off